Green Space Image used only for illustration
Every working day, people from all walks of life gather at the Land Protection Police Unit in Kibuli waiting to lodge or follow up on complaints of their land being grabbed by mysterious claimants.
With a tone of frustration, they endure lengthy queues on rainy and sunny days, in pursuit of justice. But for all, there is a common name pushing them into a state of being landless; Charles Kyagaba, a name that is featured in land wrangles dating as back as 2001.
But many of the complainants do not know how Kyagaba became an interested party on their land, yet his name does not feature anywhere, at the time of buying or selling the land, or even in documents older than Uganda's independence.
In fact, some have been sued by mysterious people, only to find out that the same Kyagaba is claiming ownership of their land. Even those who have won the court cases have not been able to utilize the land as more and more lawsuits and police cases keep coming up.
While Police officers label him a mercenary, the victims say that Kyagaba is larger than the state.
Landowners and buyers are puzzled over the same person and how he has acquired land, and it's on the basis of this that the Inspector General of Police –IGP Martin Ochola, ordered a comprehensive investigation against Kyagaba in April.
The outcomes indicate that Kyagaba is an 'available for hire' land grabbing mercenary.
Police reports explain that Kyagaba uses mysterious people to open cases at police stations, secure court injunctions and file lawsuits on land that has been or is being sold. He then creates 'ghost' tenants commonly known as Bibanja holders.
Charles Mutungi, the commandant of Land Protection Police Unit, Detective Senior Superintendent of Police Fred Paul Mirondo and Detective Assistant Inspector of Police, Andama Joseph all describe Kyagaba as a person who consistently creates non-existing claimants or in some cases hires people to claim interest on land whose location and boundaries they don't even know.
Mutungi told Uganda Radio Network –URN that at first, they thought Kyagaba was a genuine claimant until several complaints kept piling; all pointing at him. Police say Kyagaba hires people as far as Mubende district to come and claim the land in Kampala.
"Kyagaba creates people. The claimants are never seen in some cases but he succeeds in securing court injunctions. During our investigations, we summon people or go to the ground but the claimants do not exist. He explores the loophole that magistrates or judges do not go on the ground while giving orders. Many people are suffering from non-existing claimants," Mutungi explains.
Mathias Bukenya, a landlord in Kampala explains that he has been suffering since 2012 with 1.5 acres of land he leased for 49 years from the Kampala Archdiocese.
He later learnt that the said Kyagaba had paid a premium of 165 million Shillings with a ground rent of 3.3 million Shillings for the same.
At the time of securing a lease, the land on block 419-420 plot 793 at Kisubi was being used by the Brothers of St Amans.
But Bukenya compensated the Amans with 20 million Shillings for the sweet potatoes, cassava and banana plants which were in their crop garden at Kisubi-Kawuku and the compensation was acknowledged by Fr Charles M Kimbowa who was the director.
As Bukenya planned to set up a structure to utilize the land, he saw a court order stopping his activities because he had not compensated one Annet Nalweyiso. Upon consulting Kampala Archdioceses, he was informed by the Catholic Land Board that Nalweyiso has never been a Kibanja holder but was just a daughter to one of the church workers.
"When we investigated with the church, we noticed that Nalweyiso is a daughter to a former Church worker and she was married in Mubende district. Kyagaba brought Nalweyiso and we took her there with the police to show us her land, but to our surprise, she didn't even know where the land starts and ends," Bukenya explains.
The documents seen by URN signed by late Archbishop Cyprian Kizito Lwanga, Msgr Charles Kasibante and Msgr Charles Kato all indicate Nalweyiso was a daughter to a Church worker and she had left the place several years ago.
Hannington Kizito, a son of one Koseya Buule, has been fighting to rescue the family's three acres of land for 17-years. Trouble started when Buule verbally leased an acre of land to Gabudyeri Minani in the 1990s. But Minani later shifted to Kiboga district and returned to the same piece of land after nine years.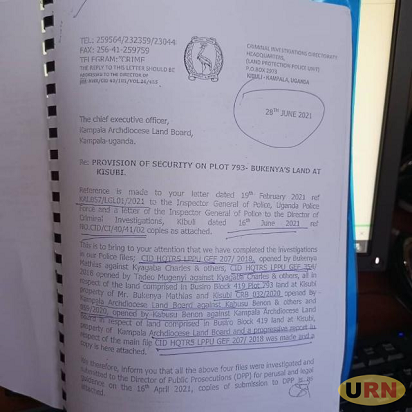 The court documents show that Minani had asked for 2.7 million Shillings as compensation in 2004. Buule did not have the money in cash and he asked for three months to get it. When the money was got, Buule called Minani to pick it. But Buule Minani said he had given the land to his children among them Charles Kyagaba.
Buule sought court redress and he won the case against Kyagaba since he fronted himself and Minani did not appear throughout the trial. But Kyagaba immediately fronted Specioza Nalukwago as another daughter to Minani also claiming interest.
The Buule family has won four court cases against Kyagaba but he keeps fronting other claimants and has used the endless court process to grab more acres from Buule's land located at Namulanda in Wakiso district.
"Kyagaba is a mercenary and has entrenched security and court systems. There is no police station where you can report him and he gets arrested. He even laughs at us who report him. Before grabbing two more acres from us, he called me and asked to give him half an acre so that he could leave us. We refused and he warned us that he was to take it for free. Indeed, he has succeeded because the courts have not helped us," Kizito said.
URN has seen letters that Kyagaba secured from the State House Anti Corruption Unit- commanded by Col Edith Nakalema, through one Nathan Bwoogi, the legal officer to allegedly frustrate Bukenya, among others.
Apart from Bwoogi, an Assistant Superintendent of Police who was Officer Incharge CID at one of the police stations in Kampala where the majority of the complaints come from verbally petitioned CID for protection from his senior at the rank of Assistant Commissioner of Police. He said he was being witch-hunted for attempting to prosecute Kyagaba.
Another ACP who also conducted an independent report about Kyagaba was shocked when he found him in a meeting with his immediate boss who is at the rank of Commissioner of Police –CP. The ACP decided to keep the report to himself because Kyagaba even smiled at him and signalled to him that he was more clever than he thought. Three months ago, the ASP and ACP were transferred from the Kampala Metropolitan Policing Area.
"Kyagaba is a daring man. When you get him in all corners, he resorts to threatening you. He has sent me threats of intention to sue but I am not scared. Kyagaba is everywhere. People are suffering because of court orders from people they don't know," Mutungi said.
Records show that all cases of criminal trespass, malicious damage to property and theft that were filed against him have failed to succeed. CID also has several files of people accusing him of grievous harm, destruction of property but those cases have not gone beyond past DPP's perusal.
Some of the other victims include Shamim Namale whose land is in Ggaba, Beatrice Mpamize and Reuben Musiime. URN has seen several petitions to RDCs, DPCs, RPCs, CID, State House and IGP but nothing much has been done to stop Kyagaba.
The minute facts available show that Kyagaba started as Bibanja Holders Rights Defender. But police investigations say he creates the Bibanja holders because when he grabs land, he sells it to low-income earners in very small pieces of about 20 by 30 ft, 25 by 30 ft and 50 by 50ft. Such people who buy unknowingly are the ones he uses as interested parties whenever there is a case. He has also contested twice for the Busiro South Parliamentary sear on the Democratic Party ticket but lost both in 2011 and 2016.
URN did not succeed in getting a comment from Kyagaba as his known telephone number was off.
-URN