Matooke (bananas) is a staple food for many Ugandans.  It has become a food of all seasons that you can't find a traditional ceremony without banana part of the menu.
Matooke is also included on the menu of many big hotels in Uganda. In simple terms, there is ready market for matooke, with a big bunch averaging Shs20,000. One can also add value to bananas by making juice and crisps.
While the demand for matooke remains high, supply remains low and this is complicated by the fact that land is dwindling in Uganda due to the increasing population.
But this presents an opportunity for those with land to make money; a farmer can earn as high as Shs20m annually from an acre of matooke (bananas) sustainably if best agronomic practices are applied.
Yoramu Katongole, a consultant at Nakabiso Farm located along Masaka road says while many farmers' matooke plantations don't last for five years, matooke can stay healthy and productive for as many years as one wishes.
Godfrey Kigoye, an agronomist and trainer at Katende Harambe Rural and Urban Training Centre says matooke growing isn't labour intensive, but requires an investment capital of between Shs3.9m-Shs5m. He says this is worth it in the long run.
In this article, Katongole and other experts share tips on how a farmer can earn millions sustainably from matooke farming.
Varieties
Katongole says there are many matooke varieties on market, but Kibuzi, Kisansa, Npologoma and Nakabururu are the best for commercial purposes.  He says Kibuzi is indigenous but produces big bunches and the matooke fingers are big and straight. It can also live for many years.
He reveals that Kisansa variety produces bigger and compacted bunches. Mpologoma also produces bigger bunches, but doesn't last for long like Kibuzi.
He says Nakaburu is resilient to all conditions and resistant to diseases. He says it has compact bunches with short matooke fingers. It is mainly good for food security reasons for your plantation can't look matooke if it has this variety. Kigoye says Mbwazirume, Nsakala and Muvubo are other good varieties.
Katongole advises farmers to mix the above varieties for better results, adding that farmers should select the best suckers to plant (those with small and pointed leaves). Prices of suckers differ but they range from Shs500 -Shs3, 000 (for tissue cultured suckers) depending on the seller.
Clearing Land & Digging Holes
Katongole says land on which a farmer intends to plant matooke should be prepared earlier for better results.
First, a farmer must clear all bushes, trees and unnecessary vegetation around your garden.  This is followed by ploughing.
Holes, he says, play a big role in determining the quality of one's matooke. He says the hole should be 3ft deep and 3ft wide whether square or round. He adds that spacing of suckers should be 10ft apart. This means an acre will accommodate about 450 suckers/plants of matooke.
He says it's not necessary to dig bigger and deeper holes because matooke feeds on the surface, adding that the roots have self defense.
Katongole says after digging holes, a farmer should apply manure preferably dung from cows, goats and pigs (poultry litre is salty and therefore not the best).  Manure should cover about 2ft of the hole. He says a stem should be put in the centre of the hole (where the sucker will be placed).
Thereafter, he adds, about three kilograms of charcoal wastes (known as Olusenyente in Luganda) should be added. He says that's the secret to successful matooke farming because when it mixes with soil, it acts as a fridge.
"The hole will have water throughout the year when Olusenyente is applied. When it is supplemented with proper mulching, the plantation will remain healthy and productive during the dry spell," says Katongole.
It is recommended to the top soil on one side and the lower soil on the other.
Dr. Allan Ahimbisibwe, the CEO of Spark Agro-Initiatives Ltd says a farmer should make sure that planting materials are from a clean and disease free source garden. For best results, tissue cultured and macro propagated are the most efficient, he says.
Dr. Ahimbisibwe says after making the holes, a farmer should mix the top soil with manure. Then put back the mixture into the hole leaving 1/2 ft uncovered for mulching, watering and feeding purposes. Thereafter, it is time to plant.
Intercropping
Katongole  says when matooke is still young, it should be intercropped with crops such as beans, tomatoes, cabbages and other vegetables.
"These can give you quick money. After harvesting them, then you can mulch," he says, adding that mulching grass shouldn't touch on the matooke plants.
Mulching and Watering
"This should be done immediately since it helps to keep water in the soil for a long time and also prevents growth of weeds. It saves you a lot of costs in weeding and spraying," Ahimbisibwe says, adding that since you cannot rely on rain fed farming, you must find alternative sources of water for irrigation, either you can use bottles, drip or hand watering.
Kigoye advises digging contours between rows to control soil erosion.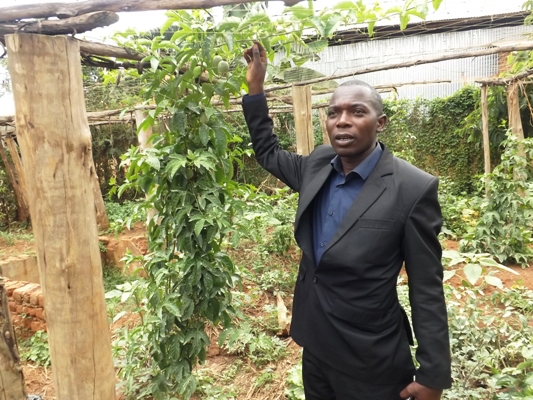 Manure Application
You will need to continuously apply manure to feed the soil and ensure steady growth of the plants; this manure can be applied twice or thrice in a year, says Ahimbisibwe.
Weeding
This is removing the unnecessary plants that may grow with in the garden and these are so dangerous to the banana growth as they compete for nutrients in the soil and lead to stunted growth.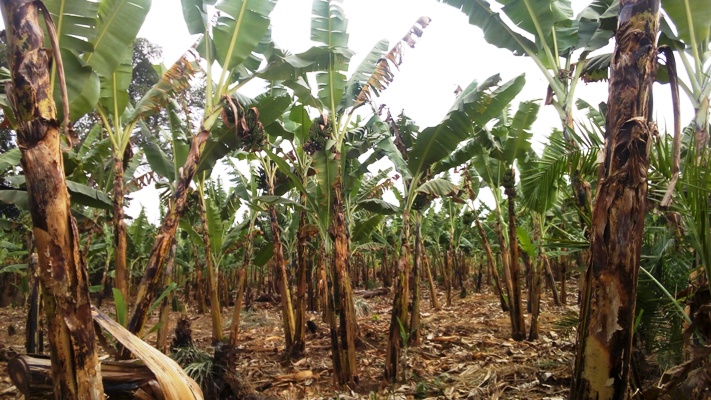 Desuckering and Pruning
Katongole advises farmers to remove unwanted young swords and leave only three on each hole excluding the mother plant.
"When matooke plants grow, it should have only seven leaves or slightly more depending on the fertility," he says, adding that one week after the matooke has produced, the Empunumpu should be cut off. He says after the initial costs, expenditure on the farm reduces drastically.
Diseases and Pests
The other important aspect for successful matooke farming is managing pests and diseases.
With good cultural practices, diseases and pests maybe minimized, but banana plantaion may be attacked by mainly biting insects, Weevils, Fusarium wilt, Black Sigatoka and Banana Bacterial wilt. These can be controlled by different measures like pruning, uprooting and spraying, says Ahimbisibwe.
Harvesting
It takes 18 months before a farmer realizes his first harvest. A farmer will harvest 450 bunches in the first harvest considering the fact that an acre has 450 holes/matooke plants. This means a farmer can earn Shs6.75m if a bunch is sold at Shs15,000 farm gate price or Shs4.5m if a bunch is sold at Shs10,000.
The following years, each hole/plant will give a farmer two-three bunches. This means production will increase to 1,350 bunches every year.  This means if a bunch is sold at Shs15, 000 farm gate prices, a farmer will earn as high as Shs20.25m. If sold at Shs10, 000, a farmer will be earning Shs13.5m annually.
Follow us on Twitter: @BusinessFocusug @TaddewoS . Email: staddewo@gmail.com