By Peter Abaanabasazi
The Government of Uganda has come under fire over human rights violations in oil refinery affected areas.
Bunyoro Parliamentary Caucus says the government has not properly handled the resettlement of people affected by the   oil refinery in Kyakaboga Parish, Buseruka Sub-County, Hoima district.
Led by Barnabas Tinkasimire, the Caucus Chairperson, the MPs last week visited the settlement area on the invitation of African Institute For Energy Governance (AFIEGO) to intervene into the resettlement of the affected.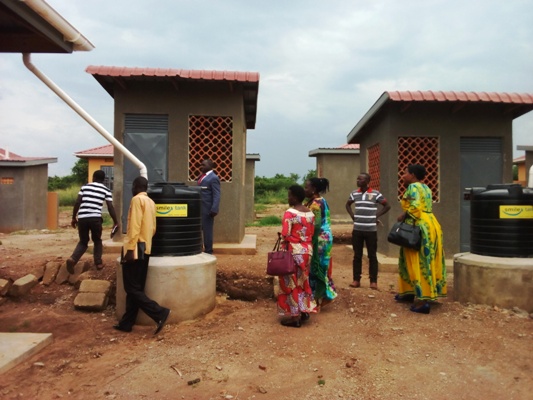 Government earmarked a 29square kilometer piece of land in Kabaale parish to host the oil refinery which will be processing Uganda's crude oil into finished petroleum products.
This has seen 7,118 residents from 13 villages displaced from their ancestral land to pave way for the project.
Ninety-eight percent (98%) of the residents opted for cash as compensation while 2% equivalent to 73 households opted for resettlement.
However, government has only constructed 46 houses out of 73 households. Each house is valued at over Shs100 million.
The visit comes at a time when oil refinery affected persons declined to receive the houses worth over Shs5 billion that were commissioned by Eng. Simon D'ujanga, the State Minister for Energy and Mineral Development last month.
The residents claim that during resettlement action plan By Strategic Friend's International, government promised to construct houses to all affected persons, but only 46 were considered leaving 27 of their colleagues out.
Innocent Tumwebaze, speaking on behalf of Kabaale Oil Refinery Affected Persons told the MPs that government promised to offer them land titles for their land, electricity, roads, churches and markets before shifting to the houses, but most of the promises have not been full filled. He said that they cannot shift to the houses before government constructs houses for the other 27 families.
In his response, Buyaga West MP Tinkasimire supported affected residents to oppose the houses, saying it was not right to partly consider some and leave out others.
He also called for investigations into the costs of the houses, adding that there is no house worth over Shs100 million in the resettlement.
He noted that the ongoing violation of human rights in oil rich area may turn the resource into a curse and called on government to fulfill its promises.
He promised to raise the issue before the floor of Parliament and warned Banyoro to stop supporting NRM government because it does not care for them.
Norah Nyendwoha Bigirwa, the Woman MP for Bulisa said time is now to tell government the truth about oil projects and how they are impacting on people.
She noted that the unresolved issues in the oil rich area are likely to affect government's dream of having the first drop of oil by 2020.
Dickens Kamugisha, the Executive Officer at AFIEGO noted that though government has always blamed civil society organizations for inciting the oil refinery affected people, there are issues affecting the lives of people which need to be addressed first.
He noted that oil will be a blessing if government puts emphasis on human rights protection as the country heads into oil production phase.