A big misunderstanding has erupted between Uganda Revenue Authority (URA) and commercial banks after the tax body asked the latter to unveil it with all account details of their customers, Business Focus reports.
In a letter dated March16, 2018, URA asks banks to send in all information of their customers such as account name, Tax Identification Number (TIN), National Identification Number (NIN), Address, Telephone number and email address.
Others are; total cash deposits into that account for 2016 and 2017, total cash withdrawals from that account for the same period and the current balance on that account as of today.
URA argues that it is basing on Section 42 of the Tax Procedure Code Act to request the said information.
However, the move has left tax body and banks on a collision course.
Industry sources say URA's move could be a result of recent media reports indicating that Justine Bagyenda, the former Executive Director-Supervision at Bank of Uganda had over Shs20bn in two banks in a period of six years, with some claiming that the money wasn't taxed.
ALSO READ: GOLDEN WOMAN: Bagyenda's Secret Multibillion Bank Accounts Leak
URA therefore wants to use the information to tax people who have been allegedly colliding with banks to dodge paying taxes.
The deadline to handover the information was March31, 2018, but banks didn't honour it.
However, Business Focus understands that  banks under their umbrella body- Uganda Bankers Association (UBA) have refused to hand in the information  arguing that it's not only a human right violation, but it is also against the law.
In a letter dated March22, 2018, the UBA Executive Director Wilbrod Humphreys Owor wrote to URA, saying that banks can't release the information without the consent of Bank of Uganda.
"In the circumstances, banks are constrained to act, pending directions from the regulator," Owor said.
When contacted for more information as to why banks are objecting URA's move, Owor said he was in a meeting over the same matter, promising to call back later.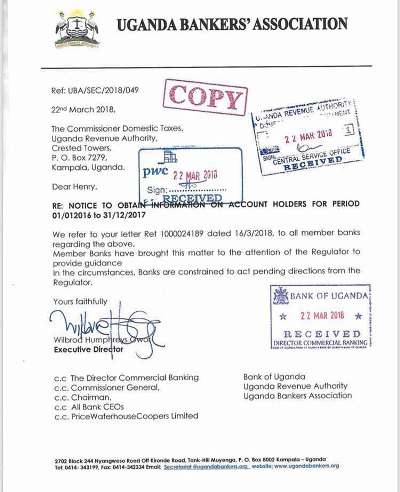 Industry players say that information for their customers is confidential, arguing that they can only give information to URA in case of an audit investigation or a case by case basis.
Banks further argue that the move will adversely affect Uganda's banking sector.
"If we are forced to release customers' information to URA, the few customers we have will runway from banks. They will go to old ways of keeping money under mattresses," the source that preferred anonymity said.
A number of bankers referred to URA's move as 'absurd' and 'not well thought out'.
Uganda's banked population remains small; one in six citizens (17%) has a bank account, either alone or jointly with another person, a new report  says.
The report titled Under pressure? Ugandans' opinions and experiences of poverty and financial inclusion. adds that men (22%) are nearly twice as likely as women (12%) to have an account, and those in urban areas (25%) are much more likely to have an account than those in rural communities (13%).
URA Speaks Out
However, URA is hell-bent on the move.
In an exclusive interview with Business Focus, Ian Rumanyika, the Manager Public & Corporate Affairs at URA said the tax body shares information with different institutions as part of her job to enhance voluntary compliance.
"This is not new. Social media is making it look like new.  We encourage taxpayers to declare their income whether banked or not to ensure all eligible taxpayers are compliant," Rumanyika said, adding: "We have always shared information with banks and other many institutions as partners in revenue mobilization; it is the best practice globally in revenue administration. We respect rules of confidentiality of clients."
He added that they are working closely with the Bankers Association.
 However, industry sources say a huge legal battle between URA and banks is in the offing if the taxman insists on the move that is likely to compromise the safety and security of their customers.
Patrick Kiconco Katabaazi, an economist and Advocate of High Court of Uganda says URA's latest  move to harvest all bank account details of all Ugandans is not only misguided, but is dangerous to the banking business .
"I know for sure that URA by law can access any bank account belonging to a tax payer but this right must be only exercised with in a context of audit or investigations. Banking sector thrives on confidentiality of customer -Bank relations and without this, the banking sector will be destroyed ," Katabaazi said, adding that URA needs to broaden the tax base or enroll more people in the informal sector as the means of boosting revenue collection potential.
He noted that currently less than 20% of the population continues to shoulder   the heavy load of taxes.
"Who needs a bank account that is accessed by everyone," he wonders.