Solome Abalo earns her living from growing tomatoes
Many agricultural consultants don't practice what they preach. This is different with Solome Abalo, a Knowledge Transfer Officer with East-West Seed Company in the northern district of Gulu.
For over 5 years, she has been training farmers on vegetable growing.
"When I started working closely with farmers with East-West Seed Company as a Knowledge Transfer Officer, that's when I saw how the project was able to transform the farmers' lives in a very short while. Some farmers were able to build houses after only a season of growing vegetables, especially tomatoes. Others bought motorcycles," Abalo says, adding that this motivated her to join vegetable growing.
Abalo adds that tomatoes are highly profitable compared to most vegetables. Importantly, she says, it takes a shorter period (60-75 days) to mature, hence one is able to grow it even four times in a year.
Secondly, she notes, the market is readily available both in rural and urban areas.
"Tomatoes also have a longer harvesting period compared to other vegetables. So, one is able to make money continuously," she says.
According to Abalo, one is able to harvest four times their investment.
"For example, if one invests Shs2 million in haft an acre, they are able to earn between Shs8 – Shs10 million (gross profit)," she says.
Talking prices on the market, Abalo says prices of tomatoes vary depending on the season.
"During the rainy season, it ranges between Shs150, 000 – Shs250, 000 for a big box because of its abundance while during the dry season, it goes for between Shs300,000 – Shs500,000 for the big boxes," Abalo says.
The beauty with vegetable growing, Abalo says, is that it knows no season as long as a farmer can irrigate their field. During the dry season, she says, "it is best to use a site near a water source to make this possible."
Abalo says she has interacted with more than 1000 farmers both physically and virtually offering training on vegetable production.
She is currently in Tororo to support a food village project which she says is helping young people to acquire skills in vegetable production.
Tomato Growing
In 2018, Abalo conceived the idea of going into vegetable growing, particularly tomatoes.
Having seen how the lives of her trainees had changed, she says, "I quickly realized it was time to transform this knowledge into practical work. I started along with the other farmers in 2019 and I am still going on to date. I started with 300 square meters but as of now, I am doing an acre of tomatoes along with other vegetables like onions and eggplants which is on four acres."
For now, she balances work and her garden work. "I am still working with East West Seed Company, where I commit to work Monday to Friday and Saturday – Sunday on my farm. I also have two permanent casual laborers who stay close to the garden but occasionally work with other part time casual laborers from the community where the gardens are."
To get the best out of tomato growing, Abalo says, "I supplement the soil fertility by use of inorganic fertilizers such as DAP,CAN, MOP and NPK."
She adds that tomatoes prefer a slightly acidic well-drained loam soil and that it is important to test the soil and know its PH.
However, she says, they (tomatoes) grow well in most parts of the country under good management. For example, her farm is located in Awach Sub-County in Gulu district.
She grows Padma variety. "I am growing Padma F1 because it's a high yielding variety and has a high resistance to bacterial wilt which is one of the major challenges faced with tomato growers in the area. Padma F1 seeds are also relatively affordable compared to other hybrid seeds in the market," she says.
One of challenges of growing tomatoes is its inability to resist bacterial wilt disease. Besides, she says, there are also fake seeds in the market.
She says farmers should buy seeds from certified stockists. Prices of some hybrid seeds in the market are also too high for a small scale farmer to buy, she says.
COVID-19 IMPACT
Like many other businesses, the Covid-19 has impacted farmers growing vegetables like tomatoes. There was literally no market during COVID-19 lockdown because hotels and restaurants were not operating.
"The lockdown did affect farmers greatly especially vegetable farmers as there was more produced but with limited market. The prices dropped drastically and farmers had to ferry their products to far places to get to market, but with restricted movement and lack of personal transport means, most had to sell their products at very low prices at the farm.
Personally it did affect me but I stretched a bit to look for markets in distant markets although the prices were really low," Abalo says.
Advise To Youth
"What I want to tell the youth is, anyone who eats is a farmer by default. Farming is one of those self-employment jobs which will pay you better than some jobs. Farming is not for the poor as perceived by many people. It's a job just like any other. If you give it your best in terms of your time, resources and energy, then it will reward you equally. And we all live because farmers are doing a good job. Imagine a world without farmers. No one will live. Therefore, the youth should embrace farming as a business. That way, we will solve so many other problems," she says.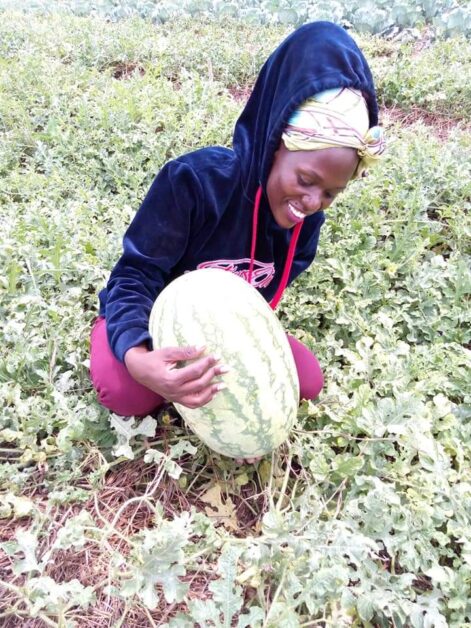 FUTURE PLANS
Currently, Abalo is working on acquiring a bigger piece of land to start up a farm school. "People need knowledge and the better ways of teaching, especially our rural farmers. On my farm, in five years, I hope to be growing for the international market on a larger scale and also venture into other farm enterprises like banana and passion fruit farming," Abalo says.
She is also venturing into fish farming. Her two fish ponds are ready. She also wants to set up a poultry project.
"Because of the dream of a farm school, so many enterprises will come along for the purpose of learning for farmers," she adds.
By Francis Otucu