A farmer can easily earn more from eucalyptus leaves than poles or timber! This is because there is ready market locally and internationally for the eucalyptus oil  which is extracted from eucalyptus leaves.
Prof  Bioresearch is currently buying a litre of eucalyptus oil at Shs300,000.
Prof  Bioresearch is a local company involved in the manufacturing and supply of standardized herbal extracts from aroma plants, trees, grass and phytochemicals; and alternative healthcare products basically in form of Essential Oil Extracts, Natural Perfumes, Stevia Products and Mosquito Repellents.
Julius Nyanzi, the CEO at Prof Bioresearch, says a litre of eucalyptus oil is extracted from 100kgs of eucalyptus leaves.
"Usually in an acre, you can get up to 120 litres of oil which is an equivalent of a gross profit of Shs36m," Nyanzi says.
This indeed justifies the saying "money grows on trees" because the money  fetched from adding value to eucalyptus leaves can be more than one from the poles or timber.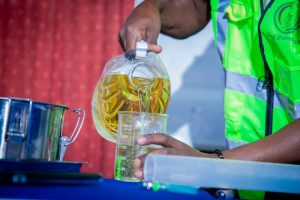 Eucalyptus Oil
Eucalyptus is grown on a large scale in Uganda. While some environmentalists argue that eucalyptus damaging the soils there are many benefits associated with eucalyptus.
However, many Ugandans don't know how to add value to it-they largely sell poles, timber and others burn it into charcoal.
It is also increasingly becoming hard for farmers to meet the required standards set by electricity companies especially the size and the height of the poles. This has left many farmers disgruntled and disappointed.
This is why Prof Bioresearch has come up with a solution to add value to eucalyptus. During the peak of COVID-19 pandemic, the demand for eucalyptus oil was high in Uganda and the world at large.
People were using eucalyptus oil for steaming, treating cough and COVID-19 treatment. others were using raw eucalyptus leaves for steaming.
Nyanzi says when eucalyptus trees are cut down, the leaves are left behind or burnt.
"Here at Prof Bioresearch, our belief is that money can grow on trees; we add value to these leaves and get money out of them," Nyanzi says.
He says one needs a distiller which in different categories and costs; a domestic distiller, a commercial distiller and an industrial distiller. A domestic distiller produces one litre of eucalyptus oil in two days, commercial distiller produces one litre in one day while an  industrial distiller produces 20 litres in a day.
The distillers are available at Prof Bioresearch  and can be purchased on installment basis where you pay 70% of the machine value. Once the client supplies Prof Bioresearch with eucalyptus oil, 30% is recovered by deducting 1% from each consignment.
The process of making eucalyptus Oil
Julius Nyanzi demonstrates the distillation process during the training
The process of making eucalyptus oil is similar to one of making crude waragi but the major difference is that for eucalyptus oil, you use food grade tanks which are approved and certified.
It  involves harvesting the leaves and waiting for them to dry up (wilt). Wilting the leaves is important because eucalyptus leaves have Sap which causes resistance in the distillation process.
The leaves are left to wilt in a shade and not direct sunlight since it causes oil evaporation. A sheltered room can also work.
Wilting takes between three to 10 days depending on the state of the weather. The wilting is faster in dry weather, while cold weather prolongs the wilting process.
After wilting, put water in a distiller according to capacity and then add the recommended leaves in an approved food grade tank.
"The food grade distiller tanks are available at Prof Bioresearch and come with  free training to help you with the skills to handle the oil extracting process," Nyanzi says.
Nyanzi advises people dealing in the eucalyptus business especially the growers, lumbers and nursery operators to embrace the business of extracting oil from eucalyptus leaves.
"Eucalyptus of one year can give us oil as long as you crush it and feel some smell/scent, then you know it's ready for oil extraction," Nyanzi says.
For more information contact, Prof Bioresearch via Tel: 0702 061652 /
 0779 519652 
Email: prof[email protected]