Johnson Basangwa, a resident of Bukwenge, Kamuli Municipal Town in Kamuli district is a true testimony of saying 'start small and grow big'. Having started with 500 chickens in 2007, now he operates a poultry farm – JEKA – where he now owns 20,000 chickens which on average lay 200 trays of eggs daily. He sells the eggs weekly and records Shs10m in gross profit.
Basangwa told Business Focus that after deducting all expenses, he pens Shs3 million as net profit. This means he earns a net profit of Shs12m monthly.
"I hope to expand my farm and double this income," he says.
Basangwa is a professional Civil Engineer, but chose to do farming after years of working elsewhere without much success.
"I quit my job because I hoped that this farming would get me where I wanted," he says.
The beginning
In 2007, Basangwa started with a small poultry farm in the heart of Kamuli town with 500 birds. Six months later, chickens started laying eggs. He used the income from eggs to buy more chickens to make a total of 3000.
The project partly succeeded when he expanded and bought more land measuring 60×300 in Bukwenge, Kamuli town at a cost of Shs1.5m to fulfil his dream.
Being a starter, Basangwa says, he needed a lot of time to learn how to go about the business. "I sometimes lost chickens because of poor handling but later I leant how to go about the business and things are better than before," he said.
Productivity at the beginning was also low because of poor mixing of feeds and determining when and how to best feed the birds. "It was tough but God has already seen me through," he says, adding that patience sometimes pays.
Expanding & Attracting Museveni's Attention
Basangwa is using some of his land to do piggery farming and another part for banana farming.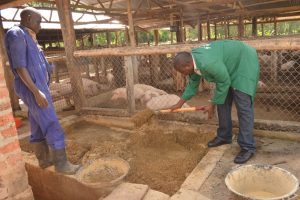 "I am not looking back," he says.
Another opportunity befell Basangwa in 2010, when President Yoweri Museveni was touring Busoga preaching the gospel of modern farming.
"I was selected among the farmers to host the President and when he came he was impressed with my work. He gave me Shs10 million and a brand new pickup to support daily operations of the farm," he says.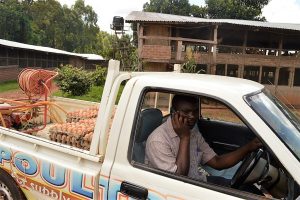 He explains that they have an office at the farm for record keeping and at the end of every year, they bring in the auditors to assess their performance.
Basangwa hopes to expand and create jobs for the youth and also become a source of good revenue for government in the long term.