He is passionate about coffee right from the garden up to consumption. While he is mainly into value addition, his aim is to ensure that the farmer-the fulcrum of the coffee sector, equally benefits from coffee business through 'right' (high) prices. Literally, he drinks, speaks and dreams coffee.
In a nutshell, that's Gerald Katabazi (pictured above), the founder and Chief Executive Officer of Volcano Coffee, a specialty coffee brand in Uganda with interests in promoting best brewed behaviours, human skills development in rural and urban areas on roasting, milling and brewing experiences. The company was founded in 2008.
In an interview with Business Focus at his Forest Mall based Coffee Shop before Kampala went into lockdown due to COVID-19 pandemic, Katabazi revealed that he is the only coffee specialty barista in Uganda.
A barista is someone that specializes in making and serving a variety of coffee beverages. They usually work at a coffee shop or in a bar that serves coffee or espresso specialty drinks.
Asked what differentiates specialty coffee from ordinary coffee Ugandans are used to, Katabazi, who has attended several barista trainings locally and internationally, revealed that specialty coffee takes into account all processes-right from the farm up to consumption.
"There must be processes that are followed; the coffee is purely organic," he says, adding that no sugar or addictives are added in specialty coffee.
Indeed, its aroma is not only appetizing, but when you taste it, the coffee is not sour and doesn't stick.
"Specialty coffee is less acidic as you have tasted," Katabazi, who is always jovial, says, adding: "You wouldn't want to add sugar because it's not bitter. We are here to brew experiences."
He says to ensure that all the required practices are followed, they source their coffee-both Arabica and Robusta, from five coffee growing regions; Rwenzori, Elgon, West Nile, Lake Bunyonyi region and Lake Victoria region.
"We have a few identified Arabica coffee farmers we deal with in Mbale, Kisoro and Kasese," he says, adding: "We source our coffee from tourist attractions."
He adds that they sell traceable coffees backed up by real life experiences from the communities.
"We are here to create impact by associating with communities in coffee growing," he says.
Championing domestic coffee consumption
Katabazi believes that with over 40 million people, Uganda should be in position to consume the over 4 million bags of coffee produced annually.
With government intensifying efforts to increase coffee production so that Uganda can produce 20million 60kg bags annually by 2025, Katabazi has embarked on a drive to up domestic coffee consumption.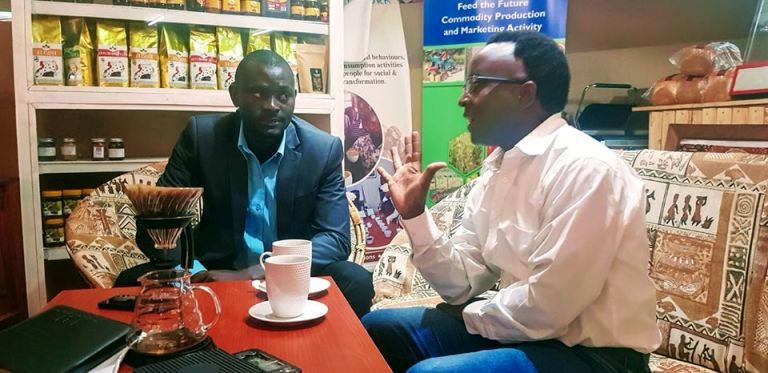 He says there are a number of gaps that affect Uganda's domestic coffee consumption that when addressed, the trend will instantly change.
"We (coffee shop owners) don't have standard regulators in the country," he says.
He proposes that the coffee sector is clustered in three guilds/forums; farmers' guild, roasters' guild and brewers' guild.
"The three will complete the coffee discussion which is currently almost non-existent. A farmer needs a roaster and a roaster needs a brewer or coffee shop owner," Katabazi says.
He adds that America's specialty coffee is growing because they have structured the sector yet they import the coffee from Uganda.
"When you structure the sector into three parts, you look the challenges and devise solutions," he says.
He adds that Volcano Coffee will continue to educate Ugandans the benefits of drinking coffee especially good fine (Robusta) and specialty (Arabica) coffees.
He says benefits of drinking coffee are social, healthy and economical.
"Apart from job creation, the conversation people tend to have while drinking coffee is development related. Health benefits of drinking coffee outweigh those of drinking alcohol or sodas," Katabazi says.
He adds that he is also training baristas so that they can start their own shops and employ Ugandans.
Until the COVID-19 paralyzed business, Katabazi was employing six people at his Forest Mall-Lugogo based coffee shop and six agents in various coffee growing areas.
His company also sells processed coffee as well as brewing devises to individuals and companies.