Housing Finance Bank Managing Director, Michael. K. Mugabi displays the signed MoU with Water for People
Housing Finance Bank has launched a partnership with Water for People to implement a citywide inclusive sanitation program, where 30,000 home owners will benefit from improved sanitation loans around 5 divisions in Kampala.
During the virtual launch that took place on Tuesday September 08, 2020, Housing Finance Bank Managing Director, Michael. K. Mugabi said he was delighted to launch the partnership with Water for People, noting that one of the bank's focus areas is to drive sustainable cities and communities.
"As a financial institution, we seek to work with different stakeholders in the sector to provide an improved customer value proposition that will enable all Ugandans both low and high income earners access improved sanitation loans around 5 divisions in Kampala," said Mugabi, adding the bank recognizes that Uganda is one of the countries in Africa with high urbanisation rates.
He said this calls for standard toilet facilities which are currently lacking.
In her remarks, the country director Water For People, Cate Zziwa Nimanya, asserted that good sanitation is a responsibility that calls for our effort and together make a lasting contribution in improving our ways of life and well-being.
"There is a need for sanitation in order to eliminate poverty and enhance well-being in a country. Water for People is therefore honored to be part of this partnership in a bid to empower families who live with a constant burden of uncertainty, stress and fear because of poor living conditions," she said, adding: "I would also like to thank financial institutions like Housing Finance Bank which have remained consistent in driving this agenda for all."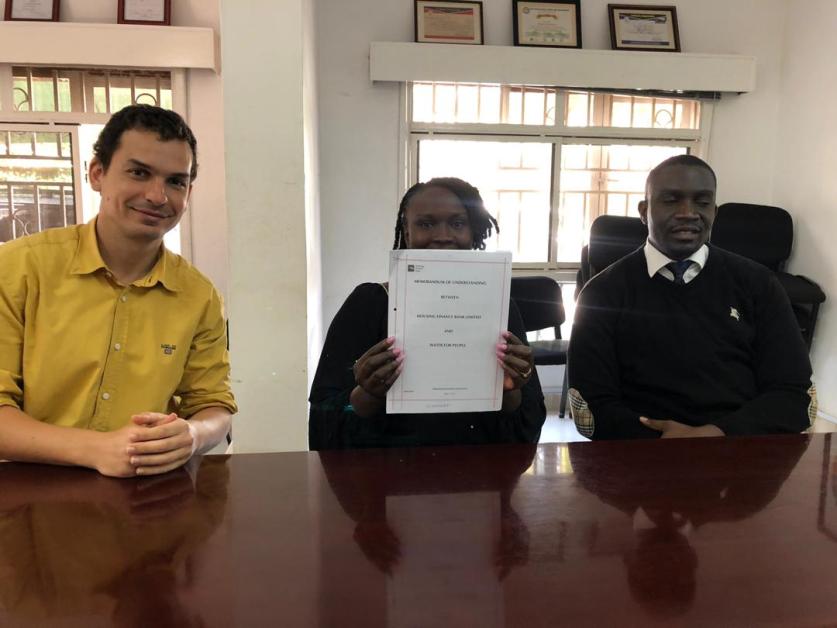 Mugabi further added that for over 50 years now, Housing Finance Bank has continued to provide viable solutions that "enable home ownership for all Ugandans and together, we shall leverage on all available platforms to ensure decent living and home ownership."
In Uganda, provision of decent low cost housing is promoted through some key intervention areas which include; Housing Microfinance that supports low income earners to undertake incremental micro-home-loans, Vulnerable Group Housing that provides fully subsidized social housing support for vulnerable rural households, Market Systems Program that aims at seeking partnerships with private companies to provide and develop inclusive products for all income levels of people especially the low income earners, Urbanization program that is aimed at addressing issues on the New Urban Agenda such as housing, slum upgrading and sustainable environmental management and Housing Finance Bank's incremental housing facility.
These initiatives would never be possible without good sanitation and hygiene and that is why Housing Finance Bank's partnership with Water for People is a practical initiative, in heeding to the dire need of decent living for sustainable economic growth and development.
The bank said the sanitation solutions will later be expanded to other newly created cities.