He didn't go to a technical school to study carpentry, but his works speak volumes because he learnt on the job.
Hakim Zziwa, in his 30s, is Managing Director of Ambakezi, a family owned
Carpentry Company worth Shs70M. The carpentry workshop is based at their home in Kawaala – Kasubi, a Kampala suburb.
Zziwa, who earns an average of Shs5m in net profit per month, says his works have marketed.
Officially registered in 2011, the company   employs about 10 people including three family members.
He says he got inspiration to take on carpentry as a business from his father, Rajab Kezimbira, who first started one at their home in 1996.
The carpentry workshop used to make him money despite the fact that he hadn't studied carpentry, but was a dealer in timber from Democratic Republic of Congo.
"After my O Level in 2001, my father advised me to learn carpentry skills from a friend who had a workshop in Bwaise," Zziwa says, adding that after acquiring some skills, he relocated and joined one workshop in Kampala Industrial Area.
He says he had gotten some money then and decided to join timber business in Congo for eight months.
He says his passion for carpentry was re-energized since he wanted to add value to the timber he was dealing in.
"I decided to get more skills by joining Winmat workshop in Wankoko, Bugoloobi where I spent six years from 2004 to 2010. That is where I got a challenge to ride on my father's dream of having a family workshop," he says.
Starting Small
He says he started small using timber rejects from his father and that he didn't have a single client.
He says he used Shs2m from his savings to buy a few basic machines like clamps, Landers, Benchvice and some mahogany timber worth Sh8m.
"Because of the issue of location, we failed to sale any single product and as months passed by, we realized we had to customize what a client may need and we eventually got a business of about Ush180, 000," he says.
He says at one time he felt like giving up, but his persistence and patience started to pay off. He got another business of making a bed worth Shs400, 000 through connections and that very client went on to connect him to other clients.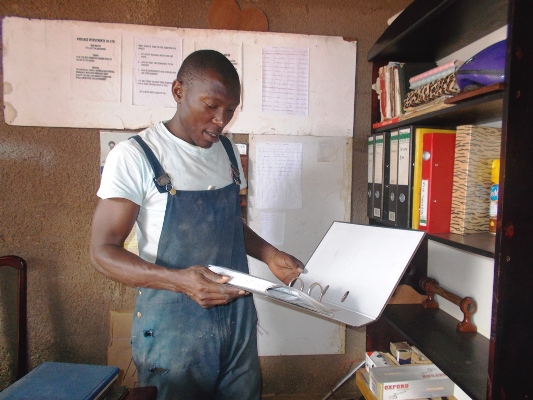 Today,  Zziwa has a clientele base of over 100 including big names like
Salim Saleh, Jamwa, Katumba Wamala, Top Bet, Forest Resort Hotel and Grand Global Hotel among others.
Challenges
Zziwa says that there is a challenge in the technical field and many students in technical schools are not passionate about their profession and those which are interested and passionate lack real skills.
He says that in technical schools, they miss the aspect of learning how to run and sustain a business.
Zziwa adds that some clients breach their contracts because of time management.
"The machinery we use to get perfect work is expensive," he says, adding that some people he works with are unreliable.
Future Plans
"We are planning to produce fully finished work and package it at the site of a client. We can assemble anything on site. We have proved that concept works and it will ease the cost of transporting the materials to the client," he says.
He urges Ugandan to embrace technical skills because they help a lot in creating jobs for the youth and space for the creativity.