Uhuru Kenyatta has been sworn in for a second term as president of Kenya at a ceremony in the capital, Nairobi, boycotted by the opposition.
The ceremony took place in a packed stadium with police driving back other Kenyatta supporters trying to get in without seats.
Riot police were also deployed in another part of the city to stop a rally by opposition supporters.
Opposition leader Raila Odinga mocked Mr Kenyatta's "coronation".
He boycotted the re-run of the presidential poll last month and says Mr Kenyatta was not elected legitimately.
Mr Kenyatta was officially re-elected with 98% of the vote on 26 October but just under 39% of voters turned out.
The original election on 8 August was held over again after being annulled by the Supreme Court on grounds of irregularities.
Uganda's President Yoweri Museveni, Ethiopian Prime Minister Hailemariam Desalegn and Rwandan President Paul Kagame are among a number of African leaders attending.
Israeli Prime Minister Benjamin Netanyahu is also expected in Nairobi but for an event later in the presidential palace, the Jerusalem Post reports.
How are the opposition responding?
Mr Odinga had promised to hold a "memorial rally" in another part of Nairobi to honour those killed during the four months of political upheaval since the August vote.
But when a crowd gathered at the Jacaranda grounds, riot police fired tear gas and beat marchers, the Daily Nation reports.
According to the opposition leader, Mr Kenyatta was elected by "just a small section of the country".
In the opposition stronghold of Kisumu, in the west of the country, local people told BBC News they were not happy with the inauguration.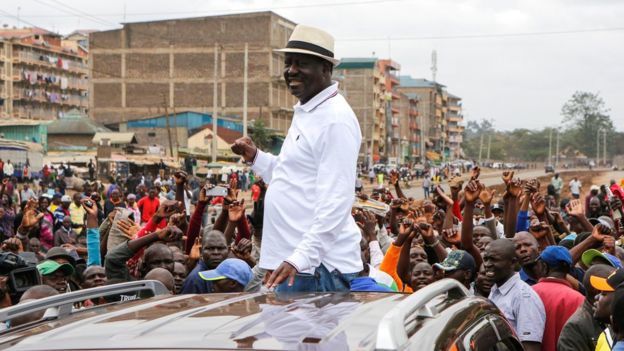 "I am going to peacefully accept and move on but I won't recognise this presidency," said one man.
"I don't even think I'd ever go to any government office to seek for services because I know it's a government that has come to office by force, it has killed people to be there."
A woman said Mr Kenyatta had not won fairly.
"A large part of the country did not vote – Kisumu being a major part that did not vote – and so we feel that it's not time to move on," she said. "It will not be an easy thing to do."