By Drake Nyamugabwa
A new study has revealed that 55%of Persons With Disabilities (PWDs) in Uganda use mobile money platform.
The study commissioned by the Uganda Communications Commission (UCC) with the main objective of establishing the current patterns of access, usage and challenges of PWDs to Information Communication and Technology (ICT) related businesses also show that 15% of the PWDs have access to SACCOs as opposed to national average of 5%.
This was revealed during a dissemination workshop on the findings of the study held at UCC offices in Bugololobi on Tuesday 29th January 2019.
"55 percent of PWDs receive mobile money at least once a week but not every day while 38 percent receive mobile money less than once a week. 4 percent of the respondents received mobile money at least once a day while 3 percent said they don't receive any mobile money," the report reads in part.
While presenting the findings, Andrew Otim the Head of Strategy and Research at UCC said that 52 percent of PWDs access social media on their phones, 12 percent have access to computers, 43 percent access a computer weekly and 33 percent access a computer daily.
The National Woman MP for PWDs, Safia Nalule Juuko, applauded the Commission for the baseline study which she said would help government better serve PWDs when it comes to ICT usage.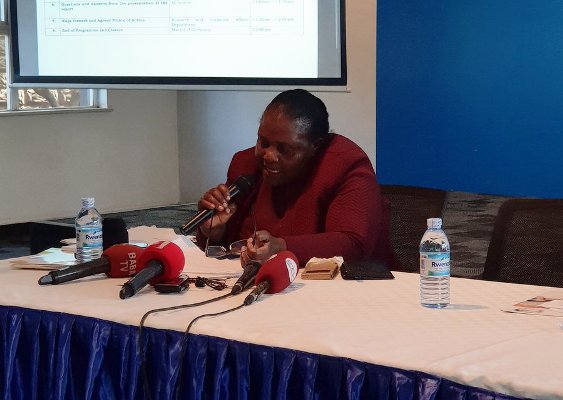 "UCC has a huge role to play when it comes to involving media houses in conversations about PWDs. This UCC Study on PWDs is a good place to start. Can UCC please copy what is happening in neighboring Kenya when it comes to implementation," she said.
The UCC Executive Director, Godfrey Mutabazi while opening the dissemination workshop, said that the study showed ICT usage by PWDs is quite low in the country. He said UCC was putting in place measures that will solve the challenge.
UCC's Director Corporate Affairs Fred Otunnu said UCC carries out digital awareness programmes in rural areas and they will make efforts involve PWDs in the programme.
"We are going to seriously involve PWDs in this. We shall support innovation that caters for persons with disabilities. There is so much we have planned for them," he said.