The Minister of State for Foreign Affairs (International Relations) of the Republic of Uganda, Okello Oryem has hailed the existing Bilateral Trade relations between Uganda and Turkey.
Oryem made the remarks during a meeting held today at the Ministry of Foreign Affairs where he met a 12 man Delegation of Turkish Investors and Business men who are currently attending the 1st Uganda – Turkey Business Forum taking place from 17th -19th June 2019 at the Speke Resort Munyonyo in Kampala.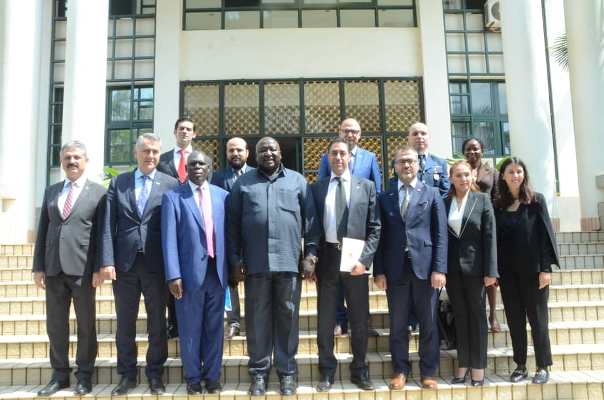 The Forum is organized by the Uganda Embassy in Turkey, the Turkish Embassy in Kampala in partnership with Ministry of Foreign Affairs, Private Sector Foundation Uganda (PSFU) , the Foreign Relations Economic Board of the Republic of Turkey (DIEK) and the Uganda National Chamber of Commerce and Industry (UNCCI).
The main objective of this Business Forum is to create an opportunity that enables the business communities from Uganda and Turkey to share experiences, create business networks, identify opportunities and challenges of on-going trade and investment between both countries.
The Minister highlighted the warm and excellent Bilateral relations enjoyed by both Uganda and Turkey.
Oryem further remarked that these strong historical bonds are anchored on existing cooperation frameworks, through which the two countries achieve common goals and interests.
He reiterated that the coming of the NRM Government in 1986 ushered in a new dispensation of Free trade under a liberalized system and under this arrangement a lot of countries have increased trade with Uganda, Turkey being one of them.
Today, Turkey is one of the major Trading partners of Uganda and East Africa at large.
Fikret Kerem ALP Ambassador of Turkey to the Republic of Uganda conveyed a message of gratitude to the Minister for taking time to meet the Delegation of Business men and Investors from Turkey.
He further noted that in 2012, the Turkish-Ugandan Business Council was established, following the signing of an agreement between Turkey's Foreign Economic Relations Board, the Unions of Chambers and Commodity Exchanges of Turkey and Uganda National Chamber of Commerce and Industry.
Steven Mubiru Ambassador of the Republic of Uganda to Turkey, informed the Meeting that the Business Forum held yesterday at the Speke Resort Munyonyo was largely successful with participants drawn from key sectors of Agriculture, Mining, Oil and Gas, Manufacturing, Tourism, Agro processing to mention but a few.
He further mentioned that there were Business to Business(B2B) Sessions that provided networking opportunities for Members the Delegation and the Ugandan Business Community to further engage and consolidate partnerships to meaningfully exploit investment opportunities both countries have to offer.
The Minister reiterated and re-affirmed Uganda's commitment to work together with Turkey and all other key stakeholders to encourage Joint Investment ventures, and collaborations with for the benefit of the Republic of Uganda and Republic of Turkey.