Property mogul Sudhir Ruparelia has spoken out on today's Commercial Court ruling in which a case filed against him by Bank of Uganda (BoU) and Crane Bank in receivership for allegedly fleecing his own bank (Crane Bank in receivership) of Shs397 billion was dismissed.
This brings to an end a protracted two-year legal battle between BoU and Sudhir.
Speaking to journalists after the ruling, the overjoyed tycoon described the ruling as "historic" and a big win against the mafia.
"I think this is a big win [against] the mafias (sic) holding this country at ransom," Sudhir said, wondering how he could fail his own bank he has built for over 20 years.
"How do you just still my bank; you (BoU) claim you injected Shs478bn in Crane Bank (to revive it) but can't account for it! Where's it all gone? Someone has just stolen in the name of Crane Bank," Sudhir said.
He thanked his son, Rajiv Ruparelia for the being by his side throughout the case and his lawyers from Kampala Associated Advocates (KAA), saying they are true professionals and not conflicted like others.
"This is historic. Nobody has in the past been able to take on the Central Bank (heads on). They have stolen from several closed banks and not accounted to any shareholders," he said.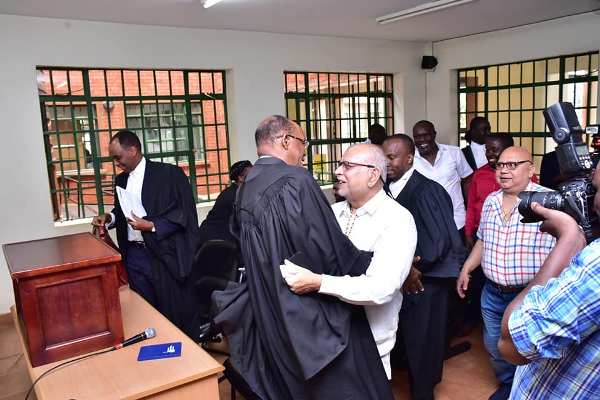 In his ruling, the head of the commercial court, David Wangutusi, observed that Crane Bank in receivership at the time of instituting the commercial suit against the businessman and his Meera Investments company, was none existent, hence never had powers to sue.
"In conclusion, the plaintiff/ respondent (Crane Bank in receivership) did not have jurisdiction to file HCCS no. 493 of 2017. It's also my finding that the property the plaintiff was seeking when she filed the suit on June 30th 2017 had earlier been given away by the receiver to Dfcu bank on 24th January 2017, four days into receivership and five months before filing of this suit this leaving the plaintiff/ respondent with no property," the court ruling reads in part.
The Court further condemned BoU to costs that Dr Ruparelia had spent in prosecuting this law suit, on grounds that it's the one that lodged the suit on behalf of defunct Crane Bank.
The lawyers of Crane Bank accused Sudhir of taking Shs397bn out of the financial institution in fraudulent transactions and land title transfers.
However, the businessman argued that when Crane Bank went into receivership, it lost its powers to "sue" and to "be sued", rendering its suit against him and Meera Investments Company, a nullity.