US President Donald Trump's "America First" stance on global trade has hit Rwanda, by imposing tariffs on clothing exports from the tiny East African nation, the BBC reports.
The issue revolves around an obscure import, second-hand clothes, and Rwanda's refusal to back down from the fight.
When did the dispute start?
In March 2018, the US gave Rwanda 60 days' notice that it would be suspending the landlocked country from selling clothes to America duty free – a status it enjoys under the Africa Growth and Opportunity Act (Agoa).
Agoa is the flagship US trade legislation designed to boost trade and investment in qualifying African countries by granting duty-free access to 6,500 exported products.
"The president's determinations underscore his commitment to enforcing our trade laws and ensuring fairness in our trade relationships," Deputy US Trade Representative CJ Mahoney said at the time.
Those 60 days have now expired.
Image copyright AFP Image caption Donald Trump and Paul Kagame did not seem too close when they met in January
Why did Rwanda ban the import of second-hand clothing?
The idea is to protect its nascent garment and textile industry.
Many African nations were once home to vibrant textile industries. But decades of mismanagement, instability, and increased global competition have taken a toll.
This can be seen in Ghana, where a study found that market liberalisation the 1980s had led to a sharp drop in textile and clothing jobs – from 25,000 people in 1977 to just 5,000 in 2000.
Kenya had half a million garment workers a couple of decades ago. Today that number is in the tens of thousands.
Second-hand clothing is one factor in the near-collapse of the garment industry in sub-Saharan Africa. The West's cast-offs were so cheap that local textile factories and self-employed tailors could not compete.
According to a study by the US Agency for International Development (USAID), in 2015 the East African Community (EAC) accounted for nearly 13% of global imports of used clothing, worth $274m (£205m).
Around 67% of the population in East Africa purchased at least a portion of their clothes from used clothing markets, the USAID study found.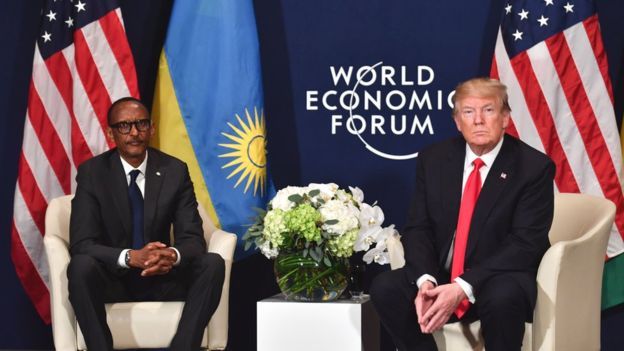 East African governments argued that domestic demand for locally made clothes was being suffocated by cheap, second-hand clothes.
So in 2015, countries in the EAC announced that second-hand apparel would be banned from their markets from 2019.
In Rwanda's case, the government said wearing hand-me-downs threatened the dignity of its people.
Rwanda increased tariffs on imported used clothes from $0.20 (£0.15) to $2.50 (£1.90) per kg in 2016. The eventual aim is to phase out all used-clothes imports.
Its government hopes the move will help nurture their garment industry and create more than 25,000 jobs.
Why did this upset the US?
It began when a trade organisation in the US filed a petition with the Office of the US Trade Representative (USTR).
The organisation, called the Secondary Materials and Recycled Textiles Association (SMRTA), said that the EAC's 2016 decision to phase out used-clothing would impose "significant economic hardship" on America's used-clothing industry.
It estimated that EAC's second-hand apparel ban could cost 40,000 US jobs and $124m (£93m) in exports.
Those figures have raised some eyebrows. According to Reuters, SMRTA has not publicly disclosed the survey of its members used to calculate the job losses in the US, saying it contains proprietary information.
"The EAC has disputed a lot of the statistics SMRTA has used," Grant T Harris, who served as the principal adviser to former US President Barack Obama on issues related to Africa, told the BBC.
By March 2017, USTR threatened to remove four East African countries – Kenya, Uganda, Tanzania and Rwanda – from Agoa.
Why did Kenya, Uganda and Tanzania back out?
Threats proved strong enough to ward them off.
In mid 2017, Kenya said it would "comply" with Agoa and withdrew the proposed ban on used clothes.
Kenya's benefits from Agoa are considerably higher than Rwanda: exports to the US amounted to nearly $600m (£450m) in 2017, compared to just $43m (£32m) for Rwanda.
The USTR explained in a press statement why Tanzania and Uganda capitulated: "The President is not suspending benefits for Tanzania and Uganda because each has taken steps toward eliminating prohibitive tariff rates on imports of used clothing and footwear and committed not to phase in a ban of these products."
Image copyright AFP Image caption Rwanda aims to be a middle-income country by 2020
Is what the US doing fair?
Yes and no. The US has every right under Agoa to require countries to eliminate trade barriers, which is its stated aim.
"But that doesn't make it the right thing to do," Mr Harris said. "The broader goal of Agoa is to use trade to support development, economic growth."
He added that the US provides duty-free access to its market to many other countries that have created barriers to US exports – this includes India and Brazil. "If the US wants to take a principled stance and pursue actions against every country that is blocking its product, that would make more sense.
"To take this particular approach with Rwanda, which is working towards becoming a middle-income country, is not consistent with the broader goals of Agoa even if it is consistent with the letter of the law."
He said the best way forward was for the administration to negotiate with Rwanda without using Agoa "as a cudgel".
How will this affect Rwanda?
While the US is not Rwanda's largest export market, the move could hurt the country, Florie Liser, the former assistant US Trade representative for Africa, told the BBC's Newsday programme.
"I visited a production facility where… 150 women were producing bags for Kate Spade specifically to come into the US market duty-free through Agoa," Ms Liser said.
Image caption Rwanda's used-clothes industry is worth nearly $20m
Those jobs might be at risk and tariffs could scare off investors seeking to take advantage of Agoa, she said.
Rwanda's President Paul Kagame seems willing to sacrifice economic growth. "This is the choice we find that we have to make. As far as I am concerned, making the choice is simple [although] we might suffer consequences," he said in 2017.
"Rwanda and other countries in the region that are part of Agoa, have to do other things – we have to grow and establish our industries."
The real winner in this dispute will be China, experts say. Chinese exports of cheap, ready-made clothes to East Africa is worth $1.2 bn, according to the USAID survey.
This far outstrips the value of second-hand clothing imports, which are currently being bought by the poorest 40% of the population in East Africa.
"This will just open up more market space and greater dependency on them [China]," Mr Harris said. "The individuals buying the clothes won't have the means to buy domestic-made apparel, so they are going to turn to cheap, ready-made clothes from China."
What do Rwandans think about it?
Some Rwandans are not thrilled by their government's tough policy.
The used-clothing market in Rwanda employs more than 22,000 people in 2016 and was worth $17m (£12m). That ecosystem is struggling since President Kagame's ban.
Mariam, a clothes buyer in Kigali, told the BBC's Swahili service that the only thing you can find in clothes markets today is "Chinese clothes and they are very expensive".
"I understand that Rwanda needs to develop its own industries, I support the 'Made in Rwanda Campaign', but we are yet to see these industries. It would have been fair if the government allowed second-hand clothes for the sake of the poor," she said.
Second-hand clothes trader, Rulinda Elmass, said he was not against the plan to develop local industries. "But for now they are few, and almost non-existent."
He said the fair thing would be to allow competition for second-hand clothes because "people should be allowed to have choices".
"As for the US sanctions, I think this is a big problem glaring the country. Everyone will suffer."