dfcu Bank customers can now access Agent Banking services at select Shell fuel stations across the country.
This follows an official announcement of a strategic partnership between Vivo Energy Uganda and dfcu made this morning at Shell Banda.
Speaking at the launch, the dfcu Chief Executive Officer Mathias Katamba said: "dfcu Agent Banking is a promising strategy in driving financial inclusion by taking a broad range of financial services closer to our customers. We are optimistic it will add a sizeable percentage of the population to the formal banking system while decreasing the Banks cost to serve. With this partnership with Vivo Energy Uganda and many more to come, there is no doubt that we are on track to extending financial services more conveniently to our customers."
"In line with our digitization agenda, we are complementing Agent Banking with an instant account opening platform that will enable customers to acquire dfcu bank accounts in less than five minutes. Ultimately this is a step towards changing the way we do business," Mr. Katamba added.
Speaking during the launch of the partnership at Shell Banda, Gilbert Assi, Managing Director, Vivo Energy Uganda said that Vivo Energy has invested in convenience retailing to offer a wider range of services to both customers who fuel and service their vehicles at Shell service stations, as well as walk in customers: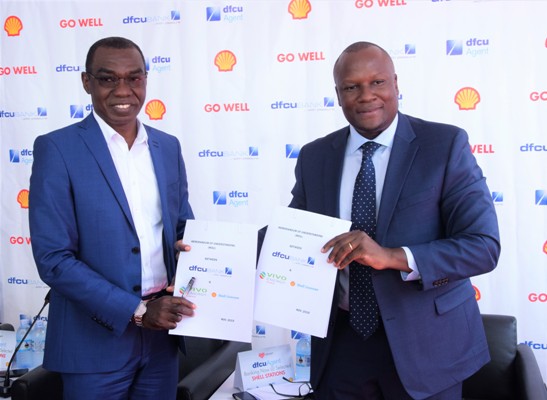 "The partnership with dfcu Bank continues to reaffirm what we have always said and believed in – that convenience retail is an extension of our core business at Shell service stations. I am pleased that our customers can now access some banking services at Shell Stations like making cash deposits and withdrawals; balance enquiries; generating mini-statements; paying utility bills; school fees, carrying out transfers and originate the process of account opening," noted Gilbert Assi.
Through Agent banking, dfcu Bank is extending select financial services to the unbanked and under banked in easy to access locations across the country. Services include making cash deposits and withdrawals; balance enquiries; generating mini-statements; paying utility bills; school fees and also carrying out transfers. Customers can also originate account opening.
dfcu currently has close to one thousand five hundred (1,500) agents countrywide – 40 of these are under Vivo Energy Uganda. Agents are found in easy to access locations like:gas stations, supermarkets, hardware stores, pharmacies, neighbourhood stores etc. In rural and semi urban areas the dfcu agents will play a key role in reducing the amount of time and distance customers have to cover to access banking services.