Government officials and representatives from different entities poses for a picture during the launch of the Uganda-South Africa Trade and Investment Summit
dfcu Bank has been unveiled as one of the key strategic partners of the Uganda-South Africa Trade and Investment Summit which will take place in September at Speke Resort Munyonyo. The announcement was made during a press briefing at the Kampala Serena Hotel. The summit is an initiative of MTN Uganda and is held in association with major South African businesses in Uganda and a host of local institutions.
Charles Mudiwa, the CEO of dfcu Bank, highlighted the institution's unwavering commitment to the nation's economic advancement.
"Rooted in our origin as a development financing entity, dfcu Bank remains dedicated to identifying and supporting investments that contribute to economic growth. The Bank's substantial investments in fostering a sustainable agricultural sector and empowering women entrepreneurs underscore our enduring dedication to our Purpose which is, 'Transforming Lives and Businesses in Uganda," Mudiwa noted.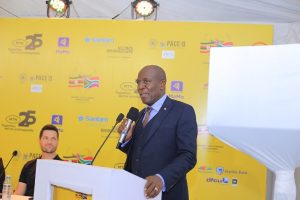 Mudiwa further articulated, "Our establishment in 1964 marked the commencement of a journey centred on propelling Uganda's economic progress. Over the years, this commitment has manifested through financing and other forms of support for industrial advancement, nurturing businesses across the nation, and effecting profound transformations in countless lives."
Recognizing the pivotal role of synergies between South African and Ugandan businesses for the summit's success, dfcu Bank stands prepared to facilitate these collaborations by delivering essential financial advisory services, facilitating access to capital, and furnishing networking platforms.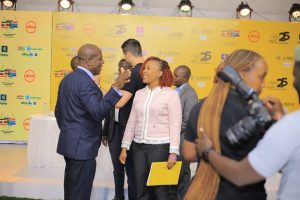 "Collaborations between South African and Ugandan businesses are crucial for the success of the investment summit and dfcu Bank stands ready to facilitate these partnerships by providing the opportunities and resources required to make this a reality," he reiterated.
Ms. Sylvia Mulinge, CEO of MTN Uganda, a subsidiary of MTN Group based in South Africa and the leading sponsor of the summit, underscored MTN Uganda's endorsement of the event in response to a call made by President Yoweri Museveni.
"MTN is  here today in fulfilment of President Yoweri Museveni's ask and commitment made during the first leg of the Uganda-South Africa Trade and Investment Summit held in South Africa in February this year, in which our head of state tasked successful South African Businesses in Uganda to mobilize more South African companies to come and invest in Uganda especially in Agro- Industrialization, manufacturing  and tourism to boost the economy, create more jobs and improve the country's balance of trade," she said.
"MTN's mantra this year is together we are unstoppable, hinged on our belief in the power of collaboration. We believe that we can achieve a faster social and economic transformation when private sector players partner with the government in support of the countries' National Development." She added.
Over the past decade, Uganda's exports to South Africa have exhibited steady growth, culminating in $21.24 million in 2022. Meanwhile, South Africa's exports to Uganda experienced a decline from $251.6 million to $127.6 million during the same period. Notable items in Uganda's exports to South Africa include cotton, gold, fish fillets, tobacco, coffee, and fresh flowers. Conversely, South Africa's exports to Uganda encompass machinery, vehicles, plastics, chemicals, electronics, petroleum, and a diverse array of goods.