Gabriel Okumu (3rd Right), the Okoro County MP in Zombo district officially launching the fertilizer distribution programme in Northern Uganda. 2nd Right is  Dr. Gerald Kyalo, the Technology Development Manager at UCDA
Uganda Coffee Development Authority(UCDA) has urged coffee farmers in Northern Uganda (West Nile region and Mid North) to embrace the stumping of old unproductive coffee trees so as to convert them back to highly yielding cycles.
This is after reports that some farmers are still hesitant to stump their old coffee trees even when they are no longer productive.
This arose on Friday as Ministry of Agriculture, Animal Industry and Fisheries through UCDA launched fertilizer distribution under the coffee rehabilitation programme in Northern Uganda at an event held in Nebbi.
Speaking at the event, Dr. Gerald Kyalo, the Technology Development Manager at UCDA, who represented the Authority's Managing Director noted that 1.43m coffee trees have been stumped in West Nile, 186,206 in Mid North, bringing the total number of stumped coffee trees in Northern Uganda to 1.62m.
West Nile region largely grows Arabica coffee.
To support farmers rejuvenate the stumped trees, UCDA gave farmers an organic fertilizer called Bambo Biochar Organic Fertilizer.
Kyalo revealed that a total of 32,240 bags (25kg each) have been availed to farmers who stumped trees in Northern region (26,651 bags to West Nile and 5,589 bags to Mid North). Zombo, the leading coffee grower in the region was given 10,214 bags of fertilizers.
He noted Okoro Coffee Cooperative Union received 2,783 bags of fertilizers in the last financial year.
Kyalo told farmers that the application of fertilizers gives the stumped coffee a big boost to sprout vigorously and produce health stems that bear optimal crop yields in subsequent years.
He added that UCDA's fertilizer distribution programme is aimed at encouraging farmers to continue using organic fertilizers after realizing increased yields.
"The stumped tree will start yielding after two years," he said, adding that farmers can always buy fertilizers from the market.
Kyalo said in the last five years, UCDA has distributed 38 million coffee seedlings to farmers in Northern region.
He thanked district officials and Operation Wealth Creation (OWC) for cooperating very well with UCDA. He also sensitized farmers about the new National Coffee Act, noting that it's good for all coffee stakeholders.
West Nile has 50,000 households engaged in coffee farming. These mainly have 0.5-2 acres.
The Chief Guest, Gabriel Okumu, the Okoro County MP in Zombo district, who represented the Minister of Agriculture, said that "work is in progress for farmers to get pulpers and a wet mill."
Okumu, who sits on Agriculture Committee of Parliament, added that "as a Committee, we are very happy with UCDA performance." He pledged to support the Authority's proposals.
He urged farmers to follow UCDA guidelines to ensure maximum yields and productivity.
"I call upon all of you to embrace the fertilizers. I am happy that these are organic fertilizers," he said, noting that organic coffee fetches the highest price in the world market. He further urged farmers to focus on productivity per tree.
It should be noted that in July this year, UCDA supplied fertilizers to farmers in Elgon region and the results are very good.
On Wednesday, UCDA launched the distribution of 1.694 tonnes ( 67,679 bags) of fertilizers in Bunyoro region for 2.2m stumped old coffee trees.
Government through UCDA has invested Shs8.5bn in the fertilizer distribution programme throughout the country.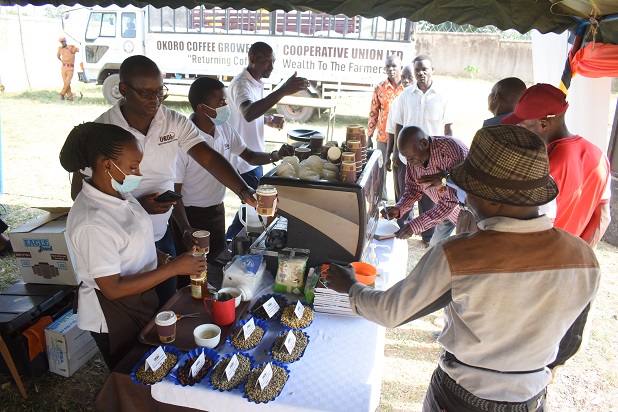 Parish Coffee Development Advisors
Speaking at the same event, Robert Nangatsa, the Extension Manager at UCDA said they have come up with Parish Coffee Development Advisors in an effort to boost coffee production.
"For every parish in this country where coffee is grown, we are going to have a resident coffee advisor selected from that very community," he said, adding that with an estimated number of 7086 parishes and the corresponding number of parish coffee development advisors, almost all farmers will be reached out.
He called upon Local Governments to embrace the programme. He added that each parish will have a demonstration site/garden where all coffee farmers will learn from.