Victoria University Vice-Chancellor, Assoc. Prof. Krishna N. Sharma on Thursday 9th May 2019 released his latest paperback book Advanced Techniques in Physiotherapy and Occupational Therapy (ISBN 9789388958509).
Prof. Sharma, who recently bagged the record of Youngest Vice-Chancellor in the world, said that the 246 paged book is for physiotherapy and occupational therapy students and professionals. The book is designed after considering undergraduate and postgraduate PT/OT curricula of several international Universities.
Susan Akori, the President of the Uganda Physiotherapy Association said that she was "happy and proud that the Vice Chancellor of Victoria University has taken lead and written this book that will guide Granduands in the physiotherapy and occupational therapy field."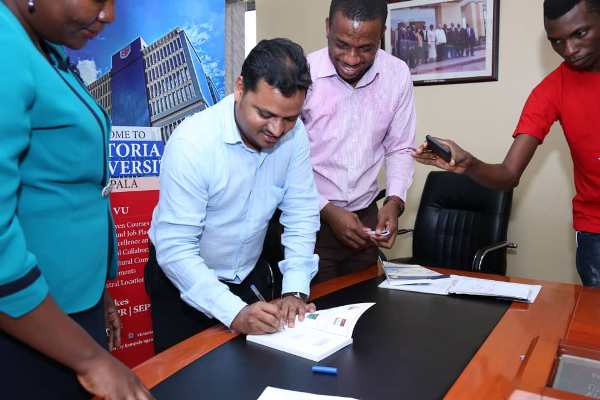 The book encompasses of 32 advance orthopedic/manual therapy, neurological, vestibular and cardiopulmonary physiotherapy and occupational therapy techniques. The content is in-depth but precise and concise, written in simple English that makes almost all the chapters 15 minutes read. The book is enhanced with easy-to-comprehend figures, flowcharts, and photographs.
This book is published by Jaypee Brothers Medical Publishers (P) Ltd., New Delhi, India; a 50 years old leading medical publication with 3,500 titles in its list and 350 new products added each year. Jaypee has a network of more than 1100 booksellers in India. Jaypee products are being distributed globally by renowned distributors in the USA, Central and South America, UK, Canada, Europe, Africa, Middle East, South East Asia, North Asia and in the Australia/Pacific Region.
The book preview is available online and the paperback copy can be bought on publication's official website- www.jaypeebrothers.com and several other bookstores and e-commerce sites. The book can be made available in Ugandan book stores based on demand.
It is notable that this youngest Vice-Chancellor is also a renowned academician and prolific author. He has written several books on medical and health sciences, music and literature and a few of them were listed in the bestsellers list on amazon.com.
Apart from academic management, he is also active in the field of pain management.
After years of his experience and supervising more than 60 researches, he developed his own therapeutic manual therapy techniques- Krishna's Kinetikinetic Manual Therapy (KKMT) which is being taught and practiced in several countries.