Property mogul, Sudhir Ruparelia continues to change Kampala's skyline. The latest is the US$320m (Shs1.2 trillion) Kingdom Kampala Mall that finally opened to the public on Thursday.
It is yet to be officially launched but tenants can now take up spaces.
Inside the twelve floored multibillion and multipurpose complex is a 200 bedroom 4 Star Hotel, 40,000 square meter office space and a 16,000 square meter rentable space for leisure related kind of businesses.
It has over 22,000 square metres of space.
When fully lit at night, it illuminates the surrounding areas like a gigantic Christmas tree.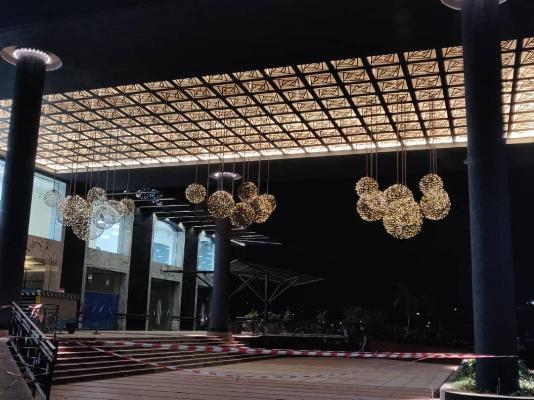 The facility has 22,000 square metres of let-table retail & office space, parking for up to 450 cars and sprinkler fire suppression system.
It has 400 CCTVs to provide adequate security, three backup generators in case of power outages and six lifts with combined 72- passenger capacity.
Kingdom Kampala mall, which is now one of the marvels in the Kampala sky is located between three main roads; Nile Avenue, Yusuf Lule Road and Dewinton Road to the northeast of Central Business District of Kampala.
Sudhir, the Chairman and proprietor of Ruparelia Group took over this mall from Saudi Prince Ali Waheed who was supposed to build a hotel to host guests during the Common Wealth Heads of Government Meeting (CHOGM) in 2007 but the hotel was never built.
Prince Ali Waheed, together with Abland Africa an International firm from south Africa, were supposed to build a CHOGM hotel-Kingdom Hotel in 2007 but failed, and sold their interests to Sudhir's Crane Management Services (CMS) that since took over the construction of the same.
Sudhir, Uganda's richest man in a 2016 media interview revealed that he had "more than 300 titles [of land] in my closet and still counting." This has since grown considering the fact that he has been opening more new buildings in Kampala and the surrounding areas.
For example, he has more than 14 buildings along Kampala Road.
He valued his titles at around US$1bn (roughly Shs3.7trillion) excluding the now defunct Crane Bank.