Geofrey Balamaga, URA's Enforcement Operations Manager while addressing the press in Kampala on Tuesday.
In an enforcement operation on February 18, 2022, Uganda Revenue Authority intercepted a truck registration number UAN 010L conveying 320 cartons of Chewing Tobacco Brand Miraj along the Gulu-Kampala highway. The truck driver Fred Tamale, was arrested. Geofrey Balamaga, URA's Enforcement Operations Manager says Tamale used a ungazetted route, entering Uganda through a short-cut at Elegu border post. The same operation also led to the interception of a Toyota Wish, registration number UBK 524D which carrying 202 rolls of textiles fabrics worth Shs 50 million. Its driver Abdu Ofuba was arrested.
According to Balamaga, the driver entered Uganda through Busia but diverted to Soroti and to the north, enroute Kampala. However, he was intercepted at Nakasongola.
In another operation during the same period, skin lightening body cream was impounded at Gateway bus terminal in Kampala. Balamaga says that the cosmetic was ban since it contains hydroquinone, an agent for skin cancer. The consignment was worth Shs 60 million. No one has been arrested yet but Balamaga says that an investigation to ascertain the persons behind it is on-going. In a seperate operation at Lugazi, URA enforcement team impounded a truck registration number UBH 178J. The truck had over 100 used computers and textile fabrics concealed under empty beer crates. Balamaga says that the offenders will be charged in Courts of law for offences related to being in possession and conveyance of smuggled Contraband and uncustomed Goods contrary to section 199 and 200 of the East African Customs Community Management Act.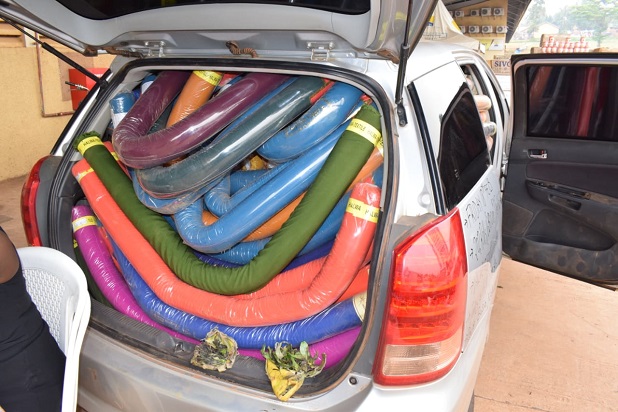 "I urge all transporters to desist from the act of working with importers to smuggle goods because once intercepted, the consequences are dire," Balamaga said.
Among its many functions, URA is also Mandated to protect society from harmful goods that endanger lives of Ugandans as well as guard legitimate businesses from unfair competition arising from dubious importers who do not pay their due taxes.
URA continues to intensify the fight against smuggling through robust field intelligence, intelligence information and leveraging on non-Intrusive Inspection Technology at the border entry points.