Witnesses and military officials in South Sudan said at least six people were killed in an attack Wednesday on a bus convoy traveling between Juba, the capital, and Nimule, on the country's southern border with Uganda.
Four civilians and two national security service members escorting the convoy were killed, a spokesman for the SPLA (Sudan People's Liberation Army) told VOA's South Sudan in Focus.
The Juba-Nimule road is a major lifeline linking the South Sudanese capital with the East Africa region, via Uganda. The road carries most goods that South Sudanese traders import from Uganda.
Wednesday's incident was the fifth deadly attack this year along the 200-kilometer stretch of road between Nimule, on the banks of the Nile River, and Juba.
Ambush attack
The SPLA spokesman, Brigadier General Lul Ruai Koang, said one of the buses was hit by a rocket-propelled grenade, and that the attackers also had heavy weapons. He blamed rebels loyal to First Vice President Riek Machar for the raid, but a spokesman for Machar's SPLA-In Opposition group denied any involvement.
"The attackers were repulsed," Koang said. He indicated government forces inflicted an equal number of casualties on the raiders who opened fire on the buses, but details were unclear.
A passenger aboard one of the two buses heading for Juba said "a very serious ambush" broke out after the convoy passed Moli town in Eastern Equatoria province, less than halfway along the route to Juba.
The passenger said he saw three people who had been shot to death, one woman and two men, before the buses turned around and headed back to Moli. Several people with gunshot wounds were taken for treatment to Nimule.
Each side blames the other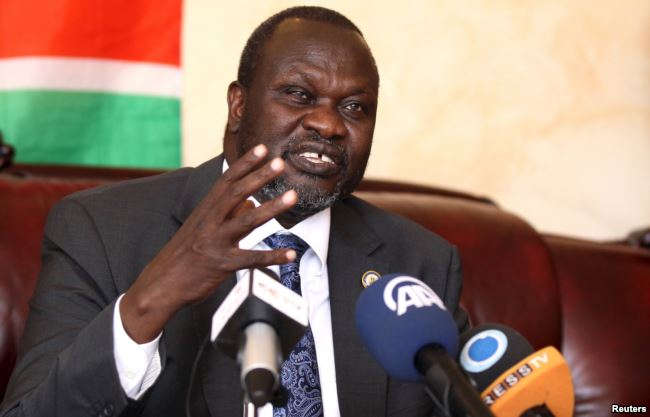 Koang told VOA he was convinced that rebels loyal to Machar were responsible for the attack. However, the deputy military spokesman for Machar's SPLA-IO, Colonel Lam Paul Gabriel, was equally certain that his fighters were not involved.
"We do not know exactly who is responsible for that, but we have sent an MI [military intelligence] team in search for the culprit," Gabriel told South Sudan in Focus. "We are advising our civilians to be careful while traveling on this road."
He said SPLA-IO forces had received "strict orders" from Machar, making it "very clear that civilian vehicles should not be attacked."
Before Wednesday's ambush, the most recent attack on the Nimule-Juba road was in June, when 10 people including two senior army officers were killed in a raid on another convoy. That assault was believed to have been carried out by Machar loyalists.
South Sudan has been mired in civil war since the young nation's first president, Salva Kiir, dismissed his deputy Riek Machar four years ago. After a peace accord was signed in April 2016 and backed by the United States and other Western nations, Machar returned to the capital to share power with Kiir, but the deal fell apart less than three months later, and Machar and his supporters left Juba.
Nearly 2 million residents have fled South Sudan since 2013, in Africa's largest cross-border flood of refugees since the 1994 Rwandan genocide. The exodus from South Sudan has become one of the world's worst humanitarian crises, according to aid groups.
According to Uganda Police spokesperson, "A Ugandan national by the names Ochia Rafah f/a 22,Aringa by tribe from Yumbe district, who was travelling to Juba in a Nissan Patrol car SSD 450 S white in colour was confirmed shot dead in the same incident.
He adds, "Her body was received under Elegu Police Station SD/Ref.18/02/08/2017 enroute for decent burial in Yumbe district. 
A Ugandan national by the names Ochia Rafah f/a 22,Aringa by tribe from Yumbe district, who was travelling to Juba in a Nissan Patrol car SSD 450 S white in colour was confirmed shot dead in the same incident."
VOA