Bold Cashers Limited, a Ugandan technology company, has set its eyes on making Africa's economies cashless with Cash Chat, a digital and social network mobile application.
The mobile apple now enables users to transfer money across the globe.
It also enables users to make money through targeted advertising on top of chatting with friends and family.
Already over 20, 000 users in Uganda and over 400, 000 global users are accessing and using the financial technology developed by Ugandans to do business and interact with their accomplices.
The Chief Executive Officer of Bold Cashers Limited and developer of the Cash Chat mobile app, Asher Namanya Asanasio says that this is the start of an ambitious attempt to make Africa go cashless.
Namanya adds that they are working with the leading telecommunication companies and commercial banks in the world, Visa and MasterCard to enable Cash Chat users to access their money anywhere in the world.
"We are an authentic company that believes that the future of developing countries like Uganda and others in Africa is in investing in technology and in innovations like Cash Chat mobile app.
We are facilitating the process for Africa to become cashless. We are looking at having a unified one stopover product where you can be able to chat, transfer money and many other things. Our vision is to connect the world through financial technology and social media," Namanya says in an interview.
"The Cash Chat mobile app has a Bold Cashers wallet in the chat that enables users to transfer money to their Airtel and MTN mobile money accounts, from their wallet to other users' wallet anywhere in the world, carry out airtime top-up, withdraw money, pay bills, make savings, share sponsored ads-to all users and chat with friends and in groups of up to 1000 members instantly," he adds.
Namanya explains that with a vision and mission to connect the world through financial technology, the focus now is that mobile phone and social media users must do more than chatting but also have access to the different financial liberating services like savings and earning through targeted advertising.
"We want to make communication and money transfers easy and affordable as compared to prevailing financial solutions mainly provided by commercial banks and telecoms. The Cash Chat mobile app gives you that advantage to access all services in one stopover without moving away from where you are as social media users and consumers. It gives you a privilege to access different services and still remain in the Chat,'' he notes.
Kenneth Kimuli, also known as Pablo, a Ugandan celebrated comedian, who is the Cash Chat mobile app brand ambassador, explains in a separate interview that Bold Cashers is planting two trees with one seed.
"If you have noticed, people today literally move with their phones in their palms; this means that mobile phones are driving people's lives. And at Bold Cashers, we thought of how we can help them live a productive life instead of them talking about everything and saying nothing," Kimuli says.
"On Cash Chat, you can chat and still make money and as you know, online business is the way to go. Cash Chat helps when it comes to online business in terms of shopping and saving. The plus is you can multitask – you can run your business on your app and socialize," he adds.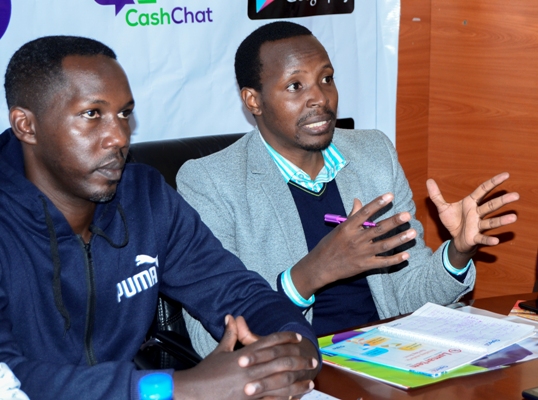 Bold Cashers Limited, the parent company of Cash Chat mobile app, is well aware of the cyber security concerns and why protection of people's data is a serious issue in the fintech business and has therefore put in place strong security measures to guarantee the safety of customer data, money and privacy.
"The safety of our customer data and privacy is paramount. We have put in place all security measures required for this type of business and we have been approved and certified by National Information Technology Authority (NITA-U). We have the greatest certification on PCI SSC (Payment Card Industry Security Standards Council), a technology that ensures users' security and safety of data worldwide," Namanya says.