Balaam speaking to the press
The 4th edition of the Uganda-French friendship week annual celebrations that were slated to begin from 21st through 28th March 2020 have been postponed to a later date due to the current situation of the global Coronavirus pandemic.
The series of events to mark the 4th edition of the week which included a Legends football match that was scheduled to take place at Namboole stadium, Kasav concert at Sheraton, a Rugby Tournament at Kyandondo, Military Day, Fashion day and a business innovation day among others was being organized by French Embassy, The Olimpiic Committee and other partners.
During a press conference at the French Embassy on Monday 16th March 2020, The French Ambassador to Uganda Jules-Armand Aniambossou, said that though together with the Ministry of Health of Uganda and the French Embassy had assessed the Corona virus potential risks to different activities and provided preventive measures and guidelines, the embassy given the magnitude of the public events and current situation in France and other countries, have decided to cancel all the events and postpone them to a later date.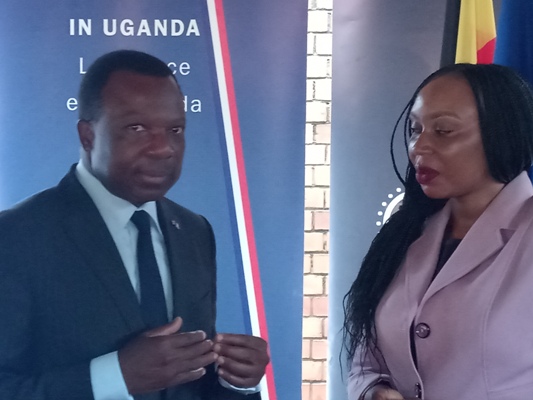 "An epidemiologist from Ministry of Health was assigned to assess the potential risks for different activities during the Uganda-French friendship week. However, given the magnitude of public event, we have decided in consultation with Ministry of Health and sponsors to cancel all events of the week. Depending on the evolution of the situation, the event may be organised during the Bastille Day in July or in August 2020," he said.
Balaam Barugahara, the CEO of Balaam Marketing Agency and one of the partners of the week said that the Uganda-French Friendship week is a great opportunity to market Uganda, but added that since the event will attract more than 100,000 people- local and international, they thought it wise to postpone it to save the lives of human beings based on the current global Corona virus pandemic.
By Drake Nyamugabwa