Property mogul, Sudhir Ruparelia has been awarded with 2019 lifetime tourism achiever from Uganda Tourism Board for his continued efforts to elevate the tourism sector in Uganda.
The awards were arranged by UTB in a bid to promote local tourism but also to appreciate key individuals that have made a significant contribution to the industry. The awards were dubbed the 'Ekuula pearl of Africa tourism awards' and the event took place at Sheraton Hotel, Kampala on Friday.
The businessman recently offered to become a lifetime guardian for a chimpanzee at the Ngamba Island Chimpanzee Sanctuary on Lake Victoria.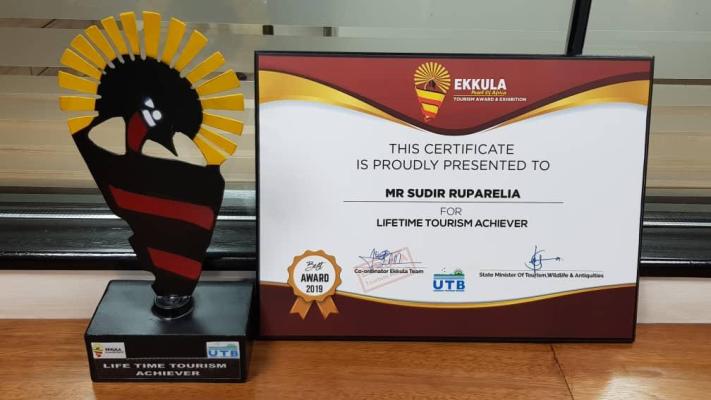 On top of sponsoring the chimpanzee, Sudhir has a fleet of posh hotels and other top of the art residential facilities like Speke Apartments among others.
Minister Prof. Ephraim Kamuntu said Ruparelia's offer to be a lifetime guardian for the chimp demonstrates his attachment to tourism and conservation in the country.
Sudhir's Speke Resort Munyonyo also won the Service & Luxury Biz Hotel award.
The State Minister for Tourism, Godfrey Kiwanda was awarded the Tourism Personality of the year.
Sarah Kagingo, the General Secretary of Independent Online Journalists Association-Uganda (indoja-U) walked away with the SOCIAL MEDIA PROMOTER award. Kagingo has used various social media platforms to promote Uganda's tourism sector.
Below Are The Winners of Ekkula Tourism Awards;
LIFETIME ACHIEVER -Sudhir Ruparelia
YOUNG TOURISM ACHIEVER- Natalie Bitature
TOURISM AMBASSADOR -Zarinah Tlale
TOURISM PERSONALITY – Kiwanda Godfrey
UGANDAN CUISINES RESTAURANT-Shaka Zulu
STANDARD SERVICE HOTEL – Wash &Wills
ECOSAFARI LODGE-Seranada Ecoresort
NEW HOTEL OF THE YEAR- Skyz Hotel Naguru
SERVICE & LUXURY BIZ HOTEL- Speke Resort Munyonyo
DOMESTIC CHARTER – AeroLink Uganda
AIRLINE OF THE YEAR( economy) – Ethiopian Airlines
AIRLINE OF THE YEAR (biz) -Emirates
FAST FOODS RESTAURANT-Cafe Javas
FASHION EVENT -Abryanz Style & Fashion Awards
OVERALL TOURISM EVENT -MTN NYEGE NYEGE
CULTURAL PROMOTIONAL EVENT-Bakiga Nation
FOOD EVENT- Rolex Festival
DIGITAL TRANSPORTER-SafeBoda
TRADITIONAL DANCE TROUPE-Kika dance troupe
PRIVATE WILDLIFE CONSERVATION CENTRE – Rhino Fund Uganda(Ziwa Sanctuary)
TOURISM ASSOCIATION- Association of Uganda Tour Operators
SOCIAL MEDIA PROMOTER-Sarah Kagingo
TOURISM PHOTOGRAPHER-Mathias Mugisha
TOURISM CLUSTER OF THE YEAR- Kigezi Tourism Cluster
TOUR GUIDES-Arshley Brian, Ben, Denis Arineitwe