Uganda's banking sector is yet to fully recover from high Non-Performing Loans (NPLs) that has left many banks counting losses as a result of high loan defaults.
This state of affairs has also left a number of business people and companies financially distressed.
The latest is that Standard Chartered Bank (commonly referred to as StanChart) has moved to sell multi-million Senana Building located along Buganda road after the owner failed to pay the Shs6.5Bn loan acquired from the bank.
According to a notice issued by the bank through their lawyers, Sebalu and Lule Advocated, the proprietor of Senana building, Frida Nabilongo under the company Senana Investment Limited had been given a month to clear the debt.
However, after the grace period elapsed, the bank instructed the lawyers to auction the building alongside other properties in Busega and Kibuga.
Upon receiving instructions, Standard Chartered Bank's lawyers also instructed Century Associates to auction the building in a notice issued in newspapers, reading; "Duly instructed by Sebalu & Lule Advocates on behalf of their client the register mortgage, we shall proceed to sale by public auction the property mentioned below unless the debt pays all monies owing plus lawyer fees, our fees, costs and disbursements before date of sale."
According to the notice, transactions of the sale of properties will be held after 30days from date of notice at Sebalu and Lule Advocates offices in Kampala and all current occupants have been asked to cross check their tenancy status within 14days.
"All occupants of property are advised to contact lawyers to clarify status of their tenancy within 14days to avoid forceful eviction," read the notice.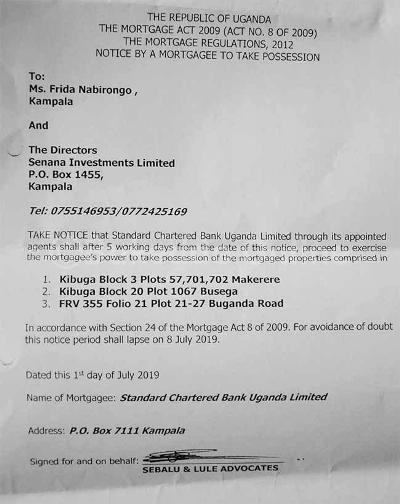 StanChart's NPL ratio stands at 1.7% as of December 2018. This is after its NPLs reduced to Shs22.2bn in 2018, down from Shs78.6bn recorded in 2017.
Headed by Albert Saltson as theChief Executive Officer, StanChart is Uganda's 3rd most profitable bank after it posted a net profit of Shs96.1bn in 2018, up from Shs93.2bn recorded a year earlier.
StanChard has been grappling with high NPLs in recent years.
According to the Bank of Uganda (BoU)'s Financial Stability Review for the Quarter ended 31st March 2019, industry t asset quality, as measured by the ratio of Non-Performing Loans to total gross loans and advances (NPL ratio) improved to 3.8 percent, from 5.3 percent recorded in March 2018.
"The improvement in asset quality was largely attributed to the significant reduction in the industry stock of non-performing loans from USh.618.7 billion to USh.498.4 billion during the period under review," BoU's report says.
It adds: Consistent with banks' reduction in exposure to foreign currency denominated loans, the proportion of foreign currency denominated NPLs relative to total NPLs reduced from 43.5 percent to 26.6 percent between March 2018 and March 2019."