Awori prepares to roast her coffee at Volcano Coffee Roastery
Sherinah Victoria Awori is a budding entrepreneur with special interest in coffee value addition. She is the brain behind the Janam Coffee brand, a business she started in 2021 after she quit her well-paying job in Kuwait where she worked as a barista. Awori decided to study a barista course after she failed to get a job as an Urban Planner given the fact that she holds a Bachelors Degree in Science in Urban Planning.
Her coffee outlet is based in Bukasa, Bweyogerere but she hopes to open up a modern coffee shop in future. Business Focus caught up with Awori at Volcano Coffee in Nakawa after a recent training on coffee value addition.
Below are the excerpts of the interview;
Q: Briefly tell me about yourself and how you joined coffee business?
A: My name is Sherinah Victoria Awori. I hold a Bachelors Degree in Science in Urban Planning but I didn't get a job in my field of study. In 2019, I did a barista course on the advice of a friend. I upgraded and did a roasting course. I went to Kuwait as a barista in 2021 but I didn't stay long there because the money I travelled to get  there was little; I kept giving so many ideas to the company but my salary remained flat at about Shs2.5m. I told the company to pack and resell coffee. It was definitely better pay compared to what I was earning in Uganda (Shs1.3m), but I also felt I could do better in Uganda. That very year, I came back to Uganda and started my coffee value addition journey.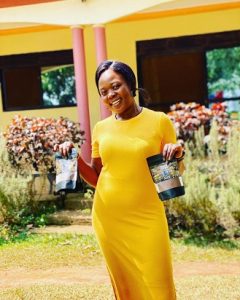 Q: What prompted you to go for the barista course?
A: Before I graduated, I was so much into media. I love media so much and therefore it took most of my time (she was working at BTM TV). That's when I realized I wasn't interested in the Bachelor's Degree that I had. Getting a job as an Urban Planner isn't an easy thing. There's a friend who used to come at my late mum's shop and every time he came, he would tell me to do a barista course and get a lucrative job in the Middle East. Then I saw baristas make the Latte art and I loved it. How do you steam the milk, then pour it in the cup and make the latte art?
It motivated me and I went for the course in 2019. At the time, I was doing media and coffee part time but I realized that the little time I spent as a barista, I was earning Shs400,000 at Mossa Cafe at Mossa Court Apartments. I told my boss that I am so overwhelmed, so we got another barista and I became the head barista. When I became the head barista, my salary was doubled. I was still in media but I wasn't earning so much but life for me as a media personality was so expensive. You've to mind about your looks and what you wear; it's quite high maintenance. So, I had to weigh between media and coffee. During my stay in media, my boss (Apostle Henry Byamukama) of BTM TV told me he had some money and wanted advise on where to invest it. I told him to start a coffee shop and I am so humbled and blessed that he believed in me. We used that money (about Shs100m) to buy furniture, espresso machines and everything required, so we set up the coffee shop (Cafe at 2) and it's still operating. He paid me consultation fees. This is when I realized my value. I employed a barista and I became the head barista and was managing the coffee shop.
While I was still at Cafe at 2, I decided to quit media and that's the time an opportunity to work in Kuwait came up. I went to Kuwait to make more money because at Cate at 2, I was earning about Shs1.3m. However, I was doing way too much work in Kuwait for Shs2.5m. I thought I should be earning Shs4-5m. I tried exporting coffee to Kuwait but it was so expensive.  So, after organizing myself, I decided to come back to Uganda.
Q: How did you get started upon return to Uganda?
A: I decided to start adding value to coffee. I wanted a name that was botanical. That's how I came up with Janam Coffee, Spices & Herbs because it digs back to my parents and ancestors. It's about identity for me. So, we sell coffee, spices and honey. If I don't make sales in coffee, at least I will sell a spice. The fact is that domestic coffee consumption remains low, so there's no way you're going to survive if you don't innovate.
After I returned, my former boss reached out to me again saying the coffee shop worked out and wanted to upgrade it. I told him we can have a barista academy. He again had to pay me consultation fees. For me, value addition is also about sharing my coffee knowledge at a fee.
A:  What are exactly are you doing in value addition under Janam coffee?
A: I pack and sell high quality coffee. I only pack Robusta Grade 18 and Arabica AA. I get my coffee from specific farms to ensure quality. If I don't get it from Bugisu, I get it from someone who has a farm in Kanungu. For Robusta, I get it from Masaka and Kanungu. I can track my stock. I personally roast the coffee so I ensure quality. I largely do medium roast because it's balanced but if a client needs something different, that's a special order which I can do. Later, I will have my cosmetics brand but it must be coffee related.
Q: What's your current production capacity?
A: My production capacity isn't big yet because in a good month, I can produce about 20kgs for sale which is still very low. I sell most of my coffee to people travelling out of Uganda. Locally, sales are still very low.
Q: What are you doing to grow your brand so that more Ugandans drink Janam coffee?
 A: Currently, we attend various expos because you meet various people, get people's stories and experiences. If we can afford an expo in nearby areas, we go for them. Expos where you can invest about $1000. There's one in Greece that I want to attend because I will sell coffee at good prices and get connections. You have to attend such expos to market your product better and to the right people. I also use social media platforms to market my coffee. Sometimes it works out, sometimes it doesn't but you have to remain consistent.
Q: Briefly tell me about the team you work with?
A: I employ someone at the shop. I have a part-time graphics designer, part-time financial person because I can't do tax returns. I can't do certain things myself. They are therefore part of the team.
Q: Women are increasingly joining coffee business. What message do you have for young female entrepreneurs?
A: I would advice young people to focus on what they can do best because for the coffee industry, there about 10 sections/ opportunities that you can tap into. If you're not a farmer, you can be a trader, a barista, roaster and so much more. You can't do everything.
Q: What key challenges are you facing?
A: Exposure is one of the biggest challenges. We are yet to get known the way we want to. Getting a trade mark is also quite challenging. Getting an export license for a small company like mine is also not easy because it requires bigger resources. Government should also tap people who are more knowledgeable about coffee to market Uganda coffee; Government should spot out outstanding personalities to market the country's coffee.
Q: What are your future plans?
A: I am now enrolling for a skincare course so that I can get more skincare related products from coffee. There are coffee oils, coffee scrubs, coffee balms and lipstick among others. Caffeine is good for our skins and coffee is something that can be used by anyone.
I would also love to have my own coffee shop based in the USA because of my personal interests. I also want to have a coffee shop here selling my products. I would like to have a one stop centre where we do roasting, packaging and everything to do with coffee.  You see if you sell various things, coffee gets contaminated.