Gone are the days when the only means of getting fish was by catching it in rivers, lakes and wetlands.
Uganda's aquaculture industry is rapidly growing largely because of the huge demand for fish on the market. The fishery industry in Uganda provides a vital source of food and about 50% of animal protein.
Joyce Kayongo saw a window of opportunity and decided to venture into Aquaponics fish farming on her one acre of land which hosts her house and what is supposed to be the compound is covered with water tanks containing the fish.
The Buddo based Catfish Hatchery is now worth over Shs100m. She chose to hatch catfish because they adapt easily to most conditions, are tasty, grow and reproduce fast.
Aquaponics is the symbiotic production of vegetables and fish.
The flowing water moves from the fish tanks, through a mechanical separator and abiofilter and finally to the plants in their media beds, pipes or canals, removing the dissolved nutrients.
This process allows the fish, plants, and bacteria to thrive symbiotically and to work together to create a healthy growing environment for each other, provided that the system is properly balanced.
According to Kayonga, she never had the slightest inclination that one day she would be involved in such a trade.
Fish was and is still her favourite delicacy.
While growing up, she thought fish could only be got from the lake or river. Later on, in life, she started encountering farmers who were farming fish in ponds.
She admired what they were doing but she didn't know how to go about it. Her husband, through his travel got exposed to aquaponics and, introduced her to the business, because he saw how passionate she was about fish farming.
Before embarking on Aquaponics farming, she tried her hands on several businesses, some paid off and others didn't do well.
At one point she had a retail shop, tried poultry farming, she also imported bicycles and sold to retailers before finally transitioning to aquaponics.
The capital generated from the bicycle business is what she used to start the catfish project six (6) years ago.
From her earnings, the mother of six (6) children has been able to educate her children and also contribute to household expenses.
"The first time I ventured into aquaponics, I bought poor fish seeds and most of the fishlings died, I almost gave up but my husband encouraged me on. I did some more research and bought better seeds the next time. Since discovering better fish seeds I hatch them and sell to my friends who have large pondsafter 18 days and some after one month. They all face a challenge of getting good quality fish seeds, so currently, I supply to most of them. Each fish fry is sold at Shs150," she remarks.
The least gross money Kayonga earns in a month from the project is Shs7m. In a good month, she hatches between 50,000 to 100,000 fishlings and sells them to nurseries leaving a few to hatch again.
She also earns extra money in Agro-tourism where she is involved in training other farmers in fish farming. This helps expand her market as she supplies them with seeds for their nurseries. Each individual tourist is charged Shs20, 000 for a minimum of two hours.
Currently, she has 16 tanks in various sizes of 3,000 litres, 2,500 litres and 1,000 litres which hold the fish.
She grows yams in the traffles which she consumes at home, the water moves from the fish through the yams where it is filtered then sent to two more tanks before being pumped back to the tank containing the fish.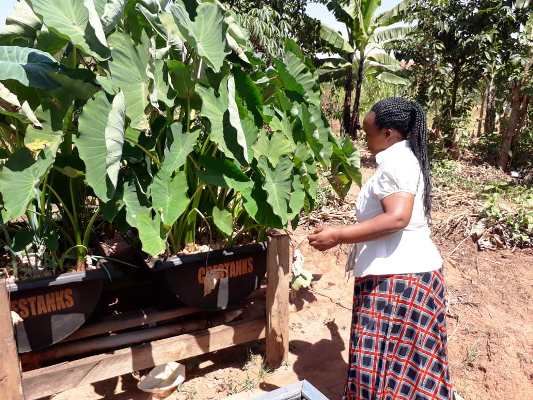 According to Kayonga, compared to other businesses she has done before, the challenges herein are few. Quality fish feeds are expensive thus sometimes she gets bad feeds which can kill the fish.
Also, high electricity tariffs affect her business since she relies on electricity to warm the water because the catfish like warm water. Otherwise, everything else is manageable since it doesn't require much work.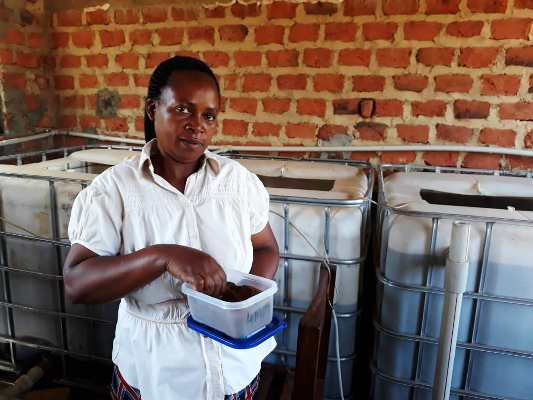 During the rainy season, she harvests rain water and stores it in tanks for when there is drought since the water keeps recycling, she doesn't spend a cent on water.
In 2018, Kayonga participated in dfcu bank's Women in Business program dubbed 'Rising Woman' and emerged among the top ten winning an all-expense paid studytour trip to Nairobi.
The Rising Woman initiative is aimed at providing women entrepreneurs with a platform to showcase their businesses, receive mentorship and network with other fellow women entrepreneurs for inspiration.
This initiative was in partnership with the Uganda Investment Authority (UIA) and Daily Monitor. Over 200 women submitted in their business proposals of which 20 were selected to defend their ideas before a panel of judges.
"I was very happy to participate in the Rising Woman initiative, and I was happy for the opportunity given to me to meet other women and share experiences in business. I'm very grateful for the exposure this program has given me. I had never participated in any competition before, this experience opened my eyes. I now realize there is so much more I can do to take my business forward. Just watch the space, I will make a comeback," says Joyce.
Her husband and son encouraged her to participate in the competition; they told her she deserved to be there since her project is a good one. Now looking back she is glad she took that chance.
"I learnt so much when I travelled to Nairobi. There are moments in business when you feel like giving up, but the people in Nairobi showed us that even when it's hard,it's important to persist because it pays off in the end. With these skills and knowledge I have received, I will continue training others in my community in my line of work, entrepreneurship is the way to go," she says.
Kayonga plans to start producing biogas and fertilizers from the waste generated by the fish system to widen her income base.