A girl from Samburu County in Kenya has been rescued from an early marriage by a Catholic priest after negotiations by elders to return dowry, reports the Standard.
Lilian Nabaru, 15 was married off by her uncles in 2015 while she was only in Standard Eight.
She was married to Mzee Tutten Lenewalubene as his fourth wife, and in return, her family accumulated a wealth of KSh528,000 (UShs19.6m) as dowry.
However, a year later, Nabaru escaped from Samburu to neighbouring Meru County where she sought refuge at St Clare Girls' Centre run by Fr Francis Riwa.
Fourth wife Interestingly, Lenewalubene, with the help of some of Nabaru's family members, traced her whereabouts and convinced the school that the girl should be going to his home during school holidays.
Little did Fr Riwa know that during the holidays, the girl would go to her matrimonial home to spend time with her elderly husband.
"The man and his relatives approached me. We did not know their intentions until the girl revealed to me that during the holidays, she would stay at the mzee's homestead, where she served as his fourth wife," said Fr Riwa. Following the revelation, the centre confronted Mzee Lenewalubene and threatened to mount a legal battle in efforts to rescue the girl.
Fr Riwa added: "We had two options which we represented to him to either set the girl free from the marriage or allow us to report to the police and children officers to begin his prosecution."
He said Mzee Lenewalubene was reluctant to free the girl but after negotiations by the elders, it was resolved that the dowry he had paid be returned if the girl was to be set free to continue with her studies.
"He had paid a hefty dowry and that was the reason he was not willing to let the child go. We agree with the elders that personally I settle the dowry and the fines which was imposed so that the girl could continue with her studies," he said.
On August 23, an unusual ceremony was held at Mzee Lenewalubene's homestead for the return of the dowry.
During the ceremony, Lenewalubene told the Saturday Standard that he was unwilling to give up on his "lovely wife" but had no grudge with the girl's family since she had made up her mind.
"l paid eight cows (pictured below) and Sh48,000 when l married her. Now that she has changed her mind, l have accepted it and accepted my dowry back," he said.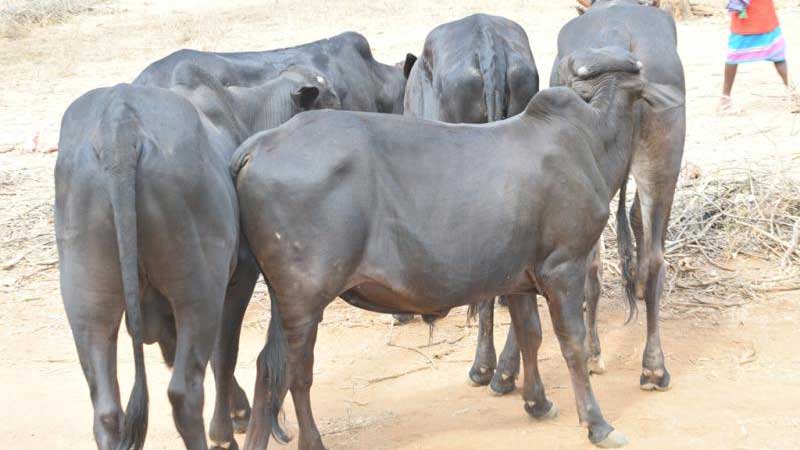 The girl said her mother was opposed to the marriage.
"After l completed Standard Eight, my mother told me that my uncles were planning to marry me off to an old man. I was taken to him in 2015 but in April 2016 l was helped by a Good Samaritan to reach the rescue centre," she said.
"When l was married they had told me that a female does not need to go to school but take care of property, including goats and cattle," she said.
Fr Riwa asked the pastoralist communities where early marriages are rife to accept that the girl-child needs education to empower herself.
He also asked the government to sensitise the society on basic rights.