Uganda National Examinations Board (UNEB) has released the 2019 Primary Leaving Examinations (PLE), with results showing an improvement in performance.
Releasing the results at Kampala Parents' School on Friday, Dan Odong, the UNEB Executive Secretary said a total of 695,804 candidates from 13,475 centers sat the PLE in 2019.
He said that 51.7% of these were girls.
"This is the 5th time UNEB registers more girls compared to the boys in PLE Exams," Odong said.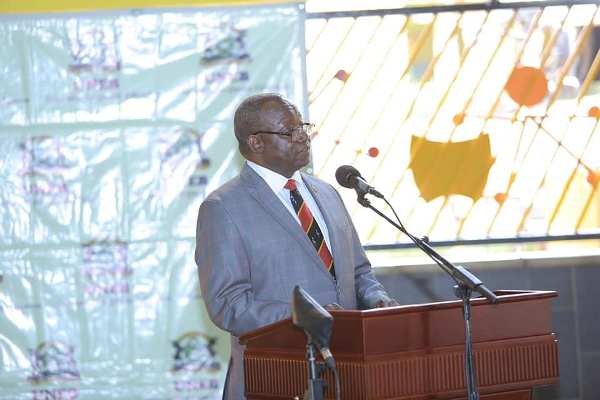 Odong said at least 69,243 (10.1 percent) of the pupils who sat last year's PLE passed in division one.
He added that 318,155 passed in second grade while 140,420 passed in third grade.
"A total of 89,332 have passed in the fourth Division," Odong said, adding that 66,152 candidates were ungraded.
There has been an overall improvement in English and Social Studies. The overall pass level of Science improved but there was a sharp decline in distinctions in the subject. Mathematics had a slight improvement, Odong said.
The Board registered 1,315 students with disabilities in the entire country. 49.3 % of these are girls and 50.7% are boys. These students include the blind, deaf, physically handicapped, the dyslexics and others, Odong said.
The best blind candidate was Ainamani Arthur Rwakitara from Grand Masion Primary School Nabbingo (Wakiso), who passed in Division 1 with an aggregate of 9.
Odong added that following the fake papers circulated on Social Media prior to the exams, markers found in some candidates' scripts excuses such as "this is not the paper we are to do," "this is not our examination."
The UNEB Chairperson, Prof. Mary Okwakol said she was happy to report that they registered no case of tampering with the examination at storage stations.
"I wish the applaud security personnel that ensured 100% proper storage of the papers," she said, adding that the biggest issue is teachers who assist students within the examination room. This is facilitated by the administrators of some schools.
"In one centre in Mpigi district, a scout reported back to UNEB with Shs500,000 which had been given to her as a bribe for her to allow the teachers of the school to write answers for the candidates," Prof Okwakol said.
She added that reported cases of malpractice have been reviewed and the board has obtained the minister's approval to withhold those results until investigations are completed and the candidates are given a fair hearing. Results of over 1000 candidates have been withheld.