Nsereko in his Sugar Napier garden. He says sugar Napier is good for silage
Millions of farmers in Uganda keep cattle, goats and sheep for many reasons including commercial purposes. However, many farmers get less profits from their animals because of limited nutritious pastures.
As a result, the animals are characterized by low levels of growth, production of milk and meat.
This explains why livestock farmers should consider growing their own pastures to improve animal nutrition, farm yields and profits.
Pastures are the cheapest source of feed for livestock and are mostly made up of grasses and legumes with high levels of required nutrients that are needed by animals for quick maturity, increased production, good health and quality products.
Bruno Nsereko, a pasture farmer and expert says every livestock farmer must grow nutritious pastures to earn more profits from their investment. His pasture growing business is located in Gayaza, Wakiso district.
Below are some of the pastures he recommends farmers to grow for better returns;
Alfalfa/lucerne
Nsereko says alfalfa contains 28% protein and 31% fiber. He refers to it as the king of pastures, noting that it increases milk productions and enables animals to grow faster.
"You can make hay and pellets out of it," Nsereko, who sells various types of pastures, says.
Chloris gayana
Nsereko says this contains 10.1% protein while its  crude fiber (energy) is 35.3%.  This is good for hay, he says.
Sugar Napier
This gives energy to cattle, goats and sheep.
"It has glucose which makes it good for silage. Its bio mass is also high," Nsereko, who teaches farmers how to grow pastures and make silage, says.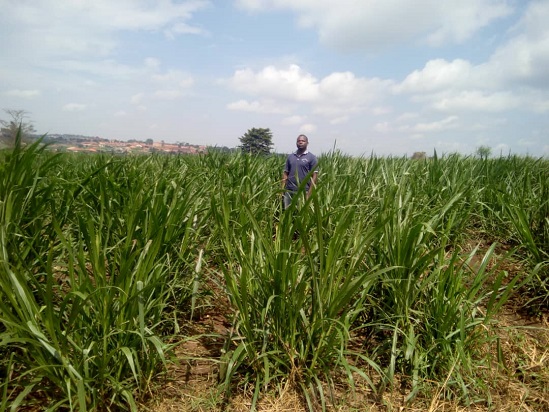 Lab lab, Centrosema, Glycine & Desmodium
These are legumes which are highly nutritious and rich in proteins.
Calliandra, Gliricidia sepium and Lucina
These are tree like pastures which are protein rich.
"They are very good at increasing milk, body building and fast growth," Nsereko says.
African foxtail /Cenchrus ciliaris
This is rich in proteins and energy. Nsereko says it's good for free range system.
Giant panicum
This is good for increasing milk production. Nsereko says it's good for cattle, goats, sheep and rabbits.
Setaria
Setaria is a widespread genus of plants in the grass family.
"This kind of grass is most liked by both rabbits and goats. It contains energy," Nsereko says.
For advertising, story tips or inquiries on this particular story, Tel: 0775170346/0703828741/[email protected] @BusinessFocusug @TaddewoS