Entebbe.
The State Minister for Privatization and Investment, Evelyn Anite has revealed that Uganda will no longer face fuel shortages going forward after a new fuel reservoir/ storage facility at Bugiri/Bukasa zone in Katabi Town Council, Wakiso district starts operations come April next year.
The Minister made the revelation today morning while inspecting a 70 million – liter fuel tank project code named Uganda Lake Victoria Fuel Transportation Company that will start operations by April next year. It's being set up by Mahathi Infra Uganda Limited.
Anite said the fuel tank reservoir has come at the right time when Uganda is faced with the problem of shortage of fuel and that by having 14 fuel tanks in the country with the capacity of 70 million liters, shortage of fuel will be no more.
"The project, which was recently commissioned by H.E Yoweri Kaguta Museveni, will store up to 70 million litres of fuel making it one of the largest fuel terminals in East and Central Africa.
Upon completion the costs of transporting petroleum products are likely to drop by almost 50%," Anite said, adding that the Fuel terminal and transport system will help ease transportation of fuel between Kenya and Uganda since the Kenya has a fuel terminal at Kisumu on L.Victoria.
Petroleum products transported by road are quite costly and susceptible to adulteration and accidents, she added.
"The transport system will also ensure reliability in petroleum supplies, provide direct employment to both Ugandan and Kenyan citizens and indirect employment to many due to development of ancillary industries," she added.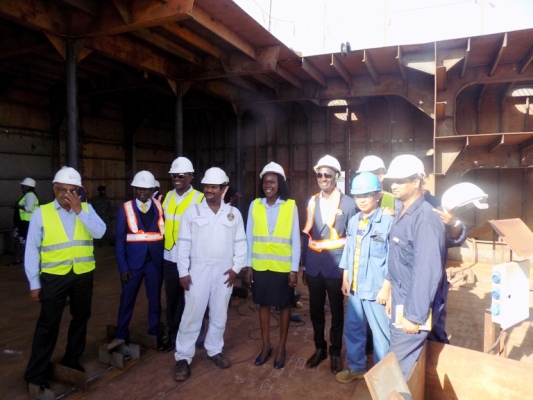 She noted that upon completion of the fuel tanks and assembling of the fuel ship that will transport fuel from Kisumu to Uganda within 16hours, around 200 -300 trucks will be able to collect fuel at the fuel reservoir in Bugiri/Bukasa zone and supply it to different fuel stations.
Capt. Mike Mukula, the Chairman of Mahathi Infra Uganda Limited , the company behind the project revealed that Uganda consumes on average 5million litters of fuel daily and that the new fuel reservoir will provide enough fuel to cater for demand by the consumers.
He however said that the biggest challenge to the fuel reservoir is mainly the Kawuku-Bwerenga road which needs to be expanded and made solid in order to ease movement of fuel trucks.
Mukula further disclosed that upon completion of the 14 fuel tanks,
Uganda will have fuel reserve for 30days and that the project will employ over 2,000 Ugandans.
Dinesh Donadi, the Project Manager said that the14 storage fuel tanks will be able to fill 20 trucks at the same time.
By Sadique Bamwita