Apple has revealed a high-end smartphone with an "edge-to-edge" screen that has no physical home button.
The iPhone X – which is referred to as "ten" – uses a facial recognition system to recognise its owner rather than a fingerprint-based one.
Apple said FaceID can work in the dark by using 30,000 infra-red dots to check an identity, and was harder to fool than its old TouchID system.
It is Apple's most expensive phone yet.
A 64 gigabyte capacity model will cost $999 (£999 in the UK) when it goes on sale on 3 November. A 256GB version will be priced at $1,149 (£1,149 in the UK).
By contrast, Samsung is charging $930 (£869 in the UK) for its new Note 8 phone, which has 64GB of storage.
"The iPhone X is a long-term investment by Apple that sets a template for the next generation of iPhone hardware," commented Geoff Blaber from the CCS Insight consultancy.
"An OLED [organic light-emitting diode] display and the new design is likely to be standard on future iPhone models, but Apple must first tackle the challenge of obtaining sufficient supplies."
Apple said the switch to an OLED display would help the phone produce "true blacks" and more accurate colours than before. LG and Samsung already use similar tech on their handsets.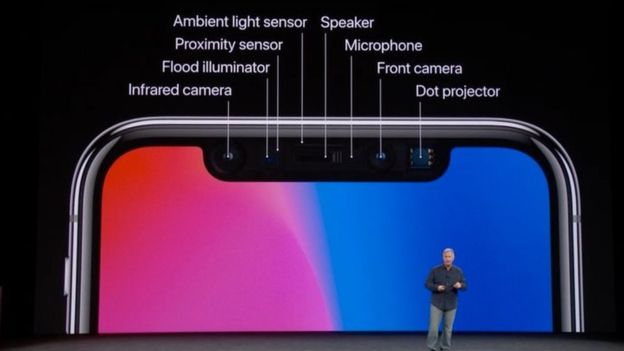 Prior to the launch, Apple's most expensive phone was an iPhone 7 Plus that cost $969 (£919 in the UK).
One expert commented that Apple's ability to get consumers to spend more on its smartphones than rivals' was "legendary".
"There may be an element of high pricing to constrain demand and make things match up with how many they can produce," said Neil Mawston from Strategy Analytics.
"But I suspect Apple always had a $1,000 iPhone in mind – we had seen the price creep up year after year, and there's a lot of pressure from shareholders for the company to hit a $1tn valuation.
"Bumping up the prices on their number one product is one way of doing that."
Facial recognition
Apple acknowledged that users might have concerns about using facial recognition to verify purchases via Apple Pay or to access their device.
But it claimed that while there was a one-in-50,000 chance that TouchID could be unlocked by a random stranger, the odds rose to one-in-one-million with FaceID.
Nevertheless, one expert said users might still be concerned the handset had no fingerprint sensor as an alternative.
"This is the steepest hurdle that they have," commented Carolina Milanesi from market research firm Creative Strategies.
"A lot of consumers will be a little bit reluctant to use facial recognition as an ID system until Apple has proven that it is safe and works all the time.
"In the eyes of consumers TouchID wasn't broken – so they may ask why Apple is trying to fix it."
Other features announced about the handset included:
its 5.8in (14.7cm) screen has 458 pixels per inch, making it the firm's most detailed phone display to date. To mark this it has been branded "super retina"
the lack of a home button is dealt with by requiring users to swipe up to access its apps, and to press a side button to summon its virtual assistant Siri
portrait mode – in which the camera blurs a photo's background – and a relighting tool can be used on pictures taken by both the front and rear cameras
it has two hours more battery life than the iPhone 7
BBC