NDA official displays some of the counterfeit drugs
National Drug Authority (NDA) has recently been conducting surveillance on falsified and counterfeited veterinary medicines in the western Uganda districts focusing on Kyenjojo, Kiruhura, Sheema, Bushenyi, Rubirizi, Mitoma and Mbarara.
This followed a tip off and complaints from some professional veterinary field extension workers and farmers in the affected districts like Bushenyi and Sheema whose animals were experiencing serious side effects following use of the falsified/ counterfeited veterinary purported "acaricide" called "TICK BURN SPRAY".
According to Frederick Ssekyana, the NDA Spokesperson, the objectives of the operation were to apprehend persons involved in falsifying / counterfeiting Veterinary purported TICK BURN SPRAY "acaricides" and withdraw the same and sensitize and publicise the dangers associated in sale and use of the purported TICK BURN SPRAY, FUMIGANTS AND AGROCHEMICALS that some farmers have resorted to following ticks resistance to acaricides challenge.
"This operation and enforcement is a continuation of the February 2020 operations that led to arrest of seven suspects from the districts of Kyenjojo, Bushenyi, Mbarara and Ntungamo. These were found re-labelling, distributing and working with some drug shop operators, dairies, veterinary professionals and auxiliary staff in pharmacies. The mentioned centers have been reported to be aiding the sell, distribution and use of these purported TICK BURN acaricides, fumigants and agrochemicals in pretense of solving the ticks resistance on some farms that have been affected with ticks resistance to acaricides," Ssekyana says.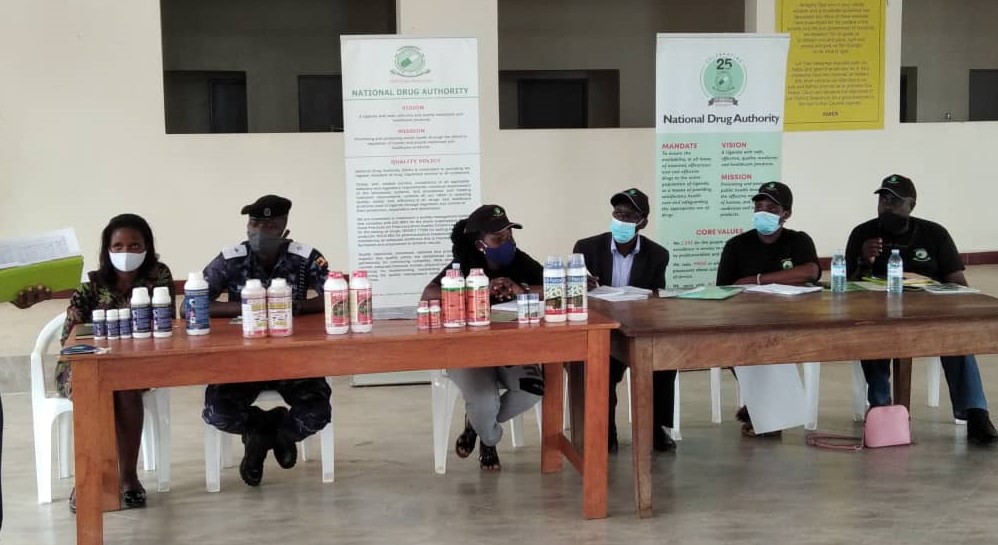 He adds that the February 2020 operation succeeded in producing four suspects in the Magistrates' Courts of Buganda road and Ntungamo where their trial is ongoing.
"However, with the continued NDA's surveillance and with support from various stakeholder engagements, it was again discovered that the same vice of falsifying, supplying, distributing and use of the dangerous TICK BURN SPRAY putting the animals and people's health at risk was still taking place and aided by some unscrupulous individuals fleecing the unsuspecting farmers in buying expensively these dangerous chemicals that have left animals with bad effects and risk to the country's economy," he says.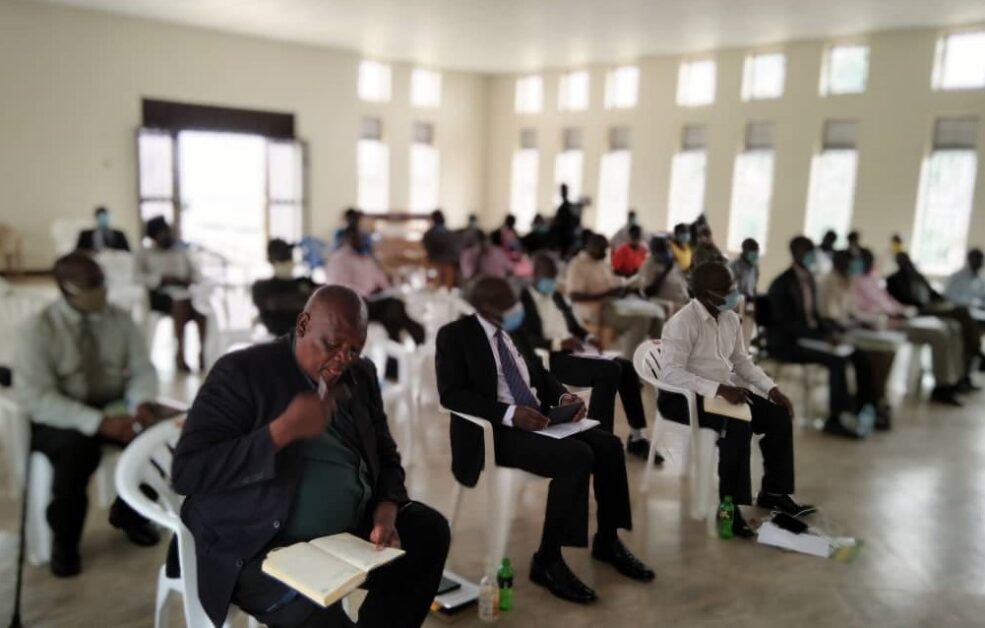 This informed the formation of the ongoing February 2021 joint enforcement operation on the same TICK BURN SPRAY, use of Agrochemicals and Fumigants.
He says this has succeeded so far in arresting six culprits from Mbarara and Sheema; where 4 of these have been aligned before court for prosecution in Mbarara and Sheema districts.
These include Wilson Kafeero, a retired veterinary officer and also former district veterinary officer of Buhweju districts, and a one Olive Kafeero, wife to Kafero Wilson; operating a veterinary drug shop; Kobrab Farm Supplies in Kabwohe that were remanded in Ntungamo prison.
Denis Kakuru, an accountant in one of the Pharmacies in Mabarara, and Eridadi Tumwebaze a boda boda cyclist, resident of Lubiri Cell were remanded in Mbarara Prison.
Bernard Nuwahereza, a manager of one of the dairies in Sheema district and currently detained at Sheema Police station and yet to be aligned before court.
One Godfrey Tumwebaze, an employee of one of the dairies in Sheema district is on a run.
"Similar operations in other affected districts country wide are ongoing," Ssekyana says.
Items recovered during the operation included the following; Tick Burn spray (95 bottles of 1000 ml and 100 ml) and Several Tick Burn spray labels used in rebelling the fumigants.
"The counterfeiters do rebel highly toxic and dangerous chemicals not meant for use on skin of living animals like cattle, goats and human who spray the animals," Ssekyana says.
He adds that the chemicals that are relabelled and sold to the unsuspecting farmers majorly lie in the category of highly concentrated fumigants meant for spraying bed bugs, cockroaches and bats. On the open market these fumigants cost between 25,000/= and 35,000/= which are unscrupulously re-labelled and sold to the unsuspecting farmers at a coast ranging from 100,000/= to 150,000/=.
The negative effects associated with use of TICK BURN SPRAY, Fumigants and Agrochemicals
It has been reported that majority of the farmers who have used the TICK BURN the purported "acaricides" and agrochemicals have left animals with the following adverse effects;
· Blindness of the exposed animals and herds men report itching of eyes.
· Animals and people exposed to these products get serious skin reactions.
· There is repeat breeding / animals not getting pregnant despite being given a male to serve.
· Reduced milk production has been reported.
· Consumption of the contaminated animal products; milk and meat predisposes the public to health danger such as cancer, allergies and intoxications.
· Accumulation of chemical residues that end up in animal products; milk and meat which affect their quality, and a risk being rejected on both national and international markets.
"This is an indication that the use of these products is very dangerous and likely to affect the quality and price of Uganda's animal products (milk and meat) at both national and internationally levels," Ssekyana says.
He adds that the worse scenario is when the animal products are rejected in various markets yet animal farming is the major source of livelihood in the cattle corridor districts of Uganda.
"Therefore, tampering with this sector has social, economic, health and political effects," NDA says.
Recommendations
Farmers are encouraged to consult qualified Veterinary professionals on drug use and to buy veterinary drugs from trusted sources which are authorized for sale of animal drugs which are closely monitored by NDA.
"Shun buying veterinary drugs from hawkers or shift markets, because such unscrupulous vendors are not knowledgeable and interested in fleecing the unsuspecting farmers," Ssekyana says.
He adds: "With good farming practices, animals will acquire better treatment of animals' diseases as well as prevention of diseases to protect and promote a healthy human and animal population. Improve animal health and production to safeguard public health leading to improved economic gains for the farmers."
NDA encourages farmers to report any suspected counterfeiting and any other drug related adverse effects, product quality and efficacy issues to National Drug Authority, District Veterinary Office (DVOS office), Veterinary extension Officers, Agriculture Officers for NDA's follow up and feedback.
"NDA extends appreciation to the District leaders, the Uganda Police Force, the public and the media for their role during the ongoing activity, and appeal to the general public to be vigilant and report more of such cases on our toll free line 0800 101 999. Together we shall weed out the counterfeiters who are a risk to Uganda's health and the economy at large," Ssekyana says.
NDA is a government agency with the mandate of ensuring that the population (human and animal) access safe, efficacious and quality human and animal medicines from licensed drug outlets manned by qualified personnel.