UCDA Managing Director Dr. Emmanuel Iyamulemye briefing MPs on the Agriculture Committee of Parliament
MPs on the Parliamentary Committee on Agriculture, Animal Industry and Fisheries Thursday toured Uganda Coffee Development Authority (UCDA)'s laboratory at UMA show grounds and the National Coffee Research Institute (NaCORI) to know more about the two institutions are doing in the coffee sub-sector.
After the visits, the lawmakers feel that there is need for more funding to UCDA and NaCORI.
"From what we have seen in the field, we are ready to go and fight for a budget (increase) in this very important field. Don't plan like poor people. Aim at the sky so that when you fail, you fall among the stars. We are very impressed and I pledge total support to UCDA and its affiliated entities. We promise to do our best to see to it that your aspirations are achieved. This facility (NaCORI) has improved. People need to know the technologies and innovations. I commend research works at NaCORI. When the policy statement comes, we shall be talking from an informed point of view and we shall also be able to defend the position," Janet Akech, the Chairperson of Agriculture Committee, said.
Abed Bwanika, a member of the Committee had similar remarks.
"Coffee is in my blood. We are going to be very supportive. We are encouraged by the research that is happening here. This (coffee) being the number one cash crop for Uganda, we need a research centre that can make our coffee number one in the world," Bwanika said.
Gabriel Okumu (MP Okoro Constituency, Zombo), a coffee stakeholder in the value chain said : "I have been mesmerized by the research centre. It is a big input in the coffee sub sector. I give them thumbs up. There are few budget shortfalls which are not making them achieve what they are supposed to achieve. As parliament therefore we are going to see that we support the institute in order to help us bring in coffee where it is supposed to belong."
Ephraim Biraro, Buhweju West MP and a coffee farmer, noted that he was inspired by the innovations that UCDA and NaCORI are undertaking to improve coffee production and productivity in the country.
" I am really impressed by the efforts being put in especially here at NaCORI by expanding and multiplying the quality seedlings that will help the farmers have disease resistant varieties and high yielding varieties…. We are appealing to the budget committee and framework initiators to think more about funding these institutions and other institutions that generate money," Biraro said.
Edson Rugumayo (Youth MP, Western) was equally impressed, noting that: "There is a lot that is going on at UCDA and NaCORI. They are doing a lot of work. How they are trying to modify and come out with the best varieties is quite interesting," Rugumayo said.
Quality plantlets to farmers
In what is seen as a journey to deliver the country to 20 million 60kg bags of coffee by 2025, NaCORI and UCDA plan to deliver at least 7.5 million plantlets to the famers per year.
The deliveries will be out of the 10 drought resistant, coffee wilt resistant and high yielding varieties so far released by NaCORI.
While making a presentation before MPs on the Agriculture Committee of Parliament, the Institute Director Dr. Geoffrey Arinaitwe explained that "we can serve at least 5 nursery operators in each zone and if we deliver 300, 000 plantlets to each nursery operator. That will be 1.5 million cuttings in that particular region. If you multiply it by 5, we shall have at least 7.5 million delivered to those regions in one year," Arinaitwe said.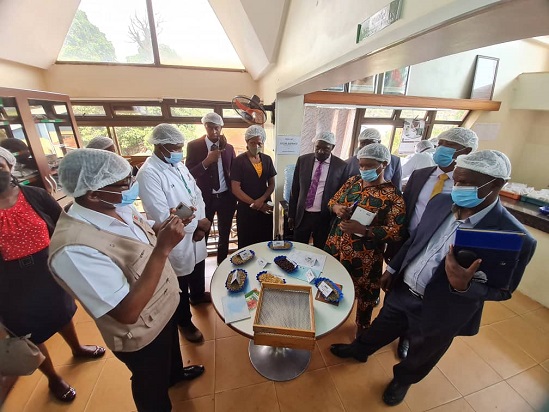 However, he said that the plan means that NaCORI needs to have robust propagation methods, for example, the high humidity greenhouse such that "we have materials delivered to the farm but what I feel is more needed is having this research activities done in the regions where materials go to."
"This is planned. We are going to have a research unit or centre in all the 5 regions of Uganda. If we do that, we will have relevant agronomic practices developed for specific regions, we will have easy delivery of planting materials that we have here and we will have several people multiplying on our behalf. If we realize that, we need to have at least 5 greenhouses in each of the 5 regions and 10 acres of the mother garden to support the production of planting materials," Dr. Arinaitwe said, highlighting some of the challenges and the needs of the Institute.
He said the Institute has so far released 10 varieties.
"The 3 of them which are more attractive are not yet delivered to the farmers. We have very small mother gardens and the technology we are using for multiplication is inferior," Dr. Arinaitwe noted.
According to Dr. Arinaitwe, the Institute is carrying out research which is relevant and problem solving.
UCDA Managing Director Dr. Emmanuel Iyamulemye said that "If you are talking about quality assessment and good quality, you are talking about NaCORI and as UCDA, we support research and that's why we are here."
However, he said that much of the support to the Institute is coming from UCDA. He said UCDA's wish is that NaCORI gets more funding if Uganda is to be number one coffee grower in the world.