The first Deputy Prime Minister, General Moses Ali has commended Uganda Communications Commission (UCC) for the sponsorship the establishment of a state-of-the-art solar-powered ICT computer laboratory at Bezza Al Hijji Senior Secondary School located in Adjumani West County, Adjumani District.
The lab comprises 21 computers and other accessories.
Established using funds from the Rural Communications Development Fund (RCDF), a programme that is under UCC, the lab was officially launched by the First Deputy Prime Minister on Saturday.
"I welcome you to the launch of this School ICT Laboratory and thank UCC for the excellent job well done and look forward to continued development of the ICT sector services, especially in the rural areas which are in line with NRM's manifesto of transforming Uganda to middle-income status by 2025," Ali, who is also the Deputy Leader of Government Business in Parliament said.
"The launch of the lab is particularly important because it marks a transformation in the way schools will deliver education in ICT. We can now expect improvements in the quality of ICT education and better ICT educational content," he added.
He said the Government has provided an enabling environment where a child anywhere in the country is expected to get quality education whether living in the rural area or the big cities.
" A child of an ordinary peasant should have the opportunity to become a doctor, a scientist or an engineer," he noted.
Teachers at Bezza Secondary School are expected to benefit significantly from this computer laboratory. The school also benefited from the same programme with the support of 20 computers in 2013.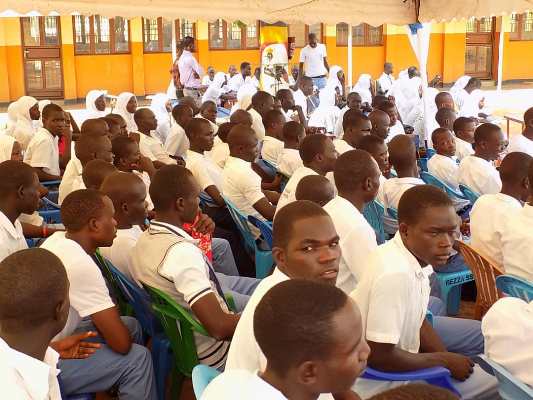 "Through this laboratory, students at this school will no longer have to struggle to search for information as they will now have all the information that they need by searching the Internet and that is an excellent step in the right direction. Information and Communication Technology for education is seen as an enabler for teaching and learning," UCC said.
The importance of education in the 21st-century society cannot be
Since 2003, the Government of Uganda, through the Rural Communications Development Fund, has implemented several ICT projects for rural areas.
Several other projects other than the school ICT laboratories have been implemented such as Internet cafes, ICT training centres, postal service expansion and GSM towers throughout the country.
West Nile region has been a major beneficiary of the universal access projects.
The Government has prioritised ICT as a critical enabler of socio-economic transformation and development.
This is well articulated in the National Development Plan 2010/2015 and the Vision 2040.