Darling Coffee is using introduction and weddings to grow domestic coffee consumption
Ugandan youth entrepreneurs are increasingly innovating and making life easier as they earn from their unique ideas. Stephen Tumukugize, the Managing Director of Mbale-based Darling Coffee, is one of the beneficiaries of the recent NSSF-Mastercard Foundation Hi-Innovator cash worth US$ 20,000 (Shs73.8m).
His idea of growing domestic coffee consumption and how he ties in the young people as beneficiaries of the project won him the money.
Tumukugize's idea was born against the backdrop of low coffee consumption domestically, estimated at 6% in 2019 and the fact that coffee shops/cafes are concentrated in urban areas.
While working with a local coffee processor in Mbale between 2016 and 2019, Tumukugize interacted with different farmer groups in the Mt Elgon region and noticed that eight out of ten (10) farmers had not tasted their own coffee.
It is against this background that he started Darling Coffee to produce affordable coffees targeting rural and semi urban population, selling coffee for as low as Shs3, 000.
"Our most selling product is the 50 gram pack because it costs Shs 3,000. It is much easier marketed and distributed even to the local shops. We target the majority of the population in Uganda which is the rural and semi urban population (estimated at 73%),"  Tumukugize says in an interview with Business Focus.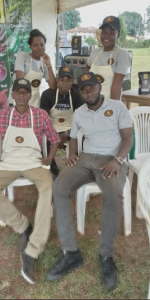 He claims that about 80% of the local coffee brands are urban-centred.
"They are in the big cities, big supermarkets and shops but when you are to look at statistics, the urban population is only about 27% meaning we are not solving much of the problem. Majority of these products are at least ranging from Shs10, 000 and above. Yet, it's only about 41% of Ugandans that are earning about a dollar a day. So, for us, we are looking at affordability," he says.
Tumukigize, a national youth champion in agriculture and recognized by the Food and Agriculture Organization and the Ministry of Agriculture, Animal Industry and Fisheries (2021), says that on top of specializing on affordable coffee, Darling Coffee is into value addition, farmer group training, quality management services and coffee analysis services with a model of promoting domestic consumption in Uganda.
According to Tumukugize, Darling Coffee is in the final stages of producing soluble coffee packed in sachets at Shs500 so that the local people are able to taste their own coffee.
To promote domestic consumption further, Tumukugize says Darling Coffee takes advantage of introduction and wedding ceremonies to give out coffee packs as gifts to the bride (for introduction ceremonies) and guests (for wedding ceremonies). He says that the packs in 50 and 100 grams are customized in agreement with the client ahead of their ceremonies.
"This is working. Almost every month we have two functions," Tumukugize says.
On top of these, Tumukugize says Darling Coffee is creating awareness and changing the mindset about coffee consumption.
A beehive of activities at Darling Coffee stores in Mbale.
"There are a lot of myths. In some cultures, it is rare to find a woman drinking coffee. Coffee has a lot of health benefits. So, what we do is create awareness to break all these biases. We do this on our social media platforms but also we have printed on our coffee packs the health benefits of coffee," notes Tumukugize.
Darling Coffee employs 15 young people. Of these, six are permanent while the rest are part-time workers.
This team works with smallholder farmers by mobilizing and sensitizing these small holder farmers into manageable groups.
"After creating these groups, we train them to do specialty coffee. We so far have two export companies we are dealing with. These international buyers. What happens is, we have a network of farmers. We train them on producing coffees of the highest quality. So, these farmers have people that they are working with. Since 2020 when we started the model of linking them to international markets, we have so far connected them to two international markets. These are markets that are paying premium prices for the coffee," Tumukugize says.
He adds: "In 2020, our farm gate price was Shs6,500 and we managed to convince our client to add more money to ensure quality. They agreed to pay Shs9, 000. In 2021, we got another client. Farm gate price was Shs10, 000 and we were able to sell our coffee at Shs13, 000."
Because they are in groups, Tumukugize says the farmers have easy access to finances among other benefits that come with being in a group.
By the end of this year, Darling Coffee hopes to conclude a partnership with Avsi Foundation to skill the youth in value addition.
"We expect that by the end of 2024 when the project concludes, we will have trained at least 300 youth," says Tumukugize.
With the US$ 20, 000 funding, Tumukugize says Darling Coffee will produce soluble coffee packed in sachets at Shs500 that a "person deep in the village can easily afford" and through this, he hopes to create more jobs for the young people.