Activists are outraged over the Ugandan government's decision to cancel a week of gay pride celebrations in the country for a second consecutive year, describing the move as a violation of fundamental human rights of minority groups.
On 16 August, the state minister of ethics and integrity, Simon Lokodo, issued a directive shutting down a gala, scheduled to take place at the Sheraton Hotel in the capital, Kampala, accusing the organisers of attempting to stage an illegal gathering aimed at recruitment, exhibition and promotion of homosexuality.
Police officers were deployed at the hotel and other venues where pride events were scheduled, to arrest anyone participating in activities.
"It's true I ordered the police to stop and shut down all the gay pride events. No gay gathering and promotion can be allowed in Uganda. We can't tolerate it at all," said Lokodo.
"We know they are trying to recruit and promote homosexuality secretly. But it's worse to attempt to stand and exhibit it in public arena. This is totally unacceptable. Never in Uganda."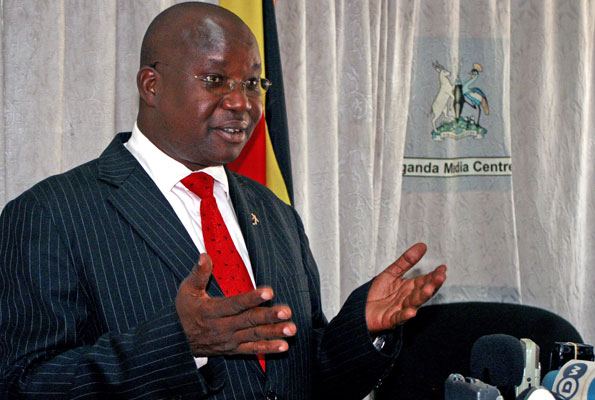 Lokodo said the organisers had planned a march through the city, as part of the festival week events, and a seminar and party at the hotel.
"Now they want to move on the streets and talking about MSM [men who have sex with men] in a public arena. I couldn't allow them to do that. The next time they do it they will face the full wrath of the law," said Lokodo.
Homosexuality is illegal in Uganda under colonial-era laws, punishable by a jail sentence, but LGBTI campaigners were given hope in 2014 when attempts to introduce a bill that would make some homosexual acts punishable by death was ruled unconstitutional. Police granted permission for pride celebrations in 2015.
"Activists feeling compelled to cancel pride out of fear for their safety is clear evidence of Uganda's deteriorating space for free assembly and free expression. As we observed during elections last year, the government is increasingly intolerant of diverse views from a range of stakeholders," said Maria Burnett, associate director for the Africa division of Human Rights Watch.
Nicholas Opiyo, executive director of Chapter Four Uganda, which protects civil liberties and promotes human rights, added: "The actions of the Ugandan security apparatus to threaten violence, intimidate the proprietors of booked venues for the events is a vile affront to the rights of the LGBT community to organise and celebrate their identity.
The US and Swedish embassies in Kampala expressed dismay that pride events had been cancelled.
In a statement, the US mission said: "The US is disappointed with reports that the Ugandan government has forced the cancellation of LGBTI pride week events. Under Uganda's constitution, all individuals and organisations have right to associate freely in private and in public, without fear.
"It is the responsibility of the government to ensure that human rights of all citizens, including LGBTI citizens, are respected and protected."
Emilian Kayima, a police spokesperson in Uganda, said organisers had failed to ask for permission for pride, a claim contested by Smug. But Kayima added: "Even if they wrote, it's criminal to be gay in Uganda. How can we allow and preside over a function involving a crime?
"Our law books are clear. When you engage in gay activities, we prosecute you in courts of law. We can't allow their activities."
Guardian