Kayoola bus assembled in Uganda
By Francis Otucu
The construction works of Kiira Vehicle plant stood at 75% as of December 2020, implying that the first car plant in Uganda is nearing completion.
According to the Ministry of Science, Technology & Innovation (MoSTI), the plant will comprise 40,000 Square Meter Production Facilities with capacity of producing twenty-two (22) Vehicles a Day translating to 5,000 Vehicles per Year.
The production under Kiira Motors Corporation will start with buses and trucks which will ease public transportation in the country, the Minister in Charge of Science, Technology and Innovation, Dr. Elioda Tumwesigye said.
He made the remarks while addressing journalists at the OPM Auditorium on Monday about the Ministry's performance in implementing the ruling NRM party manifesto in the last five years.
According to Dr. Tumwesigye, in a bid to commercialize the Kiira Electric Vehicle and to foster the development of the automotive industry, the ministry has secured the World Manufacturers Identifier BU by the International Society for Automotive Engineers, thus paving way for assignment of Vehicle Identification Numbers for Vehicles.
Through technology transfer with China High-Tech Corporation and utilizing production facilities at the Luwero Industries in Nakasongola, Dr. Tumwesigye said that the Kayoola EVS, a premium zero-emissions City Bus with a range of 300km was developed and two (2) units built and are currently providing shuttle services for Civil Aviation Authority Staff between Kampala and Entebbe.
Dr. Tumwesigye says the Kayoola EVS Bus has an operating cost per KM of Shs320 as compared to a Diesel Bus Equivalent with Cost per KM of Shs1,670 implying better energy efficiency on the backdrop of enhanced environmental stewardship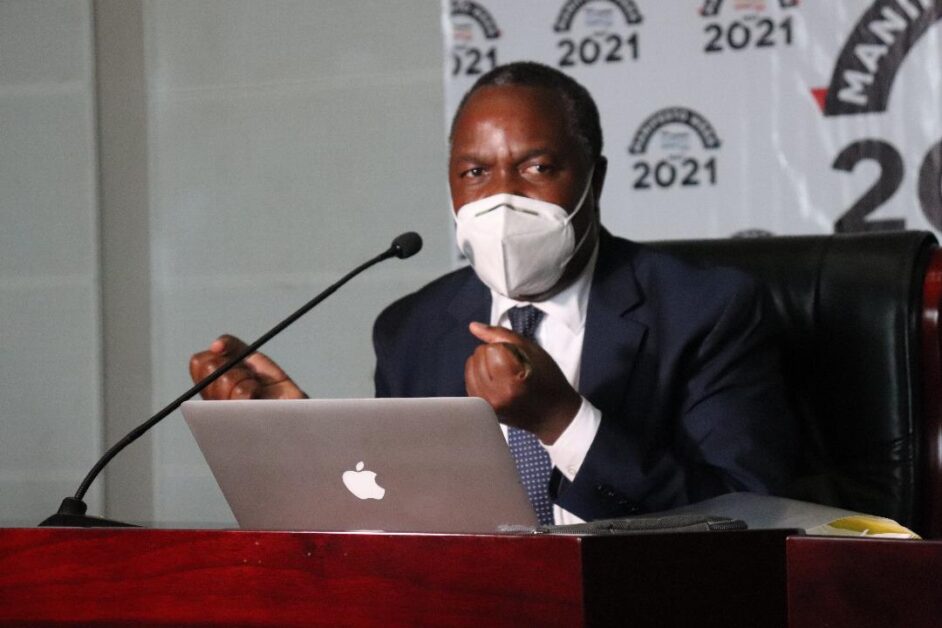 "It is important to note that the floor of the Kayoola EVS is made out of Bamboo, the interior mainly plastics and aluminum with a steel superstructure and body panels. These provide an unprecedented opportunity for participation of a wide range of local manufacturers making components to feed the production line at the Kiira Vehicle Plant addressing the key aspects of Supply Chain Localization and engendering Import Substitution," he said.
Therefore, he says, the immediate need for buses in Uganda can be addressed by KMC working with Luweero Industries Limited to produce Eight (8) buses per Month before the operationalization of the Kiira Vehicle Plant in Jinja.
In the next five years, Dr. Tumwesigye says the ministry will focus on increasing application of STI in National programs, increasing utilization of appropriate technologies, increasing R&D activities, enhancing development of appropriate technologies, increasing funding for innovation, technology development and transfer and increasing innovation in all sectors of the economy.
Other areas include; developing a National Technology Development and Transfer Regulatory framework, developing strategic local and international partnerships and cooperation on technology transfer and adoption Support development and commercialization of commodities and other products from enterprises and innovations, supporting the development of standards for domestic products and services, establishing platforms for the interaction between the academia, research institutions, industry, state & non-state actors and increasing public investment in technology transfer and adoption.
Dr. Tumwesigye says the key targets to be achieved by this program over the next five years include: increasing the Global Innovation Index from 25.32 to 35; increasing Gross Expenditure on R & D as a percentage of GDP (GERD) from 0.4 percent to 1 percent; increasing business enterprise sector spending on R&D (% of GDP) from 0.01 percent to 0.21 percent and increase Innovations as measured by patents registered per year from 3 to 2000.
He, however, says the sector faces lack of Institutional and National capacity in Science, Technology and Research as well as limited appreciation of the role and crosscutting nature of science, Technology and Innovation by Ministries, Departments, Agencies, Local Governments and the Private Sector as the main challenges facing MoSTI.