Accessible only by ferry services, Kalangala District still struggles with ensuring adequate access to healthcare.
With the closest national referral hospital being in Masaka – on the mainland of Uganda -, Kalangala District Local government officials are looking to have the status of Kalangala Health Centre IV elevated to hospital status.
In the meantime, the health centre is still in need of better equipment. The MTN Foundation responded to that need and provided 20 beds, mosquito nets, blankets and mattresses to the Kalangala Health Centre IV.
Speaking at the handover of the items on Friday, 31 August 2018 Bryan Mbasa the MTN Foundation Manager said that MTN Uganda wants to connect to more people through more than just provision of mobile financial services.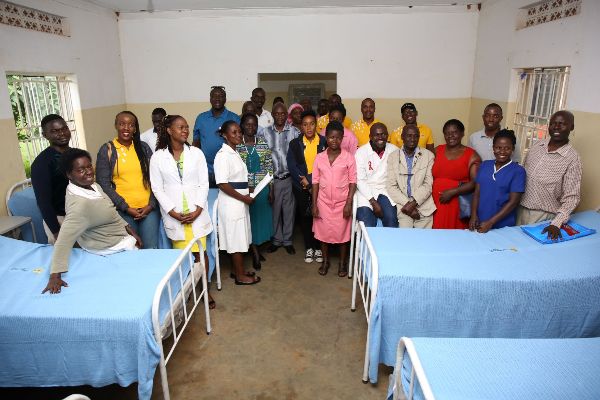 "We have been to the east, to the north, the central and the west improving access to healthcare. We are giving back to the communities through the provision of hospital items such as beds, mattresses, blankets and mosquito nets. We do this because we believe that access to health is for everyone.
It is critical that patients find services like a bed when they visit a hospital," Mbasa said at the handover that took place at Kalangala Health Centre IV, Bujjumba Sub-county, Kalangala District.
The health centre works almost like a referral hospital for health centers around the district. It is currently overwhelmed by several other needs like being elevated to hospital status. The MTN Foundation donation brings them a step closer because it means the health centre can focus resources elsewhere.
"This donation will be a motivation to the health workers. When you work in an environment that provides basic services to the people, it improves on the motivation of workers. These health centres in the hard to reach areas face a lot of challenges. Kalangala is a migratory area where patients are diverse. They come to the hospital with no beddings at times. The provision of the blankets means they won't have to struggle to keep warm. Our hope is that we keep getting more help," said Teddy Namuli, Senior Nursing Officer at the health centre.
Commenting on the donation, Hillary Bitakalamire the Kalangala District Health Officer thanked MTN for this donation.
"You have helped solve one of the challenges faced by this health centre IV and healthcare in Kalangala. As a health centre IV, we have the ambition to become a referral hospital.
It is a very big project and if we continue to get support from companies like MTN, we surely can become a fully-fledged hospital. Elevating us to a hospital status would allow us to carry out things like x-ray services considering that there are several accidents especially with boda-boda's that take place here," he said.
The MTN Foundation has since November 2017 donated about 300 hospital items including beds, mattresses, blankets and mosquito nets with the aim of improving access to health.
By the end of the Access to Health Initiative program, the MTN Foundation wants to have equipped hospitals and health centres around the country to a tune of 500 beds, mattresses, blankets and mosquito nets.