The Indian Community in Uganda is divided over the upcoming visit of India Prime Minister Narendra Modi to Uganda, with some members threatening to boycott the event.
Modi is slated to visit Uganda on 24 July this Year accompanied by a huge business delegation.
At the heart of the crisis is the Indian High Commissioner to Uganda Ravi Shankar, who is being accused of conniving with Former Rubaga North MP Singh Katongole to allegedly swindle billions raised by the community towards organising the highly billed event.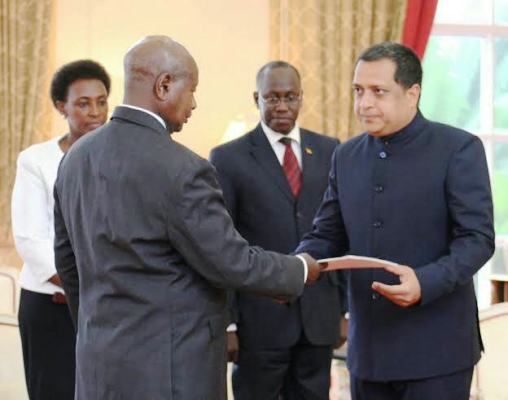 The envoy is also accused of causing cliques in the Indian Association of Uganda that consists of over 20,000 Indians in Uganda since 1922.
Sources say Shankar is silently dealing with Katongole, Pradeep Karia, a Director of Property Services to deny some Indians opposed to his way of doing things an opportunity to interface with some of the Multi-billionaires who will accompany Modi on the historic visit.
Modi is expected to hold bilateral talks and also open the convention Centre in Entebbe.
Indians are also accusing them of pocketing business deals with Pradeep Karia and his Partner in business Silu Virani.
It's not the first time for Pradeep to be in such scandals.
Recently, he has been cited in high corruption cases and land wrangles alongside Toshik Patel and the embattled Minister of Lands in Uganda, Betty Amongi for allegedly grabbing Indian properties and land in Uganda.