Ugandan teachers have for years cried foul over the meager and delayed salaries.  A year can hardly pass without them going on strike or threatening to strike.  Many complain that they cannot meet all their basic needs due to little pay.
As a result, the quality of their standards of living has over time deteriorated due to the increasing cost of living. This situation has pushed some teachers to the wall and consequently, thing outside the box.
Many are now starting extra sources of income to supplement their salaries.  Felista Nakiwendo a teacher at Victorious Infant School in Nabuti-Mukono, is one of those teachers making a difference.
Joining Business
In addition to teaching, Nakiwendo has started a hand craft-making business that she does during her free time especially weekends and holidays.
"This income has been of great significance to me given the delayed salaries," Nakiwendo says, adding that she started the business a few years ago with just Shs12, 000 that she used to buy two bundles of craft threads at a cost of Shs6000 each.
"I started by making bathing sponges (ebyangwe in Luganda). The first time I made 10 and I sold each at Shs3, 500. I never ate this money, but rather reinvested it in my infant business and surely it grew from one height to the other. As I talk, I earn over Shs600, 000 a month," she reveals with a beaming smile. Nakiwendo has since graduated from making bathing sponges only to making bags, weaved-shoes, craft ladies' bags made out of precious beads, skirts weaved out of threads, belts made out of different types of beads, necklaces and hand bangles among many others.
Market
Nakiwendo says that she sells one bag at Shs10, 000-Shs45, 000 while belts are sold at Shs5, 000, shoes for the children go for Shs7, 000 and those for adults at Shs15, 000.
The skirts go for Shs8, 000. "I not only do this work for the sake of my income, but I have also made sure that I make my pupils love it and for sure many have started doing what I do and I am happy," she says.
She says that the market for her products is so big. "My first market is my own school community that buys the belts, the skirts and other products," she says, adding that during school days, she exhibits her products to parents that also buy them and in large quantities. She says supermarkets and craft shops are all willing to buy her products.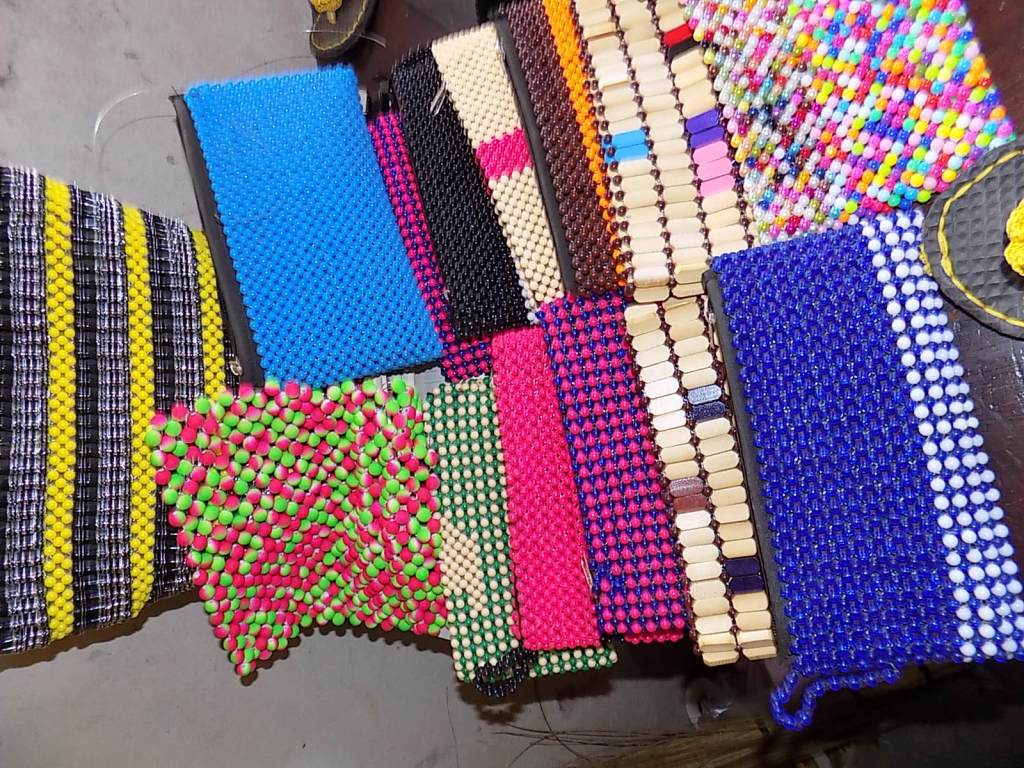 Achievements
Nakiwendo says that her business has enabled her to sustain her family with ease, despite the meager and delayed salary.
"I do not lack when the salary is not coming and when it comes, I put it to better and planned use as the income from my business helps me meet the daily needs," she says.
She is now looking at buying a plot of land and constructing a house from her savings.
Challenges
Nakiwendo says that some of the materials that she uses are increasingly becoming expensive and scarce.
"This forces me to raise the last price to be able to cover the cost of production. However, price increase is well known to be a customer disincentive," she says. She says that sometimes she is forced to get off some percentage from her salary to keep her business running well.
Future Plans
Nakiwendo says that she plans to open up her own shop selling her products in the near future. "I want it to be the biggest and best craft shop in Mukono. This shop will be selling both on retail and wholesale basis," she says, adding: "I have big plans of buying a shoe-weaving machine to improve on quality and quantity."
Advice To Teachers
Nakiwendo advises fellow teachers not to look at salaries alone because it is not enough to cater for all their needs. "You cannot educate your children, pay medical bills, build, and get entertained on salary which normally delays. Let everyone have something to during the free time to boost your incomes," she advises.