Nasser Mutesasira (Right), the brain behind Sipi Hills Coffee, tasting coffee inside his lab 
Organic farming, an environmentally friendly system of farming which uses pesticides and fertilizers of organic origin such as compost manure, is slowly picking up globally and, in the process, helping farmers to earn premium prices.
Certified organic agriculture accounts for 70 million hectares globally, with over half of that total in Australia.
According to Food and Agriculture Organisation (FAO) of the United Nations, it is estimated that about 231,157 ha of land in Uganda are managed organically, which is about 1.32% of its total agricultural area.
Against this background, Nasser Mutesasira, the brain behind Sipi Hills Coffee in the Elgon region, chose to focus on organic farming so as to earn premium prices.
Mutesasira ,42, holds a Bachelor's Degree in Commerce with a bias in Marketing from Makerere University and  has a wealth of experience, having worked with Crown Beverages Ltd  (Authorised Bottlers of Pepsi-cola Uganda) for 12 years in different capacities especially in marketing and sales department.
In an exclusive interview with Business Focus last week, Mutesasira said in 2017, he decided to have a break from work since he had been working since he finished S.6 in 1998 at St.Henry's college- Kitovu.
"I realized that I wasn't where I wanted to be," Mutesasira said in reference to quitting his well-paying job.
He then decided to pursue a Master's Degree in Agricultural Economics at Makerere University and a Post Graduate Diploma in Monitoring and Evaluation at Uganda Management Institute (UMI) at the same time (2017).
However, he didn't finish the Master's Degree as business took the better part of him, and it was around that time that he was introduced to coffee business by a friend.
"I supported my friend's company in setting up systems and worked with them for a year," he says, adding that the company that was focusing on specialty coffee, helped him meet various coffee stakeholders, including farmers in the Arabica-growing districts in Bugisu region.
The birth of Sipi Hills Coffee
In 2019, Mutesasira chose to start Sipi Hills Coffee, which has since blossomed in promoting organic coffee farming in the Elgon region. The coffee company is headquartered in Mbale City.
He says he needed a name that rhymes well with Sipi Falls and that's how he came up with Sipi Hills Coffee. He says Sipi Falls is not only memorable for tourists, but coffee from the Sipi area is also 'excellent'.
His company organises and trains farmers on how to grow coffee organically which it later buys at premium prices. He, however, says he started with coffee roasting because he didn't have enough capital required to trade in green beans.
Accordingly, he started with five products in both ground and roast form, including Bududa Single Origin, Bulambuli Single Origin, Elgon Sunrise, Sipi Hills and Sun Bird, a blend made from the Sipi, Bududa and Bulambuli.
"Coffee in Uganda is yet to be properly profiled; my coffee brands have different flavour profiles based on their locations," Mutesasira says, adding that he sells his coffee products in mainly hotels and supermarkets, but will soon stop the former because it doesn't make business sense due to high costs of delivery and taxes.
Certified Organic Coffee Business
From the roasting business, Mutesasira expanded to the green bean business and to achieve his objective of meeting the requirements of organic farming, he works with a team of 11 field-based staff (internal inspectors), who are resident in farmer communities where the company operates.
Mutesasira reveals that the farmers are based in the districts of Manafwa, Namisindwa, Bududa, Sironko, Bulambuli and Kapchorwa, but plans are underway to expand to Kween district next season.
According to Mutesasira, he currently works with 995 farmers with a total acreage of 1,206, adding that his field inspectors profile farmers for traceability purposes.
"Farmer profiling is mandatory. It's one of the requirements to be certified as an organic coffee farmer/company," he says.
Asked who certifies his company and farmers as organic coffee, Mutesasira says they are certified by Kenya-based Control Union, one of the companies recognized internationally to certify farmers in organic farming.
"In December last year, they sent us an auditor who spent a week interacting with farmers to ensure that they were following the set protocols," Mutesasira says.
He adds: "We also have an internal control system, we train farmers using a nucleus farm on the best practices of organic farming and when these trainings take place, they are recorded."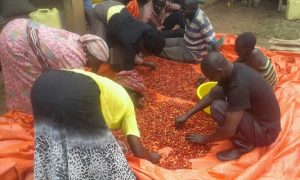 For fertilizers, he says, almost every homestead that is into organic coffee growing in the Elgon region has at least a cow and thus, they use well-decomposed cow dung to increase productivity.
He adds that they emphasize non-use of herbicides to control weeds. Farmers mainly use mulching, spot weeding, slashing, weeding and mulching.  They are also encouraged to plant shade trees in addition to soil conservation measures.
Production Capacity
Mutesasira says from the 995 farmers with total acreage of 1,206, he expects about 779,909kgs of parchment, but when it is milled, the out turn is between 80-83%, which gives him about 623,767kgs of green exportable coffee.
He, however, says the coffee is again sorted using hands and this gives him about 449,112kgs (about 23 containers) of green coffee ready for export.
He adds that farmers doing organic coffee farming are assured of higher prices.
"If the market rate for parchment is for example Shs10,000 per kilogram, I buy from them at Shs10,500 because I also get premium prices," he says, adding that they have a data base of farmers with expected yields so as to keep non-certified coffee out of the system.
Market
His coffee is destined for Louis Dreyfus Company (LDC), a multi-national company based in Namanve, with whom he established an understanding in 2020, albeit starting with low tonnage due to lack of money.
It was until 2021, that the tonnage increased and he is currently negotiating with big exporters to buy all his certified organic coffee for the upcoming season.
He also works with the Ganda Foundation Ltd that buys at least 50kgs of coffee per month that they sell during concerts in the UK.
Challenges
Mutesasira says his working capital is still small because the certification process is quite expensive. He says he has so far spent about US$15,000 on the process, but he hopes to recoup it in the coming harvest season.
He also adds that other coffee buyers tell organic farmers to use inorganic fertilizers and pesticides, which pollute water bodies and the soil gets worn out quickly.
He adds that farmers sometimes sell the coffee to other buyers; his field inspectors are not employed on a permanent basis, so when they get better opportunities, they move on, but he hopes to have them permanently in future.
Future Plans
Mutesasira plans to support farmers with drying beds in the foreseeable future to improve on their post-harvest handling capabilities, and to set up a coffee laboratory in Mbale City where his head office is located.
"We have some equipment for the laboratory and are only missing the most important machine, which is a sample roaster, which costs about US$15,000; we shall, however, buy a cheaper one; I-Kawa brand at about US$5,000 and intend to have it by September," he says.
He also wants his laboratory to be certified by Uganda Coffee Development Authority (UCDA) and the Specialty Coffee Association of America and is also working with Ganda Foundation Ltd to empower women in Bududa financially. They intend to train women in modern craft-making.
For tips, opinions and advertising, Tel: 0775170346/0703828741/[email protected] Follow us on Twitter: @TaddewoS @BusinessFocusug