Kawongolo monitoring his layers
One and half years ago, Isaaka Kawongolo, 27, was traveling to his poultry farm in Kayunga by boda-boda when they were knocked by a speeding car after it lost control. He was rushed to a nearby Health Centre IV that evening and later referred to a better hospital for further management.
The doctors recommended that he be amputated. He was not amputated once, but four times. "Up to now, I am still struggling with pain," Kawongolo says.
However, all that he has and continues to go through has not stopped him from taking care of his poultry project.
Three years ago before he was involved in an accident, Kawongolo had started a poultry project with 500 layers, 150 hybrid birds, 15 local chickens and a pair of turkey at Nazigo in Kayunga town.
His business has since grown to 2,200 layers, 500 hybrids and about 200 local chickens.
Kawongolo says his capital was from his first salary when he worked at a nearby farm.
He says he drew inspiration from the farm where he was working and therefore, he decided to start his own.
"It was my dream right from an early age to set up a farm at home," Kawongolo says, adding that start-up capital wasn't big money (declined to reveal actual figure).
He advises farmers to start small and grow big.
"I started with the little I had by then and I kept adding on along the way. I advise farmers to start with what they have. Don't wait to get what you don't have," he says.
poultry is profitable
Despite the challenges such as fake drugs and feeds on the market, low prices of farm products such as eggs and daily changes in prices of feeds and drugs, Kawongolo says poultry is a profitable business "if you run it professionally".
Aware that chickens are hard to take care of at their early stages of growth, Kawongolo says he introduces in new birds after disinfecting the chicken house several times, follows vaccination program at an early age as scheduled, manage brooding practices like heat, light and feeding with the correct stage feeds and ensure use of clean feeders and drinkers.
Poultry, Kawongolo says, needs some standby cash for emergencies. This is where his elder brother comes in.
"I have my elder brother who is now my business partner helping me here and there with money when I need it," he says.
On a good day, Kawongolo picks 60 trays of eggs per day out of his current stock of 2,200 layers, 500 hybrids and about 200 local chickens.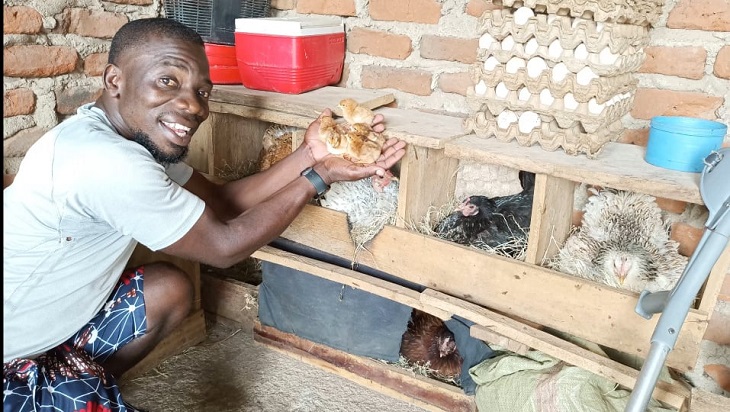 A tray of eggs at Kawongolo's farm goes for between Shs8, 000 and 9, 000 while off layers go for between 13, 000 and 17, 000. He uses different farming groups and social media platforms to market his farm products.
This means that from eggs alone, Kawongolo can earn a gross profit of Shs400,000 daily and Shs12m monthly.
Kawongolo says he employs 3 full-time workers and other part-time workers to help around with the birds being in semi-intensive, hybrid, free range (for local birds) and a synchronized hatching setting for eggs.
Apart from poultry, Kawongolo has a mixed farm in Bugweri. In Bugweri (Buyanga village), he has 72 goats, 50 turkeys, hybrid and local chickens.
Inspiring Youth Into Farming
Kawongolo's ambition is to inspire many youth into farming.
"I invite them to my farms for training. I move home to home. I use my social media platforms like Facebook, WhatsApp and Videos which I upload on my YouTube channel" Kawongolo says.
After training them, he connects them to farm-related jobs. These are farms of his friends based abroad but want caretakers back at home to take care of their projects.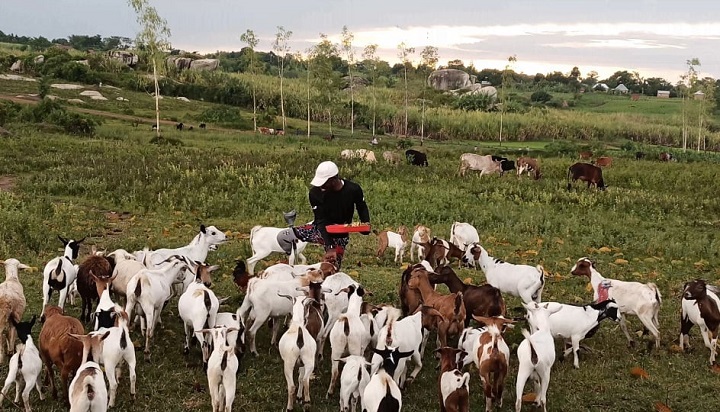 In a few years, Kawongolo intends to become one of the most successful farmers, inspire as many youth as possible, and reach out to Persons With Disabilities (PWDs).
"I want to show other people that if I can, they too can," Kawongolo says.
For advertising, tips, inspiring agribusiness and entrepreneurship stories, contact: 0775170346/0703828741/[email protected]