Ethiopian Airlines Flight No ET 338, a Boeing 337-800 on Thursday morning overshot the runaway on landing at Entebbe Airport International Airport.
According to Civil Aviation Authority (CAA), the incident happened at 12:41am.
"All the 139 passengers and crew on board disembarked safely," CAA said in a statement dated January 3, 2019.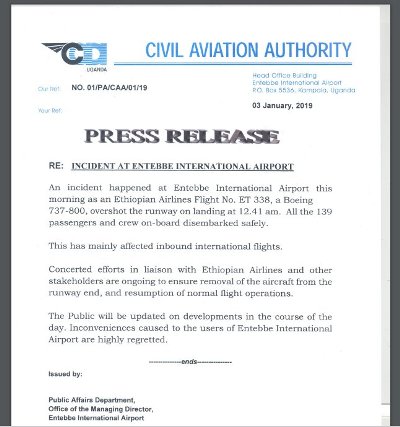 "This has mainly affected inbound international flights. Concerted efforts in liaison with Ethiopian Airlines and other stakeholders are ongoing to ensure removal of the aircraft from the runaway end, and resumption of normal flight operations," CAA said, adding that the public will be updated on latest developments.
The cause of the incident is not yet known.
The Entebbe incident comes at a time when the Netherlands based Aviation Safety Network has just released its 2018 Aviation report indicating that the number of people killed in plane crashes jumped in 2018 compared with the previous year, with more than 500 deaths recorded.
However, the report added that 2018 was still one of the safest years for commercial aviation on record.
The report said that a total of 15 fatal airliner accidents were recorded in 2018, leading to 556 deaths, compared with 10 accidents and 44 lives lost in 2017, the safest year in aviation history.
Of those accidents, 12 involved passenger flights and three were cargo flights. Three of the 15 planes were operated by airlines on the European Union "blacklist."
The figures for 2018 represent a rate of one fatal accident for every 3 million flights, said the report.