Kanungu Grade One Magistrate's court has directed a woman to refund Shillings 10.43 million she received from her ex-lover toward her education after turning down his marriage proposal.
The ruling arises from civil suit number 024 of 2022 filed by Richard Tumwiine in February 2022 against his ex-lover Fortunate Kyarikunda for breach of marriage promise.
According to the prosecution, Tumwiine met Kyarikunda at Kiringa primary school in Kambunga sub-county, Kanungu district where he was a teacher in 2015.
Kyarikunda was undergoing teaching practice at the same school. In the process, Tumwiine fell in love with Kyarikunda and agreed in 2018 to get married.
Tumwiine reportedly gave Kyarikunda Shillings 9,439,100 to complete her Diploma in legal practice at the Kampala-based Law Development Center (LDC).
After completing her bar course, the lovebirds agreed on January 10, 2022, to arrange an introduction ceremony scheduled for February 2022.
However, Tumwiine was shocked in February 2022 when Kyarikunda backed out of the marriage plan, saying that she can't proceed because her suitor is above 65 years of age yet she is below 35 years.
In his petition, Tumwine accused Kyarikunda of breach of marriage promise. He asked the court to compel her to refund the money he injected into her education since he did it well knowing they will end up together.
In her ruling on Wednesday, the Kanungu Grade One Magistrate, Asanansio Mukobi, said that despite being served, Kyarikunda failed to file her defense. Mukobi says that since the marriage promise was not fulfilled, Tumwiine is entitled to the reimbursement of the Shillings 9,439,100 he spent on her.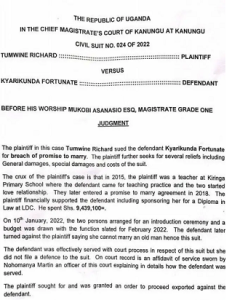 Based on article 126 (2) (c) of the Constitution of the Republic of Uganda 1995 as amended, which provides for adequate compensation for victims of wrongs, Mukobi ordered Kyarikunda to pay Shillings 1,000,000 to Tumwiine as general damage for inconveniences and psychological anguish.
"There is no wrong without a remedy. Victims of wrongs such as the plaintiff in this case are entitled to compensation," reads the ruling. Efforts to get a comment from Kyarikunda were futile. Tumwiine told our reporter that despite the court ruling in his favor, he would never forget the time and concentration he wasted on Kyarikunda.
This is the first court case of this nature in the Kanungu district.
-URN