It was excitement among Ugandans when the news of working abroad first hit the waves in the mid 2000s.
Around 2004, a number of Ugandans were recruited by private security companies to work in war ravaged Iraq and later Afghanistan. These were being hired by Americans then.
Private security agencies notably Askar Uganda Ltd, Khm International Agency, DrenShak International and a few others made a good kill out of it since Ugandans did not have a lot to pay for their visas and air tickets because they were catered for by the Americans who hired them.
Later on, it was alleged that company owners were cheating these young recruited Ugandans since they would be paid directly by Americans and then they would decide how much they paid each person they had recruited off the basic pay.
Nonetheless, Ugandans who went to work abroad around this time, made a lot of money so much that many are running successful companies in town.
The exercise went on until 2010 when the demand started fading away associated with little pay compared to what was being offered in the beginning.
Around this time (2010), little-known but shrewd businessmen tapped employment opportunities in the Middle East and Arabic countries, thus recruit Ugandans for juicy jobs abroad.
These companies didn't attract the attention of many Ugandans considering the fact that they were small companies with no known connections.
The notable companies that were known by then were Security Link, The Veterans Association, 2 Niles PR and Middle East Consultants.
The number went on growing, with over 150 companies licensed by the Ministry of Labour, Gender and Social Development as of 2018.
However, the Labour Ministry which is a government arm that regulates and controls the labour externalization sub sector stopped granting licenses to new companies because the sector was becoming saturated.
It is understood that Ugandans who fought hard to see the externalization of labour open doors in the Middle East countries since 2010 have had their rough share of experience to bring the industry where it stands today.
Firstly, registered companies licensed by the government faced direct and lethal competition from human traffickers who proved easy and affordable to fly unsuspecting Ugandans abroad for work than through the licensed labour agencies that asked for some millions in terms of visas, air tickets costs and agency commission.
This was also different from the case of those who had been taken to Iraq and Afghanistan in the previous years since the former only required one to be able to speak English and being physically fit.
Media Backlash
As the licensed companies got busy in ferrying off Ugandans to United Arab Emirates and other Middle East countries, the effects of human trafficking started to emerge and fast rising where young Ugandans who had been trafficked through Kenya to countries like Malaysia, Kuwait, Saudi Arabia etc started circulating pictures and video clips of themselves being tortured in places where they were abandoned by human traffickers.
The media reports castigated labour externalization and the whole arrangement behind it without necessarily investigating those being the human trafficking.
It was until 2017 that politicians joined media to make a lot of noise that parliament stepped in and banned the taking of girls to work as house helpers to Middle East countries.
It should be noted that the above ban came in effect at a time when licensed companies had barely started signing orders to take girls to Jordan and Saudi Arabia in a deal that was supposed to be lucrative since tickets and visas were and are still being paid by the employer from the host country, but also pays a fee to the recruiting firm here so that the girls are only required to show up with their passport for recruitment.
The ban therefore still affected the licensed companies but didn't affect traffickers because they made a loot through sneaking desperate girls to these countries through Kenya.
It was until recently in 2018 when the domestic workers (housemaids) business was streamlined, thus lifting the ban.
The coordination of local agencies and serious engagements between the Government of Uganda and the other host governments also culminated into signing of bilateral agreements.
It should however be noted that the local recruiting firms wanted the industry streamlined, thus forming their umbrella association; Uganda Association of External Recruitment Agencies (UAERA) whose responsibility was to regulate and monitor member companies especially in ensuring that they monitored and reported back on the situation of Ugandans whom they had taken to work in the middle East countries so as to minimize the reports of torture and harassment that had become rampant on social media.
The Association was also to help government to detect and fight human trafficking which has since reduced drastically.
As all these efforts went on over the years to streamline the industry, labour externalization increasingly became profitable and companies started advertising aggressively after getting big orders.
This attracted the attention of more Ugandans to join this business.
This is when companies like Security Link, KLM, Middle East Consultants etc became house hold names, with a company taking 50 people per week on average.
Mafia Group Strikes
But as the industry grew and companies started making huge profits, some Ugandans (you can read the Mafia group) who feel are entitled to be part of everything that makes commercial sense in this country also rushed to join the business.
They realized that they were missing out on some money even when they didn't know how the industry was being run and the challenges associated with it.
Therefore, from early 2018 to April 2019, the number of registered labour recruiting companies increased from 61 to over 150. The mafia group had arrived!
It's at this time that the Ministry of Labour felt registration of many new entrants would come with many other challenges and consequently stopped issuing new licenses so as to first orient the new entrants into the industry.
The ban was communicated when over 100 new applications from companies owned by former ministers, politicians and big shots in government had been submitted to the ministry.
There were over 15 companies awaiting license after paying Shs50m bank guarantee to the ministry.
One of the requirements to apply for a license is paying Shs50m as bank guarantee and advertising in newspapers intentions to acquire license and indicating names of Directors of the company.
It is this requirement that exposed many prominent politicians and government officials as their names were published in newspapers.
Some people who had applied have since threatened to take legal action against government over failure to get licenses after paying Shs50m in bank guarantees.
It's understood that over 10 companies that had almost reached at the final level will be licensed before this year ends after which no any other license will be issued by the Labour Ministry.
The Plot
After being frustrated at the licensing level, the mafia have hatched a plan to headhunt owners of existing labour companies and dish out billions of Shillings that they are said to be keeping under their beds and pots to them (existing owners) in exchange of shares.
Some members of the Mafia gang are luring the directors of existing companies so that they buy them off.
However, many directors of existing companies well knowing that the industry is ripe and promising more fruits have turned down the offers at the anger of the mafia.
The mafia feel they are being frustrated by the ministry in connivance with members of Uganda Association of External Recruitment Agencies.
Not done, they have directed their guns to the big players in the industry.
"The negative media coverage some companies are facing and the bad publicity from politicians is a calculative move aimed at destabilizing the big fish in the industry and sending them in disarray hence paving way for entry and subsequent control of the industry by the mafia who by their conviction are entitled to run things in Juicy industry," a source privy to the plan, revealed on condition of anonymity.
It is worth noting that 98 young ladies pitched camp at Kibuli CID for more than a week as a result of arresting one of the owners of a company that was housing them in the premises of his company as they waited for arrival of their visas to go to one of the Arabic countries for work.
In turn, they (women) refused to go back to their homes and camped at Kibuli CID headquarters demanding that government should offer them jobs or take them to where they intended to travel since police had arrested the person who was helping them to find employment.
Actually up to now the girls are still there yawning and stranded at Kurthur training center and their passports were confiscated.
Other companies have been dragged to courts even without good cases but rather to damage them.
It is understood that big offices keep calling, mobilizing and facilitating journalists to go and cover Court proceedings against labour companies with the aim of tarnishing the companies' image.
This can be evidenced by a Toyota Hiace-Drone with the Number Plate (withheld for fear of reprisal) belonging to a powerful office in the country that was seen on Friday ferrying journalists and MP Betty Nambooze group that recently petitioned Speaker Rebecca Kadaga to Entebbe Court where two managers of a top recruiting firm, Middle East Consultants are facing charges of uttering false documents.
It should be noted that this case came for mention a few hours after singer Moze Radio's death case in which Godfrey Wamala alias Troy-a key suspect in the murder was heard.
It was barely covered by more than three media houses.
This left everybody at Entebbe magistrate's court wondering what interests top government officials have in this case.
At a certain point the Prison officers asked this ferried group what they were doing at court if they were not among complainants and the group couldn't find an answer but when one was secretly approached, he revealed that they had nothing to do with the company but were being facilitated by someone from a big office to cause mayhem to the Muyenga based company.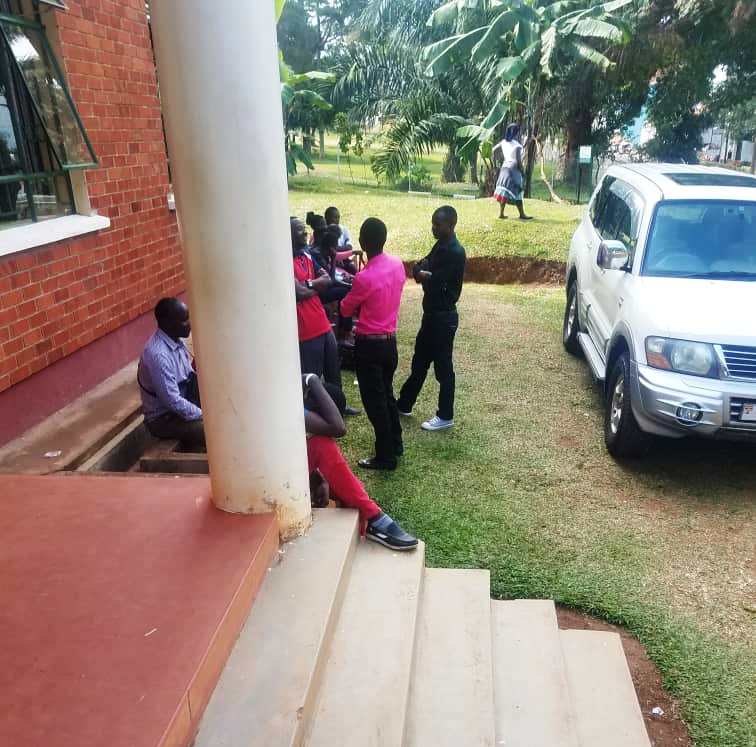 Close Journalists also revealed to this writer that the order was coming from someone from a big office who called their editors in the news rooms and directed them to send reporters to cover the court proceedings in Entebbe but some of the bold ones revealed that they had been well facilitated.
"I think there's a very big fight. I don't see why someone from a top office should facilitate journalists to cover this story without hidden interest," the journalist said.
Could this be a reason Tamale Mirundi insists that mafia use media to obtain their goals?
Unlike before, bureaucracy nowadays at security agencies that vet and approve the Ugandans leaving through these labour firms is quite unprecedented.
Lately, prolonged delays of approvals have left company owners wondering what could be happening yet everything used to be quick and timely.
This plan begs serious questions; Is Uganda run by the mafia? Do these people think they own Uganda? Do they know how much they are hurting Ugandans and the economy at large due to their selfish actions?