On October 20, 2016, Uganda's Central Bank, the Bank of Uganda (BoU) announced that it had taken over the management of Crane Bank Ltd after the bank became "a significantly undercapitalized institution."
On February 27, 2017, BoU announced the takeover of the now defunct Crane Bank by dfcu. However, a number of questions have remained unanswered about Crane bank's collapse and sale by BoU and other concerned parties.
In no particular order, below are the top eight unanswered questions about Crane bank collapse and eventually acquisition by dfcu. 
How could crane bank become undercapitalized in less than a year? Why did it collapse?
How and why Crane Bank collapsed remains a big puzzle not only to the regulator, but also analysts and ordinary Ugandans.
A number of factors including but not limited to insider lending and mismanagement have speculatively been attributed to Crane Bank's collapse.
However, the big question remains; how could Crane Bank become 'significantly undercapitalized' in less than a year?
How could the bank all of a sudden make huge Non Performing Loans and eventually a loss? How did this arise? It is important to note that although Crane bank made a loss in 2015, it indicated that it was well capitalized with over Shs200bn yet the minimum capital requirement required by BoU is Shs25bn. Crane bank made a loss of Shs3.1bn in 2015, down from a net profit of Shs50.6bn in 2014.
This was a result of high Non-Performing Loans (NPLs) that increased by 122.9% in 2015. The bank's NPLs increased to Shs142.3bn in 2015, up from Shs19.36bn in 2014.
It seems BoU itself is yet to understand why Crane bank collapsed.  "There was a loss. So what do you do? Now you have to ascertain how this loss came up. In order to ascertain this, you carry out a forensic investigation because you want to know; why the loss, who caused the loss and what course of action should you take in case you find out whether there were people involved. The investigation will have numbers as well as legal implications," Justine Bagyenda, the Executive Director supervision at BoU, said at a press conference announcing dfcu's takeover of Crane Bank.
To What Extent Was Crane bank Undercapitalized?
Prof. Emmanuel Tumusiime-Mutebile, the Governor, BoU said Crane Bank was 'significantly undercapitalized', but didn't reveal the extent to which it was.
Sudhir Ruparelia, one of the big shareholders and founder of the defunct bank is East Africa's richest man, so how could he fail to save his bank given that he is valued at over Shs3trn (According to Forbes).
It is reported that government sank in Shs200bn to save Crane bank, but this didn't work out. It is clear that government would inject in money on the advice of BoU, so why did BoU allow government inject tax payer's money in a collapsing bank? Did government recover this money while dfcu was acquiring Crane bank? All the above questions remained unanswered by all the concerned parties.
Where was Bank of Uganda when Crane Bank was falling?
Announcing dfcu acquisition of Crane bank, Mutebile remarked thus; "Crane Bank's liabilities, as at October 20, 2016, being the date of the takeover, grossly exceeded its assets and that it was insolvent, which insolvency has continued to date."
Insolvency arises when a company lacks the financial capacity to meet its obligations. The question is; how did Crane Bank all of a sudden become insolvent without BoU noticing?
Where was BoU when Crane bank was collapsing? BoU is the regulator of banks and monitors them closely; so why did it fail to identify cracks in Crane bank earlier?
Bank of Uganda has not come out to clarify on efforts it made to save Crane Bank. The fact that BoU also remains puzzled how the bank became undercapitalized in less than a year speaks volumes.
Sudhir had earlier indicated that he wanted to get another shareholder to inject more money in the bank. However, this didn't happen as BoU took over the bank.
Key questions are; did BoU make an effort to help Sudhir recapitalize the bank? Was the takeover hurried? At what point did BoU realize Crane Bank was collapsing/getting undercapitalized?
Who was behind White Saphire?
The ownership of defunct Crane bank has remained confusing just like its collapse. Sudhir and his Ruparelia family owned 48.7% stake in Crane Bank.
Under this shareholding structure, Sudhir Ruparelia owned 28.83% of the shares in the bank. His wife, Jyotsna Ruparelia owned 13.8% of the shares in the bank.
Sudhir's three children; Sheena Ruparelia, Meera Ruparelia and Rajiv Ruparelia owned 1.99% shares each. Tom Mugenga, a renowned businessman in Kisoro and Kampala, owned 0.003% shares in Crane bank.
M/s White Sapphire owned 47.33% stake in the bank. However, in the whole process of Crane bank's collapse and acquisition by dfcu, M/s White Sapphire, one of the majority shareholders in the defunct bank remained mysterious and unknown.
The real individual/s behind M/s White Sapphire has not come out in the whole process and remains unknown. BoU vets shareholders of banks, but it has also remained tight lipped about who M/s White Sapphire is.
How much did dfcu pay for Crane Bank acquisition?
BoU and dfcu refused to reveal the transaction costs involved in the latter's acquisition of Crane bank.
This raises transparency and credibility questions. dfcu is a company listed on the stock exchange, so it wouldn't do any harm for the company to disclose how much it acquired Crane bank.
Did dfcu get Crane bank for free? There are reports that dfcu paid about US$40m, but this hasn't been substantiated by BoU and dfcu. Why hide the transaction costs given the speculations surrounding Crane Bank collapse?
Are there assets or liabilities dfcu didn't take over?
BoU said dfcu acquired assets and liabilities of Crane Bank. While responding to Ugandans on BoU's official facebook page after dfcu acquisition of Crane Bank, Christine Alupo, the Director Communications at BoU, said:
"Bidders also had to state their willingness to carry all assets and liabilities and ensure business continuity… The point is, it was competitive and dfcu emerged best."
However, while addressing the press dfcu said the opposite; that they didn't take all the liabilities of Crane bank. BoU would have explained the assets and liabilities dfcu didn't acquire and their worth. T
his will allay fears of corruption and fraud in the whole transaction process.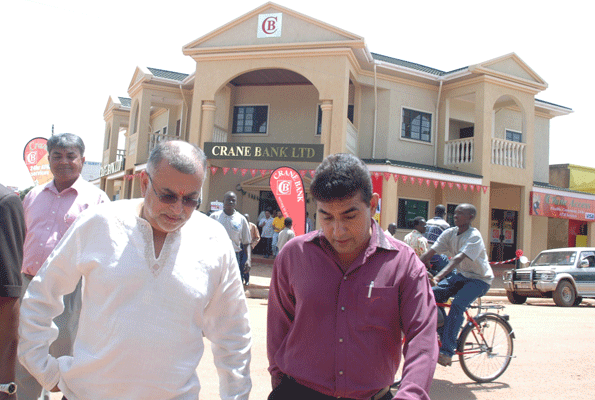 Who were the other bidders for Crane Bank?
BoU revealed that dfcu beat off other 12 bidders to acquire Crane bank. However, the Central Bank refused to reveal the other competitors for reasons best known to it.
For transparency purposes, BoU would have made public the other bidders and properly explained why dfcu emerged winner.
What was Sudhir's role in the day today running of Crane Bank?
Sudhir, the founder of the defunct Crane bank has featured prominently in Crane Bank's collapse.
He was just a shareholder and deputy Chairman Board of Directors. Going by the shareholding structure, M/s White Sapphire who owned 47.33% stake in the bank, had more voting rights than Sudhir.
Joseph Biribonwa was Crane Bank chairman while P.K. Gupta was   Acting Managing Director. In terms of hierarchy, Sudhir wasn't the most powerful person at Crane bank.
However, he embodied Crane bank and vice versa. BoU needs to provide an answer about Sudhir's role in the day today running of defunct Crane bank. What was his involvement in the operations of Crane bank?