It's a public secret that Uganda is one of the most enterprising countries in the world. To affirm this, a Ugandan Doctor, Dr. Abudallah Katongole has invented reusable medical overalls as the country battles deadly COVID-19 disease that is caused by the Corona Virus.
With this innovation, health practitioners who have been at the risk of catching the deadly disease due to lack of protective overalls have a reason to smile because they will be able to access the overalls that are designed for reuse at affordable prices.
"These overalls are not the ones on the market that are very expensive and at the same time used once. We must come up with innovations that suit our situation but also remain safe. After wearing them, they are washed and sterilized for next use," says Dr. Katongole in an interview with Business Focus at his Kabowa based clinic.
The innovative Dr. Katongole is also making face masks although these are only used once.
"They are soft and comfortable. They don't allow air droplets to pass through hence protection against corona virus is guaranteed," Dr. Katongole says, adding that just like overalls, face masks are available for sale at affordable prices.
Currently nicknamed as Corona Virus Doctor, Dr. Katongole who is the proprietor of Abu Kats Medical Centre in Kabowa is full of praises to President Yoweri Museveni whom he says has strongly exhibited great care for Ugandans by issuing directives and guidelines aimed at preventing the spread of COVID- 19.
He's also happy with all stakeholders including the World Health Organization, the Ministry of Health, other Ministries and all patriotic people for their great efforts to prevent the spread of corona virus to the people of Uganda and the world at large.
Production capacity
"I can produce 1000pcs of face masks a day. My innovation is in response to the government's call for everyone to do something to prevent spread of Corona virus. I have done my part also. These products are safe and readily available. I call upon government to support me so that we can save our population," he says, adding that as part of his further contribution, he is going to hand over some of these medical kits to the National Taskforce against COVIS-19.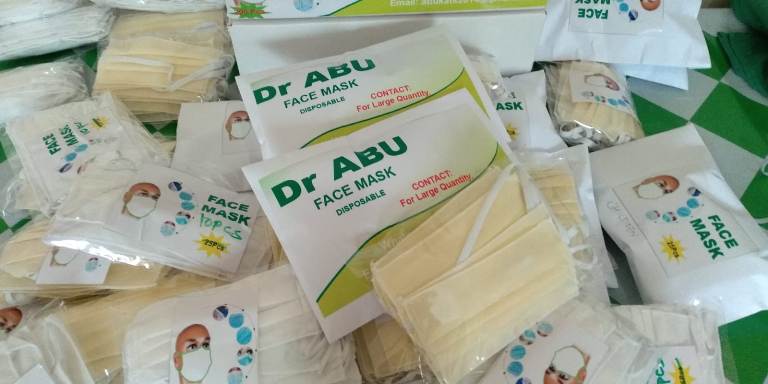 He says his donation will go towards assisting health workers and needy people who cannot afford the available protective gear.
About Abu Kats Medical Centre
Abu Kats medical centre is located in Kabowa, Rubaga division, Kampala. This health facility has been providing essential health services to the Ugandans since it was founded in 2014.
Although it is privately owned, Abu Kats Medical Centre according to Katongole has always been working in partnership with the government in delivering health services to Ugandans through Government health programs like the free child immunization, the National immunization days, the Measles –Rubella and Pollio campaign in which over 25,000 children were successfully immunized at Abu Kats Medical Centre in 2019.
"In response to the vivid call by the president for local manufacturers to participate in the fight against the COVID -19 pandemic, I wish to inform the general public that I have made some of the essential protective equipments/ gears like face masks and medical overalls in abundant quantities for procurement in fighting the spread of corona virus," he says.
He has also called on President Museveni, the speaker of Parliament, Rebecca Kadaga, the Minister of Health, Dr. Ruth Aceng, the Corona virus task force and health organizations to procure these protective equipment that are readily available at Abu Kats Medical Centre.
"With government support to local manufacturers, it will make more Ugandans to become innovative and also sustain their businesses. In a special way, I call upon our beloved President Yoweri Kaguta Museveni to render me a helping hand in form of financial support in order to increase the production of the highly essential protective materials," he appeals.
He urges all Ugandans to join hands in the struggle against the COVID -19 pandemic by washing hands with soap and buying the necessary protective equipment.