Left to Right: Sylvia Jagwe Owachi-Executive Director Cairo Bank Uganda, Ahmad Maher-Managing director Cairo Bank Uganda, Dr Charles Olaro-Director Curative services Ministry of Health, Dr Patrick Sekimpi-Head of Department Orthopaedic at Makerere College of Health Sciences, Immaculate K Irumba-Chief Operations Officer Cairo Bank Uganda, Dr. Juliet Otiti Head of Department Ophthalmology-Makerere College of Health
Cairo Bank Uganda has today donated Personal Protection Equipment (PPE) worth Shs100m towards the safety of health workers in light of the COVID-19 pandemic.
This was in response to a request made by Makerere University School of Medicine (College of Health of Services) towards the safety of health workers at their training sites of Mulago, Kawempe and Kiruddu hospitals.
The items donated include 5,000 pieces of KN95 masks, 40 Automatic sanitizing dispensers and 400 Litres of alcohol based sanitizers.
The handover ceremony was officiated by Dr Charles Olaro, Director Curative Services at the Ministry of Health.
Speaking at the handover event held at the bank's offices located at Lotis Building on Mackinnon road in Kampala, Ahmad Maher, the Managing Director at Cairo Bank Uganda applauded the efforts made by the Government of Uganda under the stewardship of President Yoweri Kaguta Museveni in the management of the COVID-19 pandemic.
He noted that as an institution that works closely with the communities, they feel immensely touched by the increasing numbers of COVID-19 community outbreaks in the country.
"Cairo Bank Uganda has been operating since 1995 supporting the economy and now during this pandemic, we should have another role to support our medical teams; the people who are exposing themselves (to COVID-19) to keep the community safe as much as possible," Maher said.
He added: "We are therefore pleased to join other institutions that have contributed towards the fight against COVID-19 in the country with our humble contribution of Personal Protection Equipment (PPE) towards the safety of health workers."
He revealed that going forward the bank will dedicate part of its budget to Corporate Social Responsibility where critical areas in the economy will be supported.
Cairo Bank Uganda Limited is a fully owned subsidiary by Banque Du Caire (BDC) set up with the intention of expanding BDC's presence across the continent whilst providing an entry point into the COMESA market for a wide range of its customers.
BDC is one of the largest banks in Egypt with a balance sheet of over $12bn dollars.
Speaking at the same event, Dr. Olaro thanked Cairo Bank for the initiative and called on other institutions to emulate it.
"I know people and companies have previously donated but I think this is the time when we need more support. Other institutions should join Cairo Bank in supporting Ministry of Health's response," Dr. Olaro said.
He noted that as of Tuesday, Uganda had 5,123 confirmed COVID-19 cases of which 58 deaths have been registered.
"This represents a case fatality of 1.12%. We have also registered 242 health workers who have been infected representing 4% of the total cases confirmed," he said, adding that so far four health workers have succumbed to the deadly disease.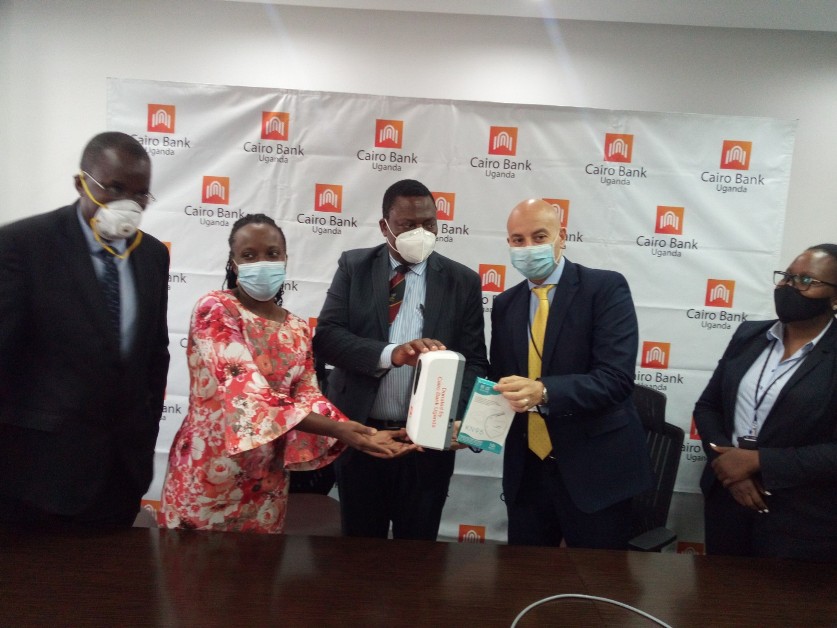 "The role of health workers in outbreak response in terms of case identification and reporting cannot be over emphasized. Overtime, we have noticed an increasing number of health workers getting infected with COVID-19. So, health workers' safety at the place of work and individual safety through observing SOPs is a cornerstone for prevention of cross contamination and cross infection in hospitals for both the staff and patients.," he said.
Dr. Olaro added that health workers remain more vulnerable because community cases are increasing.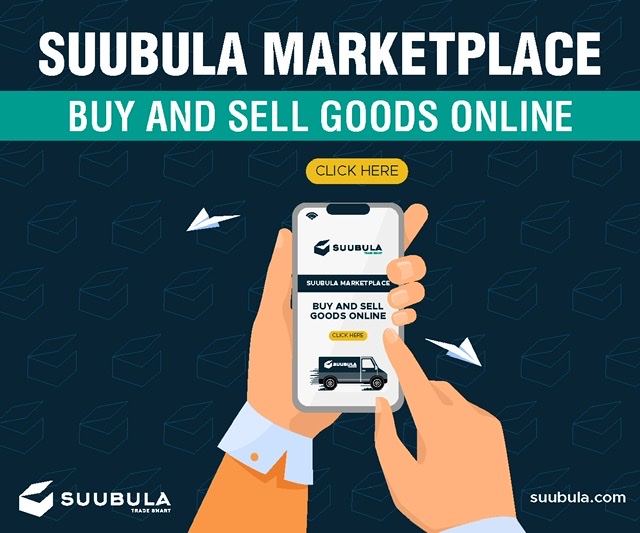 "If you get a health worker get infected, then he becomes a super spreader; instead of patients getting healthcare services, they will get infected," he said, adding that the rising cases threaten delivery of healthcare services.
Dr. Juliet Otiti, the Head of Ophthalmology Department at Makerere University's School of Medicine also thanked Cairo Bank Uganda for the good gesture, noting that they have postgraduate students and finalists who play a vital role in providing care within the hospital.
"It's very important that we keep them safe as they run the Emergency Unit, Delivery Unit, the Intensive Care Unit and save lives," Dr Otiti said, adding that life has to go on as the country battles COVID-19. She urged Ugandans to wear masks while in public and observe other COVI-19 Standard Operating Procedures (SOPs) issued by the Health Ministry.